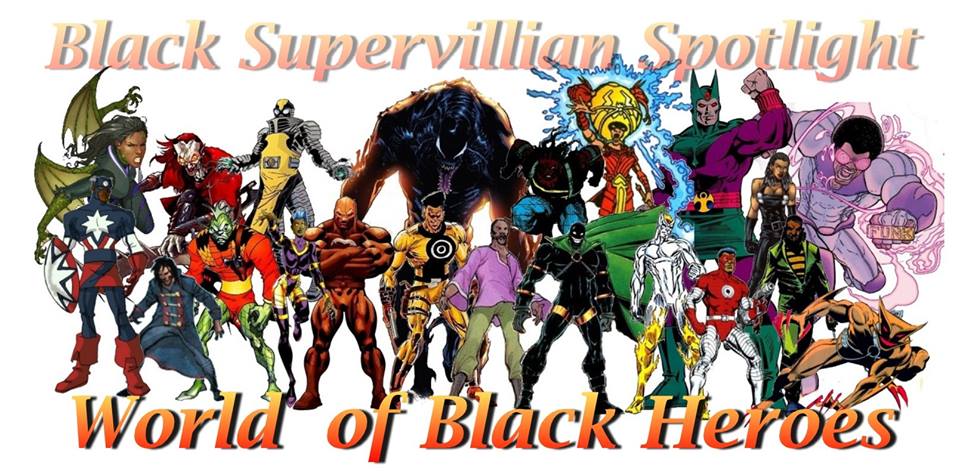 For 2016 I have decided to go hard or just go home. This year marks the fifth Anniversary of World of Black Heroes and we have decided to go back to event months where we cover a specific topic each month. January 2016 is black supervillain month but instead of making any old list I have decided to make this our most impressive list yet. Behold 100 Black Supervillains! and be sure to read over 220 black supervillain biographies in our database here!
Sphinx
Publisher: Marvel Comics
Created by:  Marv Wolfman and Sal Buscema
1st appearance: Man Called Nova #6, 1977
Brief Biography
Anath-Na Mut was the high priest of Egypt during its prime while the Israelites were their slaves. When Moses proved his magic superior to Anath the Pharoah banished him from Egypt as punishment. Alone, shamed and lacking direction he wandered all over Egypt until he found the "Ka Stone". Drawn to its power he took it and once it was on his head he found himself transformed and empowered with majestic mythical might. Now immortal he would spend his time accumulating knowledge both on Earth and in Outer Space. Facing the Fantastic Four, Nova and New Warriors his awesome power has overwhelmed them all. In one instance the only way he could be defeated was by summoning Galactus himself! The Sphinx could be a major force in the Marvel Universe but he clearly doesn't have that universal appeal to the right people over there to ever realize his full potential.
Despot
Publisher: Wildstorm Comics
Created by: Steven T. Seagle & Scott Clark
1st appearance: StormWatch Vol 1 #25
Brief Biography
Like the tragic tale of Anakin Skywalker in the Prequel Trilogy Isaiah King's descent into villainy was a tragic tale. He was best described as patriotic man who even marched to Selma with Martin Luther King. From an early age he could tell what others thought instinctively. This skill helped him to become an astronaut, and eventually the clandestine Team One. After he was forcefully taken from his family and had his death faked he was exposed to a radioactive comet which enhanced his abilities to monstrous levels. This boost in power left him more than a little crazy and so the government put him in stasis alongside the Warguard. Years later when he was released he brought the world to the brink of destruction as he unleashed all his might and madness. He was eventually killed by his first born son Jackson King/Battalion but only after seducing his younger son, Strayfe to the dark side. DC Comics now owns the character but like so many before him he's stuck in comic book limbo.
Voodoo (Clone)
Publisher: Wildstorm Comics
Created by:  Ron Marz and Sami Basri based on the original created by Jim Lee and Brandon Choi
1st appearance: Voodoo #1, 2011
Brief Biography
Cloned from the cells of Priscilla Kitaen a human Daemonite hybrid who had been experimented on but escaped, she was implanted with training, memories and an inherent almost fanatical belief in the Daemonite prophecy.  Sent to earth after her programming had been checked she became a sleeper agent to gather information on earth's heroes. She started out as a stripper located next to a military base but eventually went rouge. When her true nature as a clone was revealed to her she confronted her Daemonite handlers and after killing all who opposed her she was granted the rank of "Commander of Earth's Hybrids". Returning to Earth she confronted her template. On Saturn she rose to the rank of leader of the abandoned Daemonites and was now hellbent on destroying all who opposed her claim as the new leader of the Daemonites; Hellspont, Priscilla and the Daemonite lords. She could easily be a sexy foil to the New Superman with her plethora of power but alas DC Comics has forgotten she exists.
~DIG DEEPER INTO VOODOO (CLONE) HERE~ 
Erik Killmonger
Publisher: Marvel Comics
Created by:  Don McGregor and Rich Buckler
1st appearance: Jungle Action #6, 1973
Brief Biography
Born N'Jadaka among the lower classes of Wakanda, this prodigious boy was enslaved when Ulysses Klaw made a bid to overthrow T'chaka the Great. Even though Klaw was defeated his parents were killed and he was taken as Klaw's slave. He later escaped and found refuge in America. He changed his name to Erik Killmonger, lived in Harlem, New York and studied engineering and business, eventually teaching at MIT (Massachusetts institute of Technology). While T'challa was in the USA for college Killmonger found him and had him returned to Wakanda. While there he revealed a deep seated hatred for the Wakandan royal line which he blamed for his life. In Wakanda he instigated an open rebellion against the Monarchy which culminated with a showdown with T'challa. On the verge of winning he was thrown to his death. Resurrected he continued his schemes and defeated T'challa in open combat becoming the Black Panther. Left in a coma after ingesting the Heart Shaped Herb he recovered and caused a rebellion in Niganda. Squaring off against T'challa once more he was seemingly killed by the Sun Goddess Photon. With a Black Panther Movie on the horizon and a new series on the way no doubt Killmonger, like a cockroach will make his triumphant return.
~DIG DEEPER INTO ERIK KILLMONGER HERE~ 
Emplate
Publisher: Marvel Comics
Created by:  Scott Lobdell and Chris Bachalo
1st appearance: Generation-X #1, 1994
Brief Biography
Born into the wealthy house of St. Croix Marius was the first of three siblings and the outcast as soon of everyone laid eyes on his perfect little sister Monet. His jealously grew even further when Nicole and Claudette were born. When he hit puberty his powers manifested one day when his father and the girls were away from the house. He killed his mother by feeding on her. His father kicked him out of the house soon after without realizing he was the one who had committed the crime. He would further destroy his family when he imprisoned Monet in the Penance shell. Feeding on her for years he got his cruel revenge until she was rescued by Gateway. He was the main villain for the young mutants of Generation X, even creating a team of Hellions and terrorizing all his siblings and infecting Synch with his form of Vampirism. After M-Day he retained his powers and found his food source greatly diminished. Capturing the mutant Bling he was defeated by Rogue and disappeared once more. With Monet now active in the Uncanny X-men under Magneto this would be the perfect time to reinvent and reintroduce the Mutant Vampire called Emplate.
~DIG DEEPER INTO EMPLATE HERE~ 
Black Manta
Publisher: Black Manta
Created by: Nick Cardy and Bob Haney
1st appearance: Aquaman #35, 1967
Brief Biography
As a child he was captured on a ship where he was subject to torture and routine sexual abuse and molestation. The day his mind snapped however was when he saw a young Aquaman swimming in the ocean. All attempts to gain his attention and thus to save himself were unsuccessful. He fixated on this day as his abuse continued until he vowed revenge on all those who had been party to his suffering. He slaughtered all his attackers one night and set out to make Aquaman pay for not saving him. Unable to best Aquaman he eventually killed his young son Arthur.Jr. When he thought Aquaman was dead he became a local fisherman and had a normal life. When he realized he was alive however the news drove him over the edge once more and he slaughtered all those around him. He then allied with the Xebel forces to find his son Aqualad and kill his enemy. In the finale conflict he cut off Aquaman's hand before his son used his powers to seal black manta and all of Xebel back into the Bermuda triangle. Easily one of the most recognizable villains on the list thanks to his stint on Young Justice. If Aquaman rivals Superman and Black Manta Rivals Aquaman then Black Manta is a scary villain indeed.
~DIG DEEPER INTO BLACK MANTA HERE~ 
Doom
Publisher: Marvel Comics
Created by:  Kevin Gunstone and Ben Dunn
1st appearance: Marvel Mangaverse #3, 2002
Brief Biography
T'chana is the sister of T'Challa and daughter of T'chaka born into the wakanda royal family of Black Panthers. Sometime in the past she faced T'Challa for the right to rule Wakanda. She was defeated and left for dead but managed to survive and flee to Europe where she started training in the use of magic and came to the attention of Dr. Doom ruler of Latveria. He took her as an apprentice and trained her in the use of her powers. Her latent aptitude for magic surpassed even her master and she learned all she could until she finally faced him in battle and defeated him, unknown to even those closest to him. She took the mantle of Doom, leader of feudal Latveria. When she finally decided to attack the west she employed Doombringer, a sword which focused her power. Defeating Iron Man and Captain America in her time she was serious force to be reckoned with.  With Secret Wars pulling parts from different dimensions it would bode well to bring her back to life and into the modern fray.
Katie and Jake Fitzgerald
Publisher: Image Comics
Created by:  Todd McFarlane
1st appearance: Spawn #101, December 2000
Brief Biography
Katie and Jake were a set of fraternal twins born to Terry and Wanda Fitgerald, as they grew they displayed psychotic, destructive and sadistic tendencies. Things appeared to only get progressively worse as time went on. During their attempt to kill their family Spawn arrives to stop them. He is however is unable to truly kill them, the Queen of the Seraphim, revealed the truth revealed – Jake Fitzgerald was the earthly vessel of God, and Katie Fitzgerald the vessel of Satan. After Spawn is transformed thanks to the forbidden fruit both heaven and hell team up to try and destroy him. It fails and leaves them without an army. Mother then restores their original forms and traps them in a dimension where only they exist. Frighteningly powerful beings separately if they ever break out of their dimension Spawn and the Image comics' universe are in for a world of trouble.
Holocaust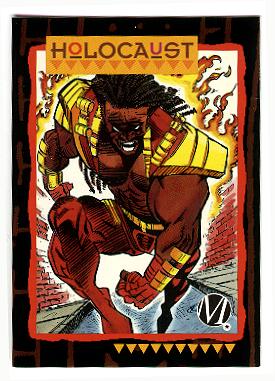 Publisher: Milestone Media INC.
Created by: Dwayne McDuffie and Denys Cowan
1st appearance: Blood Syndicate #1, April 1993
Brief Biography
Leonard smalls Jr. was the son of Dakota mayor/Thomasina Jefferson and her husband Leonard Sr. He was always a sadistic and cold person but stepped over the line when on his sixteenth birthday he killed his father. Taking to the street he joined a local gang where he made plans to take over the Dakota underground. At the Big Bang he was the only member of his group to survive. Holocauste then joined with the other survivors of the event to form 'The Blood Syndicate" but unlike them was cruel, power-hungry and sadistic. Why he's here:  Hands down there is no greater supervillain in Milestone history than Holocauste. He has awesome power, incredible design and is just straight up built for evil. Even DC realized his potential when they incorporated Milestone into their continuity and Holocauste found himself up against Black Lightning
~DIG DEEPER INTO HOLOCAUSTE HERE~
Menace
Publisher: Marvel Comics
Created by: Marc Guggenheim and Salvador Larroca
1st appearance: Amazing Spider-man #546, 2008
Brief Biography
Lily grew up the spoiled and pampered daughter of the affluent Bill Hollister. She eventually caught the eye of Harry Osborn son of the Green Goblin/ Norman Osborn. While they dated one night she discovered an old journal of his with the location of one of his father's Green Goblin labs. She went there and inhaled shattered vials of a new Goblin Formula. This resulted in her mutating and developing superpowers. She was romantically linked to both Harry Osborn and his famous Green Goblin father Norman. She was easily Spider-man's most formidable and cunning foe during the "Brand New Day" era. After Norman was imprisoned she gave birth to Harry's baby and left it in his care and is currently still on the run.
Thunderball
Publisher: Marvel Comics
Created by:  Len Wein and Sal Buscema
1st appearance: The Defenders #17, 1974
Brief Biography
Before turning to a life of crime Eliot Franklin was a promising mind with a bright future ahead of him. After going straight through college on various scholarships he attained a Ph. D in physics and began work on something that even Dr. Bruce banner had been able to do, create a Gamma Ray bomb. When the bomb was completed it was stolen and he foolishly tried to get it back but when caught was jailed. In prison he met Dirk Garthwaite/The Wrecker, Brian Phillip Calusky/Pildriver and Henry Camp/Bulldozer; together they formed the wrecking crew. When The Wrecker gained super powers he broke them out of jail and had them all hold onto his enchanted crowbar during a lightning storm. When the lightning struck the crowbar it distributed powers throughout the group. Over the next few years they battled Thor, Hulk, The avengers and x-men. Thunderball is full of unrealized potential with his powers and brain. He's currently appearing in the Illuminati series from Marvel Comics.
~DIG DEEPER INTO THUNDERBALL HERE~ 
Moses Magnum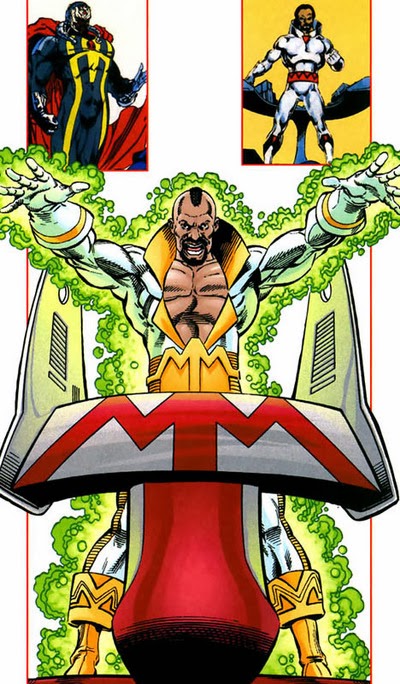 Publisher: Marvel Comics
Created by:  Gerry Conway and Ross Andru
1st appearance: Giant-size Spider-man #4, 1975
Brief Biography
Born in Addis Ababa, Ethiopia, Moses was an outstanding intellect from an early age. His fascination with weapons was also apparent early on. As a young man during World War II as Mussolini attacked Ethiopia he realized that those with superior weapons were to be both feared and respected. In that early conflict he defected to the side of the invading Italians to gain access to their technology and weaponry. The connection he made at this early stage helped him over time to become the world's foremost independent weapons manufacturer. He clashed with Spiderman and Punisher early on. After being enhanced by the ageless mutant Apocalypse he gained superhuman abilities. He has since attempted to conquer Wakanda, appease Apocalypse and clashed with Triathlon and Daken. Moses is yet another great villain with untapped potential but no writer to actualize it.
~DIG DEEPER INTO MOSES MAGNUM HERE~ 
Bubbasaurus
Publisher: Milestone media INC.
First Appearance: Blood Syndicate #11, February 1994
Created by: Ivan Velez Jr., Chris Cross and Ivan Velez
Brief Biography
Bubba was a member of the Paris Bloods alongside Wise Son and Holocaust. During the Big Bang he was one of only a handful of people to survive. He was granted the superhuman ability to transform into a large purple reptile that looked remarkably like a dinosaur. After witnessing all that death he decided to leave the gang life behind him and instead try to finish high school and turn his life around. Back in high school his temper landed him in trouble constantly. He came to the attention of former gang member Holocaust who recruited him as an enforcer. To mark his entry into this new life Holocaust had him challenge Icon's partner Rocket. Unfortunately for him she proved quite formidable and defeated him. He then joined a new incarnation of the Blood Syndicate alongside Fade, Flashback, Rocket and others. Milestone is apparently back so I'm expecting Bubb to be right there front and centre.
~DIG DEEPER INTO BUBBASAURUS HERE~
Diamondback
Publisher: Marvel Comics
Created by: Bill Mantlo and George Tuska
1st appearance: Luke Cage-Hero for Hire #1, 1972
Brief Biography
Willis Stryker and Carl Lucas grew up together in the inner city. As best friends they joined and later lead the street gang, the Bloods. Street fights honed his knife fighting skills. Years later Carl left the gang and he moved in on Maggia territory. He and Carl then became rivals for the affections of Reva who was Carl's co-worker. When Carl saved his life and Reva broke up with him he was furious. When he learned that Carl and Reva were engaged he stole two Kilos of uncut heroin from rival Cornel Cottonmouth and used it to frame Lucas.  With his friend imprisoned he moved in on Reva again promising to help Carl in any way he could. She later gets killed as retaliation for the heroin theft. Willis then rose through the ranks of New York criminals to become a member and leader of the Maggia, dubbed Diamondback for his speed with his blades. When Carl escaped prison and returned to New York as Luke Cage he targeted Willis' gang. When Luke cut a swath through his territory the Maggia gave him an ultimatum be fired of deal with him. He set a trap for Luke but fell through a skylight, an explosive dagger he intended for Luke fell next to him it killed him on spot when it detonated. A resurrection and enhancement is needed to make this guy a modern and credible threat!
~DIG DEEPER INTO DIAMONDBACK HERE~
Centurius
Publisher: Marvel Comics
Created by:  Jim Steranko and Frank Giacoia
1st appearance: Nick Fury, Agent of SHIELD #2, 1968
Brief Biography
Dr. Noah Black was a Nobel Prize winner during the 1930's his theories however were seen as too radical and he disappeared from public life. He quickly moved to an isolated island he later renamed Valhalla. Here he developed the evolutionizer which he used to keep himself in prime condition in addition to evolve himself and his test subjects. In addition to these he crafted the automated rebirth colonizer (ARC) which orbited earth. ARC was said to be able to sustain life for beyond a century and could destroy life on earth with its weapons.
Now called Centurious hell bent on destroying life on earth and replacing it with superior being created by himself he came to the attention of SHIELD. After being defeated and jailed on the Raft he was recruited into Luke Cage's Thunderbolts team and eventually went Rogue through time. He could be a major world class threat but alas writers simply lack the vision!
~DIG DEEPER INTO CENTURIOUS HERE~
Oblivion
Publisher: Milestone Media INC.
Created by: Dwayne McDuffie and Denys Cowan
1st appearance: Icon #22
Brief Biography
A long time ago before Arnus came to Earth he sentenced Kali'lkak to isolation though he did not wish to do so because he was unable to live among civilized beings. Though his isolation was as comfortable as any citizens everyday life he did not view it as an act of mercy. Before he was sentenced to isolation though he decided to hurt Arnus and thus sabotaged his ship resulting in his crash landing on earth and him eventually becoming Icon. His exile was supposed to be rehabilitative but he left what he called a "prison planet" after killing his therapists he went on a rampage across the galaxy on his way to Earth to kill Icon. After killing over three hundred life forms he took to calling himself Oblivion. Why he's here: Like the lady below him he was not on my initial list but he's the most evil, vile sadistic villain Milestone had to offer. Like the Joker, Bullseye or Sabretooth he takes joy in his villainy. His powers also allow him to take on any shape and even kill superhumans. If Milestone ever had a villain who could jeopardize the whole of Dakota, it's OBLIVION!
~DIG DEEPER INTO OBLIVION HERE~
Outcold

Publisher: Image Comics
Created by:  Todd Johnson and Larry Stroman
1st appearance: Tribe #1, 1933
Brief Biography
He grew up in an affluent upper class family. Bored with his life he tried his hand as a hired killer. He does business, that of assassination under the Pseudonym "Out Cold". He is highly proficient as an assassin so much so that he developed a reputation. Overtime he stopped enjoying his job because they lacked challenge. He was hired by Anthony Franco the self styled crime lord of New York City. He dresses flashy to inspire conflict and also masks his upbringing by using urban vernacular. He clashed with Rosalyn and the Tribe team. Tribe is dead so I guess so too is Outcold!
~DIG DEEPER INTO OUTCOLD HERE~ 
Midnight's Fire
Publisher: Marvel Comics
Created by: Fabian Nicieza and Mark Bagley
1st appearance: The New Warriors #2 (May 1990)
Brief Biography
Aaron is a descendant of the Dragon's breath cult, a centuries old people who tried to master the "well of all things", an inter-dimensional breach in Cambodia which held fantastic power. After his father married his mother and took her to America he was born with his twin sister Silhouette. His mother feared that their grandmother would sacrifice them to the well so she could gain greater power so she faked her own death and abandoned them in China Town New York. He and his sister were orphans who developed peak human physical traits and studied a variety of martial arts. During the 90's he was both friend and foe to the New Warriors and Nightthrasher. In a more diverse Marvel Universe you would think they would have brought him back by now!
~DIG DEEPER INTO MIDNIGHT'S FIRE HERE~
Hardcore
Publisher: Marvel Comics
Created by:  Marc McLaurin and Dwayne Turner
1st appearance: Cage #1,April 1992
Brief Biography
Nothing is known of Hardcore's past except he was born on one of the many islands of the Caribbean. It's also unknown when he left the Caribbean and became a mercenary and later a well-trained assassin selling his skills to the highest bidder. He put together a team called the Untouchables composed of Kickback, Nitro and Tombstone. Under the employ of Cruz Bushmaster, he clashed with Luke Cage while he was based in Chicago. After a long series of encounters, the feud ended with Hardcore's car plummeting into a cliff and his favourite weapon set to explode. He was assumed to have died on impact, but with Hardcore you never know.
~DIG DEEPER INTO HARDCORE HERE~
Crash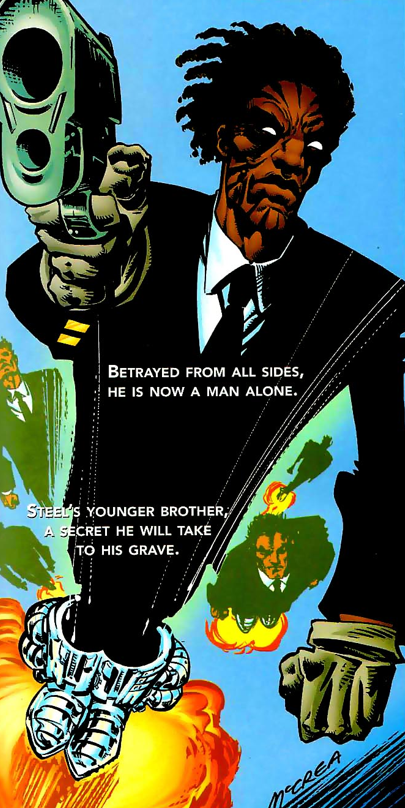 Publisher: DC Comics
Created by: Louise Simonson, Joe St. Pierre (Clay Irons); Christopher Priest and Denys Cowan (Crash)
1st appearance: Steel Annual #2, Year One; 1995 (Clay Irons); Steel #39, 1997 (Reggie Glover/Crash)
Brief Biography
Clay Irons grew up with his big brother John Henry and their parents. They all stayed with his maternal grandparents, Mr. and Mrs. Parks. One day while their parents were away at the National Black Political Convention in which they were delegates and he and his brother were away from the house, his grandparents were killed. As time passed, his brother got into sports. While he attended one of his brother's games, his parents were involved in a car accident and killed. He and his brother moved to Washington DC to stay with their paternal grandparents Butter and Bess. John Henry continued to excel in sports, and gained a scholarship to college, Clay on the other hand joined the neighborhood gang named the Dragons. Clay was taught philosophy, psychology, economics, martial arts, weapons, and tactics and took on the alias Crash.  When his brother took on the mantle of Steel he became one of his main arch nemesis.
Reignfire
Publisher: Marvel Comics
Created by: Fabian Nicieza and Matt Broome
1st appearance: X-force #26 (1993)
Brief Biography
His initial origins are unknown but he existed as a formless protoplasmic being in the possession of the celestials. Somehow he came into the possession of the immortal mutant Gideon who gave him to Dr. Joshua one of his chief scientists to experiment on. Over the course of experimentation he acquired a male form which was highly unstable. When Roberto Da Costa was acquired as a test subject Joshua took a sample of his blood and introduced t directly into his body, now called Project nineteen. Dr. Joshua kept the project a secret from Gideon as Reignfire used the blood of Da Costa to rebuild itself into his genetic duplicate. A side effect of becoming Da costa's twin also granted him a telepathic link and access to all his memories. After escaping he became the leader of the Mutant liberation Front (MLF) faced off with X-force multiple times. Reignfire could have been so much than he was alas he was killed off and stayed dead.
~DIG DEEPER INTO REIGNFIRE HERE~

Calypso
Publisher: Marvel Comics
Created by: Dennis O'Neil and Alan Weiss
1st appearance: Amazing Spider-man #209, 1980
Brief Biography
Born and raised on the Caribbean island of Haiti, she showed an affinity for magic from an early stage. Her family itself had a strong magical lineage, her sister also wielded magic. She was a natural with Voodoo and revealed in the dark arts. When Kraven the hunter came to her land after he had given up the hunt, it was she who's lust and thrill of the hunt reignited his fire. As his lover she got him to resume his hunt of Spider-man.  After Kraven's suicide she fell deeper into the dark magics and truly became evil. Returning to Haiti she increased her powers by sacrificing her sister, the sorceress Mambo and added her considerable powers to her own. To avenge her fallen love she used her powers to enthral the Lizard and had him attack Spider-man. She spent the next few years as an adversary of Spider-Man and Daredevil before being killed. Having placed her soul inside a talisman she resurrected herself. Calypso is a powerful magic based villain to whom death means nothing.
~DIG DEEPER INTO CALYPSO HERE~
Commando X
Publisher: Milestone Media Inc.
Created by Dwayne McDuffie and Denys Cowan.
1st appearance: Static #5, May 1993
Brief Biography
Howell Rice was apparently a gang member who was present at the Big Bang event. He survived and was granted superhuman powers to make things explode. Unlike the other surviving Bang Babies he was a nationalist and Muslim black supremacist who believed in "separation of races". He also believed in a conspiracy against the black race by the whites who held all the economic power and prestige. He made his public debut by bombing white supremacist headquarters and even a Jewish temple full of innocents. This caused a riot to erupt between the Jews and African-Americans on the scene. He was confronted and defeated by Static. This is a very topical villain who could provoke some needed conversation in modern comics.
~DIG DEEPER INTO COMMANDO X HERE~

Tombstone
Publisher: Marvel Comics
Created by:  Gerry Conway and Alex Saviuk
1st appearance: Web of Spiderman #36, 1988
Brief Biography
Lonnie Thompson Lincoln is a tall Albino African American with a disfigured nose, filled pointed teeth and damaged vocal cords limiting o speak in whispers, nicknamed Tombstone as a play on his middle name and deathly pallor. Senior year in Harlem High School Lonnie was a bully and extortionist. When Robertson was editor of the school paper Lonnie 'convinced" him to kill an article which would have exposed his criminal activity to the school. This was just the beginning of his life of crime as he would become a mobster and later assassin clashing with Daredevil, Darkhawk, Spiderman Luke Cage and the Punisher. Even when depowered and imprisoned he went on to make a gang comprised of himself Rocket Racer, Hypno Hustler and big Ben Donavan.
~DIG DEEPER INTO TOMBSTONE HERE~
Lightweaver
Publisher: DC Comics
Created by:  Dan Jurgens
1st appearance: Justice League International #7, 2011
Brief Biography
Malcolm was born a metahuman twin alongside brother Malik. Their ability, very similar to that of a Green Lantern allowed them to self generate light based powers to create hard light constructs or fire concussive blasts or burst of blinding light from his hands. In his opening introduction he destroyed the Hall Of Justice which was the base of the Justice League International. his resulted in the server injury of Fire, Ice, Vixen while killing Rocket Red, Andre Briggs and Emerson Esposito.
He then showed up at the hospital where he defeated both Booster Gold and Batwing, almost killing the latter. He is eventually killed while fighting the JLI causing his twin brother much grief. I loved his design and man was he formidable as hell!
~DIG DEEPER INTO LIGHTWEAVER HERE~
Fatality
Publisher: DC Comics
Created by: Ron Marz and Darryl Banks
1st appearance: Green Lantern #83, 1997
Brief Biography
Yrra Cynrill was the princess of the planet Xanshi which in its prime was described as being "A planet of many Races" and a "Paradise". She was sent to the planet Okaara to hone her warrior skills. While she trained however tragedy struck. Green Lantern of earth John Stewart made a fatal mistake which resulted in the destruction of her planet. Devastated she left Okaara against the wishes of her teachers to seek vengeance. Upon finding out it had been a green lantern she channelled her anger and despair into action. She dedicated her life to kill all who would wear or formerly wore a Green Lantern Ring. After years of killing Green Lanterns she would be recruited into the Sinestro Corps and then forcefully made into a Saphire Lantern, sharing a brief romance with John Stewart as well. This happiness was fleeting however as she was captured and tortured and John did not come to her aid. She vowed once more to hunt John Stewart to seek vengeance for what he had done.
~DIG DEEPER INTO FATALITY HERE~
Komodo Dragon
Publisher: Image Comics
Created by:  Robert Kirkman
1st appearance: Invincible #9, 2009
Brief Biography
Komodo is an altered human who gained his abilities through experimentation. He possesses superhuman strength and his body produces powerful toxins and bacteria. He can use these toxins in an offensive and defensive manner in close combat. His sharp teeth and nails as well as the tough scaly surface of his skin and costume are used transmit these toxins and bacteria which have varying effects on his victims; fear induction, diseases etc. His control is such that he can transmit a fatal contagion to someone as a carrier that only becomes fatal when they make contact with the intended victim. He took to a life of crime and joined the lizard league. Here he served a dual purpose to draw enemy fire and absorb damage while leading the offensive. When he first clashed with Invincible he had the upper hand until the arrival of Atom Eve. He showed up again when his team attacked a missile silo where he killed Dupli-kate and shrinking Ray. A desperate Rex-splode even lost a hand after komodo bit it off but his ferocity was his undoing as said hand contained an explosive which blew his head clean off, killing him instantly.
~DIG DEEPER INTO KOMODO DRAGON HERE~

Genecide
Publisher: Marvel Comics
Created by:  Evan Skolnick and Patrick Zircher
1st appearance: New Warriors vol.1 #63, September 1995
Brief Biography
The nature of her abilities are unknown, is she a mutant? Inhuman or meta-human? Her powers allow her to see the genetic composition of those around her. She claims that she can see "every dominant trait, every recessive gene and every minor mutation". Not only can she see it but she can interpret what they mean. Genecide can also manipulate her own genetic structure allowing her to heal herself instantaneously, shape shift, fire concussive force beams, generate heat and enhance her strength and reflexes. The full scope of her powers however remains a closely guarded secret. She led a terrorist cell called the Genetix and battled the New Warriors multiple times. In a landscape where Mr. Sinister and the High Evolutionary reign she needs a modern reintroduction and slap the Inhuman brand on her and you have a world class threat on your hands!
~DIG DEEPER INTO GENECIDE HERE~
Rubberband Man
Publisher: Milestone Media Inc.
Created by:  Dwayne McDuffie
1st appearance: Static #33, 1977
Brief Biography
A small time crook caught in the Big Bang event which killed thousands but granted a handful superhuman abilities. A relative unknown until he challenged Static Shock to a battle on national TV where Static embarrassed him and he fled vowing revenge. He would later resurface as a member of a bang baby supervillain team and captured Static's girlfriend Frieda. His team was defeated and he wound up behind bars. Rubberband man is most famous for appearances on the Static Shock cartoon. That makes him very recognizable to non comic fans and Milestone needs to capitalize on that in a big way!
~DIG DEEPER INTO RUBBERBAND MAN HERE~
Bamboo Monkey
Publisher: DC Comics
Created by:  Chuck Dixon and Scott McDaniel
1st appearance: Nightwing #23, 1998
Brief Biography
Back when DC Comics actually had its martial artists in tiers Bamboo Monkey was very close to the peak. He was one of many belonging to the Monkey Fist Cult who sought to kill Green Arrow Connor Hawke after he had defeated their most skilled fighter. As testament to his abilities he defeated Batman's two partners Dick Grayson/Nightwing and Tim Drake/Robin 3. He fell before Connor Hawke however. Despite this loss he led the sect against not just Connor but Richard Dragon and Lady Shiva, the latter two being the greatest martial artists in the DC Universe. His skill with the Bow and Arrow was also such that he was invited to an archery tournament to determine the greatest archer in the world. With a new name and this guy could add some villain diversity to the DC Universe and be a major threat at the same time.
~DIG DEEPER INTO BAMBOO MONKEY HERE~
Massacre
Publisher: DC Comics
Created by:  Judd Winnick
1st appearance: Batwing #1, 2011
Brief Biography
The brother of David Zavimbe/Batwing. As children after their parents died of AIDS they became child soldiers under general Kieta. Along with David he was revered as one of the most naturally gifted soldiers the continent had ever seen. He found himself on the verge of death when him and his brother refused to kill innocent people. Issac was scared, mortally wounded and found himself thrown from a cliff. Miraculously he survived. In the Jungle he regained his strength and became almost feral. Found by Josiah Kone he was nursed back to health and trained to hunt down and kill those who had betrayed Africa, the Kingdom. When he finally started his campaign of death he ran into Batwing and was thus his very first villain. He was responsible for the deaths and mutilations of many including the police station in which Batwing worked. In his bid to seek revenge for Africa and hunting  the Kingdom, he managed to kill Earth Strike, Dawn Fire, Razor Wire, Thunder Fall and Staff. In Gotham city he as finally de-masked and defeated by the Batman family though he escaped in the ensuing explosion.
~DIG DEEPER INTO MASSACRE HERE~
Big Brother
Publisher: Marvel Comics
Created by:  Marv Wolfman
1st appearance: Power Man #38, 1976
Brief Biography
He started life as a weak and sickly and almost illiterate child from Brownsville. In a bid to fit in he joined a local gang but was always caught. At sixteen he was sent to prison where he honed his intellect. He volunteered for a project in computing and in a year he was teaching his teachers. After leaving prison he continued to hone his skills and even implanted himself with bionics to grant him superpowers. He partnered with the Cheshire Cat who became his lackey as they tried to put an end to another Villain called the Baron. They used Luke Cage to deal with him after their fight ended in a draw. When Cage realized he was used he tracked down Big Brother who had already set his plan in motion; he would shut off the cities electricity if he was not given a billion dollars; this would result in thousands of deaths. Luke Cage caught up with him and he was seemingly killed in the explosion though Cheshire Cat survived. I can't explain my fascination with this villain but a modern update would not hurt!
~DIG DEEPER INTO BIG BROTHER HERE~
Onyx
Publisher: Aspen MLT
Created by:  Michael Turner and J. T Krul
1st appearance: Soulfire v1 #1, 2003
Brief Biography
The assassin known only as Onyx hails from the Faye kingdom of Sethoru, often described as a place of dark magic. She first makes her appearance trying to abduct Mal the latest incarnation of the Samusara/the Light. After battling Grace she becomes a long-time nemesis to the group. She finally becomes the Big Bad after bonding with the dark magic of the 'Book of Azar' which gave her power over fire and darkness, power to summon and control both dark beetles and flying demons and even create a Dragon of Pure Darkness. Even after her defeat she was simply jailed as they failed to kill her. No doubt she will return in the new Soulfire series!
Lord Chapel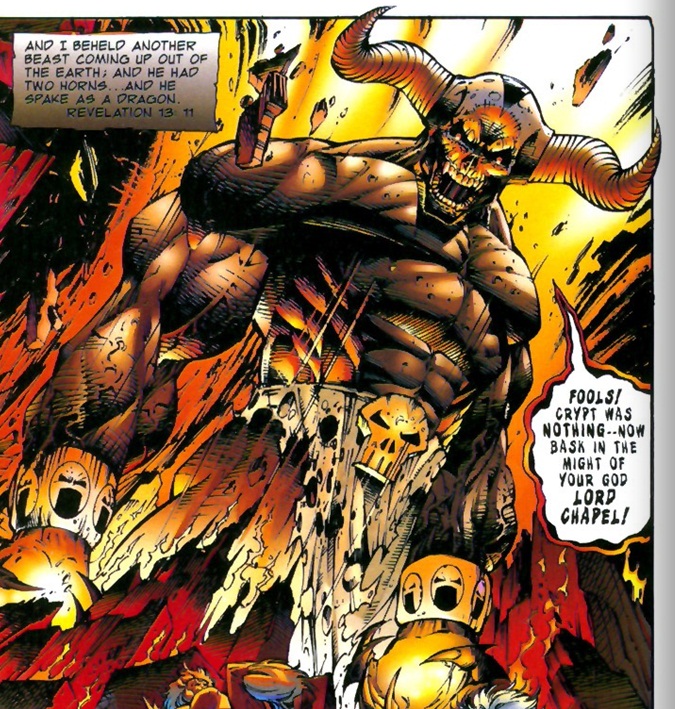 Publisher: Image Comics
Created by:  Rob Leifield
1st appearance: Youngblood #10
Brief Biography
Born from the suicide of the government assassin Chapel,who had killed  Al Simmons who would become Spawn while in Hell. Chapel's Hara-Kiri however had an ulterior motive…to become like Al Simmons, a Spawn. Reborn in hell as Lord Chapel he waged war on the ruler of hell and managed to usurp his thrown. After being separated from Chapel who was returned to earth in a bid to get rid of his demonic alter. As the ruler of hell he recruited Crypt and set him to defeat Supreme in hopes of joining Hell and Earth together in demonic bliss. It took all the heroes of the Image comics' universe and a reborn New Son to take him down, he was presumed dead but recently returned to battle youngblood. When I think of major Image comics threats I always reflect on Lord Chapel.
~DIG DEEPER INTO LORD CHAPEL HERE~
Kibuka
Publisher: Marvel Comics
Created by:  Christopher Priest and Andy Kubert
1st appearance: Black Panther #50 , 2002
Brief Biography
A New York City police officer nicknamed "Black Jack" because of how dark his skin was. It is also suggested he once lived in Africa before making life in America. In the US he married Ruth Cole a Jewish woman. Black Jack was well-respected in his community and father the father of Kasper Cole. To his co-workers, community and friends he was a "hero" cop who was a faithful husband and dutiful father who had even the respect of the most cruel and corrupt street hustlers.
He was eventually jailed for cocaine possession and everyone especially his son Kasper thought he had been set up by the corrupt police force for doing his job.
Unknown to everyone however he was really the leader of the international crime syndicate known as the 66 bridges and also had another son who helped him run the "business", Triage/Nigel Blacque. From behind bars he pulled the strings that lead his son as the Black Panther down the path of a superhero hoping to either forge him into the perfect weapon or corrupt him.
Fox
Publisher: Top Cow Comics
Created by:  Mark Miller and J.G. Jones
1st appearance: Wanted #0, 2003
Brief Biography
Born and raised in an undisclosed American Ghetto she became a killer at the age of fourteen and quickly distinguished herself with her natural agility and complete disregard for human life.  Overtime she became the lover of "The Killer" to secure her place in the super villain team "The Fraternity". When the Killer died she instigated herself into his son's life recruiting him into the fraternity and became his lover to ensure her place as he rose through the ranks of the Fraternity. Most famously portrayed by Angelina Jolie in the Movie "Wanted", this one had the potential to be the most recognizable name on the list but Race swap prevented this. Nonetheless she's a fine addition to the ranks of Black Supervillains everywhere.
Achebe
Publisher: Marvel Comics
Created by: Christopher Priest
1st appearance: Black Panther #3, 1998
Brief Biography
Reverend Dr. Michael Lbn al-Hajj Achebe's true identity is shrouded in mystery. One rumor surrounds who he was before he took to this new alias. It is theorized that he was a simple farmer until Guerilla soldiers took refuge on his farm. There he treated them with utmost kindness and in return they abused him physically through beating and stabbing. Worst his wife unfaithful as she was began to sleep with said soldiers. One day he fled into the desert and despite lack of water he survived on his own. The heat and trauma had given way to dementia. When he returned from the desert he was a changed man. He hunted down and killed everyone associated with his wife, from close family to casual Acquaintances. In time none remained who had known of his wife it was as if she had never existed.  He made a deal with Mephisto to calm his madness and after fleeing to Wakanda with refuges he quickly took control of the county while the King was away. When his connection to the devil was severed he created a hand puppet "Daki" with whom he communed. When T'challa returned he fled into hiding resurfacing briefly to torture one of the dora Milaje and later in a bid with Deadpool to kill Killmonger and cease control of Wakanda again. When this failed he returned to hiding once more.
Morena Simmons
Publisher: Image Comics
Created by:  David Hine and Brian Haberlin
1st appearance: Spawn #168
Brief Biography
Morena was conceived by Al Simmons and Wanda Fitzgerald. Both bloodlines had shown a natural affinity toward Hellspawn creation going back generations. While still inside her mother's womb the devil, Mammon influenced her father to abuse her mother physically. She was then stolen from the hospital by Mammon. For 18 years she was kept secret and Mammon groomed her to become the perfect Hellspawn thanks to her genetic potential. After a blood consecration she confronted her parents Al and Wanda. After taking control of the Spawn symbiot which had been her father's for countless years she planned to usher in Armageddon by storming earth and enslaving mankind. It is only due to the intervention of her 1/2 sister Cyan and the witch Nyx that both Mammon and Morena are bound with a spell from the future thus saving all mankind. With Al Simmons back as Spawn and apparently a brother in existence as well, we think it's time for Morena to make her triumphant return!
~DIG DEEPER INTO MORENA SIMMON HERE~
Damballah
Publisher: Marvel Comics
Created by:  Len Wein and Gene Colan
1st appearance: Strange Tales #169, 1973
Brief Biography
Nothing is known of his early life until he came into possession of the Wangal which he used to try and establish himself as the Houngan Supreme of Haiti. As he amassed power and followers he was opposed by Daniel Drumm. When he was defeated by Daniel he vowed revenge and using a voodoo doll effigy of Daniel he sapped the boy's power and eventually killed him. Jericho who had returned to Haiti to aid his brother was easily defeated by Damballah who taunted him and allowed him to live.
He then called together the Voodoo priest and priestesses across the globe to declare himself Houngan Supreme. When the Asian representative scoffed at his claims he incinerated him to intimidate the rest of the 'Council of Vaudou' into submission. Jericho Drumm now Brother Voodoo challenged him to single combat and after he was stripped of the Wengal he was killed by the very snakes he once controlled.
~DIG DEEPER INTO DAMBALLAH HERE~
Masquerade
Publisher: Milestone Media Llc.
Created by:  Dwayne McDuffie, Ivan Velez Jr. and Denys Cowan
1st appearance: Blood Syndicate #1, 1993
Brief Biography
Born biologically a woman, most of his past is shrouded in mystery. From an early age he realized that his gender identity did not fit with his biological makeup, he was a man trapped in a woman's body. He joined Holocaust's gang the Paris Bloods along with his older brother who accepted his lifestyle. Only his brother knew he was a biological female dressed as a man in the gang. On Paris island during the Big Bang his brother was killed and he gained the power to shape shift and immediately used his powers to make his body reflect what's always been in his mind, he changed his biology to match his gender identity, becoming a man (Revealed in Interview with Ivan Velez).
As Masquerade he joined the Blood Syndicate. He was eventually ousted and was kicked off the team and later became their enemy.
~DIG DEEPER INTO MASQUERADE HERE~
King Bedlam
Publisher: Marvel Comics
Created by:  John Francis Moore and Steve Epting
1st appearance: Factor X #1, 1995 (Age of Apocalypse)
X-force #83, 1998 (Mainstream marvel comics)
Brief Biography
Chris was the first of two children born to a middle American family.  As his power manifested he became difficult especially when his parents spoke of sending him away to boarding school. In a testament to his cruelty even at this early stage he used his powers on his parents driving them mad and caused them to crash their car. His parents were killed in the accident but his younger brother Jessie survived. They were separated and sent to different orphanages. From this stage he decided to never allow anyone to use him for their own personal gain. When his powers came to the attention of the orphanage he was separated and recruited into a secret government operation where he was trained for a few years. He eventually rebelled and drove his handlers mad. For the next few years he maintained a low profile and gathering together a band of mutants who shared his goal of mutant supremacy.  His new Hellions clashed with X-force over the Armageddon man one of the earliest mutants who could cause natural disasters. In the Fracas he reunited with his brother Jessie. When they were defeated him and his followers fled. On M-Day he lost his mutant powers and has not been seen since.
~DIG DEEPER INTO KING BEDLAM HERE~
Iceberg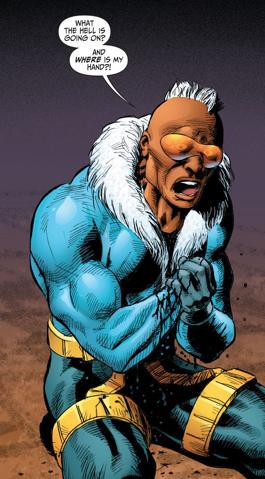 Publisher: DC Comics
Created by:  Adam Glass, Fernando Dagnino
1st appearance: Resurrection Man Vol 2 #8 (June, 2012)
Brief Biography
Charles was a professor of some repute at one point in his life. An unknown experiment granted him superpowers and he turned to a life of crime. Caught and sentenced to Belle-Reve he decided to work of his sentence on the Suicide squad run by Amanda Waller. Somewhere along the way he was hypnotized into becoming a sleeper agent for the criminal syndicate Basilisk. Upon activation he and Black Spider (and others) attacked their teammates. The only thing that pulled him out of the brainwashing was when his hand was cut off by Deadshot. This triggered a mutation of some kind as he entered an ice cocoon and when he remerged his lost hand was replaced by one made of solid ice.
~DIG DEEPER INTO ICEBERG HERE~
Bushmaster
Publisher: Marvel Comics
Created by:  Mark Gruenwald and Paul Neary
1st appearance: Captain America 310, 1985
Brief Biography
After growing up poor his brother managed to dig himself out via crime. His first crime was a disaster after he was ambushed by cops. Attempting to flee he swam out to sea only to be run over by a police ship, losing his legs and arms. Disgusted his brother abandoned him after revealing his latest alias, Bushmaster. Wishing for death he was approached by a member of the serpent society who promised to replace his missing body parts. After many experiments he awoke to cybernetic arms and his legs remade into that of a snake's body. When he heard of his brother's death at the hands of Luke Cage he took the name "Bushmaster" to honor him and joined the serpent society. Working for Ghar of the lemurians he faced Storm of the X-men. During Civil War he became a registered hero and was a part of the thunderbolt army. After this he faced the Avengers and his brother's killer Luke Cage. Recently he's faced Misty Knight as he joined with fellow Black villains like Nightshade and Cheshire. He also faced Marcus Johnson as part of the serpent society.
~DIG DEEPER INTO BUSHMASTER HERE~
Astrid Bloom
Publisher: Marvel Comics
Created by:  Karl Bollers and Carlo Pagulayan
1st appearance: Emma Frost #14, 2004
Brief Biography
Astrid was born in England and had a happy life with both parents. Her life changed when her father died and her mother remarried and gave birth to her little sister. Immediately she became the outcast, her room was converted to a baby nursery and her parents pampered and spoiled her sister while she was always in the wrong. When her powers manifested she had enough and using her powers she cruelly took control of sister and had her kill her parents. Using her powers she made a life for herself and eventually arrived in New York for college. Here she met Emma Frost a fellow telepath, Astrid saw Emma as a student someone to mold and manipulate to her anti human way of thinking.
When Emma realized she was being manipulated the two fought and Emma the more powerful telepath prevailed. The strain left Astrid Catatonic. She is still in the hospital to this day.
~DIG DEEPER INTO ASTRID BLOOM HERE~
Manslaughter Marsdale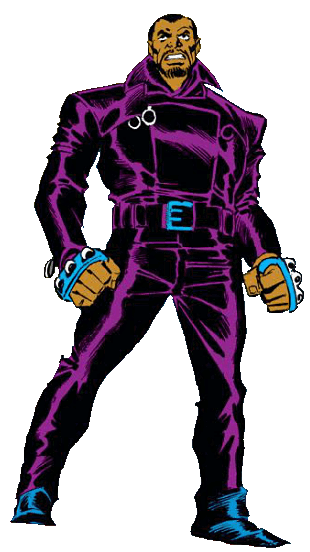 Publisher: Marvel Comics
Created by: Tom DeFalco and Ron Frenz
1st appearance: Amazing Spiderman #271; December, 1985
Brief Biography
Manslaughter Marsdale started out as an enforcer for Madam Fang, and also ran a boxing gym with her in New York. Early in his life, he underwent a procedure that made it so he no longer felt pain and possesses near superhuman strength. When the star boxer at the gym refuses to renew his contract, and decides to go with Madam Fang's rival, she sends Marsdale to "persuade" the boxer not to sign. Marsdale would have been successful if not for the intervention of Spider-man. During Norman Osborn's "dark reign" Marsdale was mysteriously attacked and placed in a coma by an unknown assailant. The assailant; the villain Zodiac; revives Marsdale from his coma and earns Marsdale's loyalty. Marsdale joins Zodiac's "Gang-with-no-name".
~DIG DEEPER INTO MANSLAUGHTER MARSDALE HERE~

Father Lost
villainsPublisher: DC Comics
Created by:  Judd Winick
1st appearance: Batwing #13, 2012
Brief Biography
Like David Zavimbe/Batwing his parents died of AIDS when he was young and he wandered alone from village to village living off scraps. One day he met an old woman who told him he was special like her and taught him how to harness his fear and anger, to own it. Through this method he gained magic abilities which he strengthened by finding the people too afraid to unleash their anger and too guilty when they don't and how to make their anger his own. Through this he can control the hearts and minds of others.
With a new lease on life he travelled across Africa creating a cult to keep himself safe and powerful. Along the way he killed and tortured members of Dawn's military team this caused her to later seek revenge. His cult grew as did his powers while he spread death and violence everywhere. David Zavimbe later defeated him after he found a way to sever Lost's connection to his followers thus severing his power source. Lost was then turned over to the police force
~DIG DEEPER INTO FATHER LOST HERE~
CutThroat
Publisher: Image Comics
Created by:  Erik Larsen
1st appearance: Savage Dragon #8
Brief Biography
Often partnered with Hellrazor he made his first appearance as a member of the Viscous Circle attacking a recovering Savage Dragon after he was defeated and impaled by Overlord. Their plan was to finish him off for their boss but he had his leg broken and before escaping with his partner. He shows up next on the verge of killing a bartender. Savage Dragon shows up and quickly kills him and he's carted off to jail. He appears again in a failed prison escape. Finally escaping from prison he is defeated by She Dragon in battle. After the death of Dragon's wife, he and a handful of criminals attacked the hero and he was again defeated.
Seemingly betraying the viscous circle, he and his girlfriend were kicked out. Captured and used as guinea pigs by the viscous circle they were infused with Savage Dragon's blood but yet again were defeated. While in the hospital they both exploded leaving their son an orphan.
~DIG DEEPER INTO CUTTHROAT HERE~
Bedlam
Publisher: Marvel Comics
Created by:  Dan Jurgens, John Romita Jr. and Klaus Janson
1st appearance: Thor #17, 1999
Brief Biography
Olisa Kobaki was a girl to be avoided by her fellow villagers in Kenya due to a disorder of the mind which quelled her youthful search for knowledge. As a direct result she led a solitary and lonely life. She would have been destined for asylum if not for the miracle of medication. One day however she received an intense mental cal which cut through the stupor0inducing medication. Listening to the voices in her head she followed them to the Great Rift Valley where she came upon the Ivory Idol of Ikonn. As Cain Marko did become the Juggernaut, so did she become Bedlam, Avatar of Mind and Madness.
As Bedlam she joined with her fellow exemplars and wrought havoc on the earth before being stopped by the Avengers. When they appeared again they pursued Juggernaut for his betrayal. Despite being the silent member of the Exemplars she was the one moved by the words of the Avengers and took herself and her team deep into space.
HypnoHustler
Publisher: Marvel Comics
Created by: Bill Mantlo and Frank Springer
1st appearance: Spectacular Spider-man #24 (1978)
Brief Biography
The hypno-hustler and the mercy killers were a band who used their technology and mesmerizing music to hypnotize a crowd and then steal all their valuables. They met with Spider-man one night when he needed to unwind and visited a club. Their wiles proved unable to turn him however and he defeated them. Undeterred by defeat the group continued on their criminal ways only to be jailed years later in a special prison for supervillains.
He later pays Deadool to break him out of prison and kill Spider-man. He almost won but betrayed Deadpool leading to Pool and Spider-man teaming up, defeating him and sending him back to jail. While there he was shown to be in contact with Spider-man's nemesis Mysterio who even sent him an autographed poster. This could be the Black Mysterio if only he had a writer with the vision!
~DIG DEEPER INTO HYPNO HUSTLER HERE~
Deluge
Publisher: Marvel Comics
Created by:  John Byrne
1st appearance: X-men: Hidden years #6, 2000
Brief Biography
Born in an African village around many years ago, he was ostracized immediately for being an Albino. When he discovered that some American scientist had been monitoring the village he was forced to live with them since they did not want him to reveal their plans to the village people. As his powers manifested he became the scientists' personal guinea pig and grew to resent them and the villagers for treating him as sub human when he was more than them. Killing the scientists he cut through his village with his unearthly powers. When he heard of a goddess in Kenya he ventured there to wrest control of her weather powers from her. He defeated Storm and grew her simple torrential downpour into a storm the likes of which the world had never seen. It easily enveloped the other rims of Africa and parts of the savage land. He clashed with the teenaged x-men and recognized Cyclops as a more powerful energy source. Cyclops power proved his undoing as he absorbed more raw energy from Scott than his body could handle and dissipated from the overload.
Prowler
Publisher: Marvel Comics
Created by:  Brian Michael Bendis and Sara Pichelli
1st appearance: Ultimate Spider-man #1, 2000
Brief Biography
Aaron was a young criminal with aspirations of one day taking control of New York's vast criminal empire. In his bid to do this he brought his brother Jefferson into the life and they even worked for the Kingpin himself. After the brothers split he became the supervillain/thief Prowler. It was his theft of an experimental Spider that led to Miles being bitten and thus becoming Spider-Man. Despite his shady past he got along well with his nephew, often being the boy's confidant. Upon learning his nephew was the New Spider-man he blackmailed his nephew to aid him in his criminal endeavours.
Aaron proved more than just shady when he killed the tinker and fought the new Scorpion. When Miles eventually rebels from his blackmail the two engage in battle and he is killed in battle when his stolen equipment explodes. This is hands down the best supervillain for Miles Morales hitting him on an emotion and physical level like no other!
Triage
Publisher: Marvel Comics
Created by:  Christopher Priest and Andy Kubert
1st appearance: Black Panther #54, 2002
Brief Biography
Nigel Blacque's history is shrouded in mystery. It's unknown when he was born but at a young age he was taken under the wing of his father's criminal enterprise and trained extensively in the martial arts and a variety of combat forms. He was also aware of his father's other family and half brother Kasper/White Tiger. When his father, the villain Kibuka was jailed he became the leader of the 66 bridges publicly while his father still ruled from prison. Nigel and his father attempted to corrupt his brother to join their ranks unsuccessfully and as a result and fought both T'challa and Kasper. Triage has not been seen since.
Bulletproof
Publisher: Marvel Comics
Created by:  Dwayne Mcduffie
1st appearance: Icon #19,1994
Brief Biography
Bulletproof was one of the many individuals who were present at the Big Bang event. As with the other survivors, Bulletproof gained powers from the experimental tear gas which was used on the gangs. Some of the empowered individuals endeavored to use their powers for world domination or to create large criminal empires, but instead Bulletproof was content in being a small time super power crook, doing crimes which required little effort and garnered him fast cash. He especially likes committing robberies. Bulletproof would go into establishments announce his intentions to rob the place, and then shoot himself in the head. The robbery victims would be so shocked by this that they would give up their goods in face of his invulnerability. He was so unstable that he would offer the places he robbed their money back if someone would play Russian roulette with him. His career came to an end when Rocket came upon him robbing a building.
~DIG DEEPER INTO BULLETPROOF HERE~
Deadly Nightshade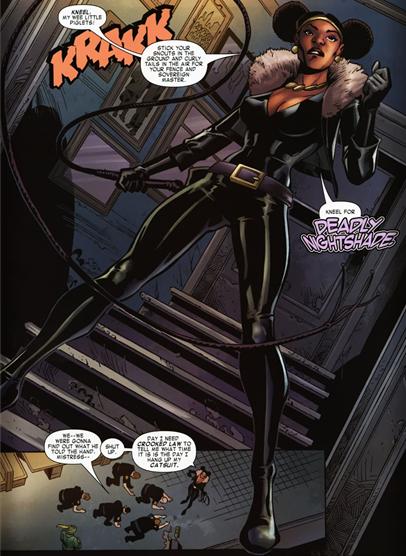 Publisher: Marvel Comics
Created by:  Steve Englehart and Alan Weiss
1st appearance: Captain America #164, 1973
Brief Biography
Harlem born Tilda was a gifted child, a veritable prodigy whose brilliance left her ostracized by those around her early on. Realizing it best to be "dumb down" her skills to pass as Normal she did this for years. By age 16 she had self taught herself to the doctorate level genetics, Cybernetics and Physics. By 18 she launched a successful criminal career thanks to the "Yellow claw" a criminal group interested in her experiments. It was here that she clashed with Captain America and the falcon with her science made werewolves. When the Yellow claw abandoned her she faked her death and escaped. She would surface months later to try and take over Sheild though she was defeated and jailed. Over the years she has been hired by Erik Killmonger, shared a brief ill fated romance with an alternate Black Panther and during Shadowland she supplied technology to Shades and laid claim to the New Power Man.
~DIG DEEPER INTO DEADLY NIGHTSHADE HERE~
Painkiller
Publisher: DC Comics
Created by:  Tony Isabella
1st appearance: Black Lightning #2, March 1995
Brief Biography
Big, imposing and totally dangerous are the best words to describe this mad man. This Meta-Human villain with the ability to anesthetize any part of his victim's body including their senses was hired to kill Black Lightning at a time when the hero had just moved to a new city. In their first meeting he almost managed the task but the police intervened and thus saved Black Lightning's life. When they tussled next a young boy ended up dying after Painkiller had taken down the entire police force. During the fight he tried to stab Black Lightning with an energy bade which caused an explosive backlash which knocked him out. Strangely DC Comics has left him in comic book limbo despite the need for more diverse and dangerous villains.
~DIG DEEPER INTO PAINKILLER HERE~
Zephyr
Publisher: Marvel Comics
Created by:  Tony Isabella and Val Mayerik
1st appearance: Supernatural Thrillers #8, August 1974
Brief Biography
Zephyr was a tavern wench when she was approached by Hellfire, Hydron, and Magnum who were the remaining members of the Elementals and asked to join and become the air elemental of the group. She was treated as an inferior by the other members, and was often sent out as the first wave in their show of force. The group was cast out of their universe and came to earth around 3500 BC. They were worshiped as gods and ruled over a kingdom. They sought to expand their kingdom to the area that would become Egypt, but were thwarted in their attempt by a young warrior and a wizard. The wizard created the Ruby Scarab, which sapped the Elementals of their powers, and then the wizard banished them to an extra dimensional prison which the elementals rebuilt into their "palace of the gods". Growing tired of her treatment by the other elementals she attempted to escape. She shared a passionate brief romance with a young Thor. Their love making was so passionate that it caused the earth to nearly split in two from the combination of their powers. Fearing for everyone's safety they separated.
Cornel Cottonmouth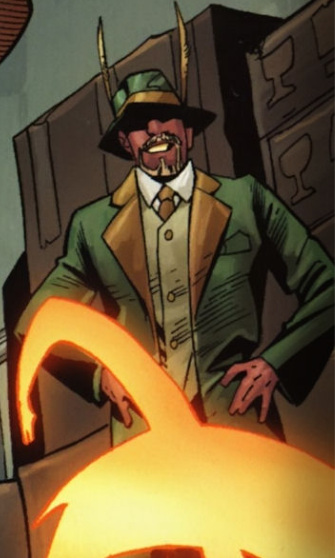 Publisher: Marvel Comics
Created by:  John Byrne
1st appearance: X-men: Hidden years #6, 2000
Brief Biography
A drug dealer and Pimp operating in New York. Cornell was enhanced by unknown means even before Luke cage had been imprisoned. He made a name for himself not just because of his snake like appearance but his signature way of dealing with his enemies. He would send them a package with poisonous snakes inside once they opened it they would be poisoned and killed. When Willis Stryker wanted to get rid of Luke Cage by framing him for drug possession he stole the coke from Cornell Himself. When Cage escaped and came searching for the origins of the drugs he ran into Cornell and worked for him in hopes of finding his records. When Cornell found out they fought and Cornell was defeated and his records man killed. After this and without his records and as rumors of his defeat spread he was ruined. He became a full time Pimp who came out of retirement during shadowland where he clashed with New Powerman/Victor Alvarez and Iron Fist. He allied with Deadly Nightshade, despite the defeat he escaped and is still at large.
~DIG DEEPER INTO CORNEL COTTONMOUTH HERE~
Tattooed Man
Publisher: DC Comics
Created by:  Ethan Van Sciver and Geoff Johns
1st appearance: Green Lantern Vol.4 #9, 2006
Brief Biography
Mark was a U.S marine until his helicopter went down and he was presumed dead. He made his way to the nation of Modora where he was taught "Sin Grafting". When he returned to society he became a hitman as he went about taking the sins of others onto himself. In this capacity he clashed with Green Lantern/Hal Jordan and Batman/Bruce Wayne. He next shows up joining the society lead by Lex Luther. After this he reunited with his wife and son as the world is conquered by Darkseid. He sides with the surviving heroes to save the world and is one of the few humans immune to the anti-life equation and was even made honorary member of the justice league by Black Canary. Sometime later he rejoins a life of crime and his son is killed. Mark joins Deathstroke's "villains for hire" so the murderer can be found. Once found mark kills him and quits the team.
~DIG DEEPER INTO TATTOOED MAN HERE~ 
Power Master
Publisher: Marvel Comics
Created by: Chris Claremont and Daniel Green
1st appearance: Iron Fist #15, 1977
Nationality: Un-revealed Caribbean Island
Biography
Growing up on the street with his little brother Quincy, he became renowned for his street fighting and level head under pressure. After his brother was injured in an accident and had his feet and hand chopped off, he became a member of the Maggia's European division. He worked his way through the ranks until he became division head. His keen insight helped him to stay a step ahead of the FBI, CIA and Interpol. He attempted to duplicate a power man formula so he could gain superpowers. The formula was a success, and he became more powerful than ever. However, his powers were unstable. After surviving an explosion, he slowly became living metal.
~DIG DEEPER INTO POWER MASTER HERE~
Lysistrata Jones
Publisher: Milestone Media Inc.
Created by: Dwayne McDuffie
1st appearance: Icon #13,1996
Brief Biography
 The self-styled arch nemesis of BuckWild, the Mercenary Man. She developed a unique but effective fighting style from viewing countless hours of cheesy martial-arts films. After a similar marathon session of viewing a series of 'Blaxploitation' films, she decided to become the "Black Queen of Crime" (or 'Queen of Black Crime,: she's still deciding which). In addition to her criminal genius, she is a talented choreographer. She met Buckwild at some undisclosed point in the past. He tried to thwart her latest plan by taking out her gang but she escaped after ensnaring him with her 'P-whip'. With Milestone apparently back…or about to be back it's time for more characters who just plain make fun of age old concepts many take for granted.
~DIG DEEPER INTO LYSISTRATA JONES HERE~
Fatale
Publisher: Marvel Comics
Created by:  Scott Lobdell and Brandon Peterson (Pamela Greenwood); John Francis Moore and Jeff Matsuda (Fatale)
1st appearance: Uncanny X-Men #299, 1993
Brief Biography
Fatale was a mutant who became one of Europe's most noted assassins. In America she was employed by Dark Beats who used her to gather information on the X-men, particularly Bishop. When her master got into information he needed to infiltrate the team she faked her death and escaped. When Dark Beast became interested in Havok brother to the X-men's Cyclops she joined with the Tatsuo clan to secure him. Here she ran into Storm's long time friend Yukio and she fled.
She then joined Onslaught's army along with Dark Beast and was captured and jailed. They were later freed by Havok who recruited them into his rendition of the "Brotherhood". They were betrayed by Havok and went into hiding. On M-Day she found herself rendered powerless. She joined other de-powered mutants in "X-Cell" and fought X-factor in hopes of being re-powered. They had their wish granted by Quicksilver but the powers proved unstable so they were cast into an alternate dimension where it's presumed they either died or remains still.
Man Ape
Publisher: Marvel Comics
Created by: Roy Thomas and John Buscema
1st appearance: The Avengers #62, 1962
Brief Biography
M'baku was a large and powerful man growing up in wakanda. After the death of King T'chaka he became known as one of the greatest warriors in wakanda. After T'challa rose to power they became friends. Unknown to T'challa M'Baku was a secret worshiper of the outlawed white gorilla cult. When T'challa joined the avengers, he was left in charge of Wakanda's security. In the absence of his king M'baku plotted to overthrow him and revived the white gorilla cult by slaying and eating the flesh of a sacred white gorilla. When the Black Panther returned they clashed over his right to rule and he was presumed dead in the wake of that battle. He then joined the lethal legion and attacked the Panther in America, even capturing his then girlfriend Monica Lynne. Everything went according to plan until the avengers intervened saving the panther and driving M'Baku back once more. He tried unsuccessfully numerous other times to best T'challa until he was burnt to a crisp by the villain Morlun.
~DIG DEEPER INTO MAN-APE HERE~
Jezebel Jet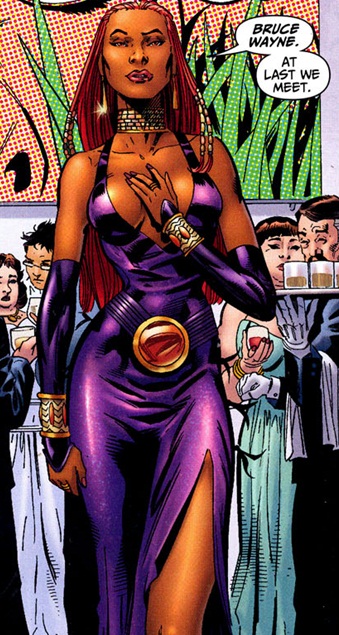 Publisher: DC Comics
Created by:  Grant Morrison and Andy Kubert
1st appearance: Batman #656(October, 2006)
Brief Biography
Orphaned as a child she rose prominence as a supermodel who eventually took over a small African country. She first met Bruce Wayne at a fundraiser and declined to give him her phone number. They later ran into each other again at a ski-resort and started a tabloid whirlwind of a romance which lasted months. She noted his many disappearances throughout their relationship and confronted him about it after he disappeared for one week captured and tortured by Michael Lane the one of the Bat men created by Dr. Hurt. She and Bruce are then captured by a member of the ten eyed Brothers who Bruce dispatches. This leads her to the revelation that he's Batman when combined with his disappearances, mysterious injuries and traumatic past. This strengthens their relationship and when crime in Gotham declines their love continues to grow. Bruce begins to trust her so much that he even takes her on a tour through the Batcave while still in costume. Here again she was captured by the mysterious "Black Glove group" which drove Bruce Wayne to the brink of insanity. Bruce fought his way through the group to rescue her and as defeating Joker she finally revealed that she was a member of the "Black Glove" who had finally broken and fractured his mind.
~DIG DEEPER INTO JEZEBEL JET HERE~
Chemistro
Publisher: Marvel Comics
Created by:  Kurt Busiek and Denys Cowan
1st appearance: Power Man and Iron Fist #93 (May, 1983)
Brief Biography
The younger brother of Calvin Carr who was the first Chemistro he stole his brother's gun after coming from prison and tried to take down Luke Cage and Iron Fist after defeating Misty Knight and Colleen Wing. This didn't go as planned however and he found himself defeated and jailed.
When the Hood was assembling a super powered gang he was one of the first to join. Only to be jailed on the raft a supervillain prison. His alliance with the hood proved solid when the Hood broke into the prison and rescued those loyal to him. Carr was present when the hero Tigra was tortured for information on the new avengers. He was instrumental in breaking the seal protecting their home and even showed off his new fighting skills. Again they were defeated and sent to the Raft.
Malice
Publisher: Marvel Comics
Created by:  Christopher Priest
1st appearance: Black Panther #1,1998
Brief Biography
As a child, Nakia of the Q'Noma valley marsh tribe was chosen by tribal elders to be Dora Milaje. She spent three years training before being presented to T'challa. Barley a teenager she fell in love on the spot. She became close friends with fellow Dora Milaje Okoye but was immediately jealous of T'challa's American fiancée Monica Lynne. Over the next few years both Nakia and Okoye were standouts among the Dora Milaje and were extensively tutored in martial arts, sciences and technology. When T'challa was tricked by Mephisto into kissing Nakia he tried to explain it to her but she refused to listen to reason, even her fellow Dora Milaje Okoye could not talk sense into her, she thought at long last her feelings had been reciprocated. Upon returning to Wakanda she and Monica were left alone and she threw her from the plane. When she told T'challa Monica was dead he immediately realized what had occurred and informed her he would return her to her tribe in disgrace. After genetic enhancement by Killmonger she became the villain Malice and went about making her king regret the day he ever spurned her love.
Puff Adder
Publisher: Marvel Comics
Created by:  Mark Gruenwald and Tom Morgan
1st appearance: Captain America # 337, 1988
Brief Biography
A long time member of the Serpent Society with a mutated X-gene granting him the power to alter his size and secrete acidic gas or liquid from his mouth. His size altering powers grants him superhuman strength and the acid his body produces is strong enough to melt through various metals. Nothing is known of his past before is mutant powers manifested and he took to a life of crime. He was one of the original members of the serpent society who fought Captain America numerous times.  In modern times he has clashed with Marcus Johnson and the mutant messiah Hope Summers.
~DIG DEEPER INTO PUFF ADDER HERE~
Solomon Prey
Publisher: Marvel Comics
Created by:  Don McGregor and Dwayne Turner
1st appearance: Black Panther Panther's Prey #1, 1991
Brief Biography
Solomon Prey was a wakandan citizen who left the nation of his birth to attend the prestigious Harvard University. According to him it "did not impress him". He said he chose the name "Solomon" because in "outworlder theologies" it meant wisdom. Prey claimed that education did not give him wisdom but his observation of human nature and understanding; what he perceived and how he could use it to his favour was true knowledge.  He assembled a gang which included not only doctors and scientist, but a trained security force which he called his "Lighting Lancers" which rode on the backs of the massive winged Pteronodon which inhabited areas in Wakanda. The purpose for this was to help him build a drug cartel, in which not only was he selling drugs in Wakanda, but able to smuggle them into the heavily isolated country, and trade Vibranium for drugs. His operation was discovered by the Panther and subsequently destroyed. Prey was killed in battle with the Panther when one of the Pteronodon's ripped the wings from Prey's back. The shock effectively "shorted out" his system, resulting in instant death, and the subsequent fall caused massive internal injuries and broken bones.
~DIG DEEPER INTO SOLOMON HERE~
Zentra
Publisher: AMARA Entertainment
Created by:  Roosevelt Pitt, Jr.
1st appearance: Purge #1 1994
Brief Biography
Monica Debrau was a straight `A' student throughout high school and college who was fascinated with the study of genetics. She spent four years at N.C. A and T State University and received her bachelor degree in Genetic Engineering. Her dream was to work for the most prominent genetic corporation in the world-Braddoxx Genetic and Robotic Corporation.  Her dream came true. She became one of the top scientists within the corporation and soon got the attention of Timothy Braddoxx himself. Braddoxx offered her to participate in a genetic enhancement experiment that would help the human body to resist all disease. In reality it was a process to created super powered humans. Monica accepted and thus Zentra was born. As Zentra, Monica is forced to do Braddoxx bidding due to a computerized control implant in her skull, which induces mind-boggling pain when she disobeys. She has quickly become Braddoxx's number one spy and assassin and one of Purge's deadliest enemies. She's rarely has contact with Richard Kincaid. Monica has sense broken free of Braddoxx's influence and now operates as a lone mercenary and hero when it suits her.
Threnody
Publisher: Marvel Comics
Created by:  Fabian Nicieza
1st appearance: X-Men #27, 1993
Brief Biography
Driven almost mad by her manifested mutant abilities she took to living on the streets during the height of the legacy virus. There she came into contact with a small band of X-men who tried to recruit her to there team. When sinister offered her a more sure way of controlling her powers she left with him. Over the next few years with her power under control she worked for sinister monitoring mutants for him. When Nate grey arrive don earth she escaped from sinister and joined the boy to ensure her freedom. In time they fell in love and adventured together. When she came face to face with Madlin Pryor however she was seemingly killed after her power inhibitors were removed. She did not die however and for months followed Nate and Maddie while she advanced through pregnancy and finally gave birth. She then confronted Nate who had lost control of his power and said a tearful goodbye before returning for her child. Her current whereabouts are unknown as she retained her powers after M-day.
~DIG DEEPER INTO THRENODY HERE~
Aku Kwesi
Publisher: DC Comics
Created by:  G. Willow Wilson and CAFU
1st appearance: Vixen: Return of the Lion #1, 2008
Brief Biography
Kwesi was a man from the village in which Mari Jiwe was born. When Mari was still a child he murdered her mother which lead to her becoming an orphan and landing in America where she became the superhero Vixen. After Mari had joined the justice league she had to return to the village of her youth to face Kwesi who had allied with Intergang on some world conquering scheme. When they first met he defeated Vixen easily and left her for dead. When the league became involved he managed to control both Superman and Black Canary who could only be stopped with the aid of Vixen and Back Lightning.
With his gang defeated he fought Vixen once more and this time found himself soundly defeated and stripped of his weapon and jailed. He has not been seen or heard from since.
~DIG DEEPER INTO AKU KWESU HERE~
Harrier
Publisher: Marvel Comics
Created by: Fabian Nicieza and Derick Robertson
1st appearance: (as Cardinal) New Warriors #28, 1992; (as Harrier, in shadows) Thunderbolts #85, 2002; (as Harrier, full view) Thunderbolts #67, 2002
Brief Biography
Donald Joshua Clendenon grew up in Alabama. He joined the military, receiving his training in Georgia. And afterwards as a Vietnam vet turned mercenary, conceived a daughter named Valerie with Angela Bernhardt aka Sproket; one of the mercenaries on the mission they were on and the pilot in his unit. Clendenon gained a suit of winged powered armor and took the name Cardinal.  His first employer was an illegal arms smuggler. The smuggling operation was attacked by the New Warriors and shut down, and Cardinal was sent to prison.  Clendenon was busted out of prison by the supervillain group Air Force and they tangled with the New Warriors once more. The results were the same with the villain team defeated and Clendenon and the group sent to prison. He would later join Hawkeye's Thunderbolts briefly.
~DIG DEEPER INTO HARRIER HERE~
Inferno
Publisher: Image Comics
Created by:  Erik Larsen
1st appearance: Savage Dragon #2, 1993
Brief Biography
Inferno was a member of the vicious circle who had the ability to combust the surface of his skin making him burn others on contact, shoot the fire from his hands and a measure of resistance to injury and Superhuman strength. He was a part of the Viscious circle that attacked when Savage Dragon was out extraditing Deathjob to Sacramento, California. He was thwarted by costumed vigilante Star after a long battle in which he hit a gas main and was presumed killed in the explosion. Inferno, out of jail is present when Chicago bull attacks a dive bar in which he and other vicious circle members were having drinks after Overlord had been killed. He shows up again as one of the villains guarding some captured police officers in an attempt to liberate the superhuman captured vicious circle members. He was defeated by Star. He joins Cyberface's Vicious circle after they defeated Johnny Red beard. He is ultimately killed by a monster looking like Savage Dragon.
~DIG DEEPER INTO INFERNO HERE~
Fifty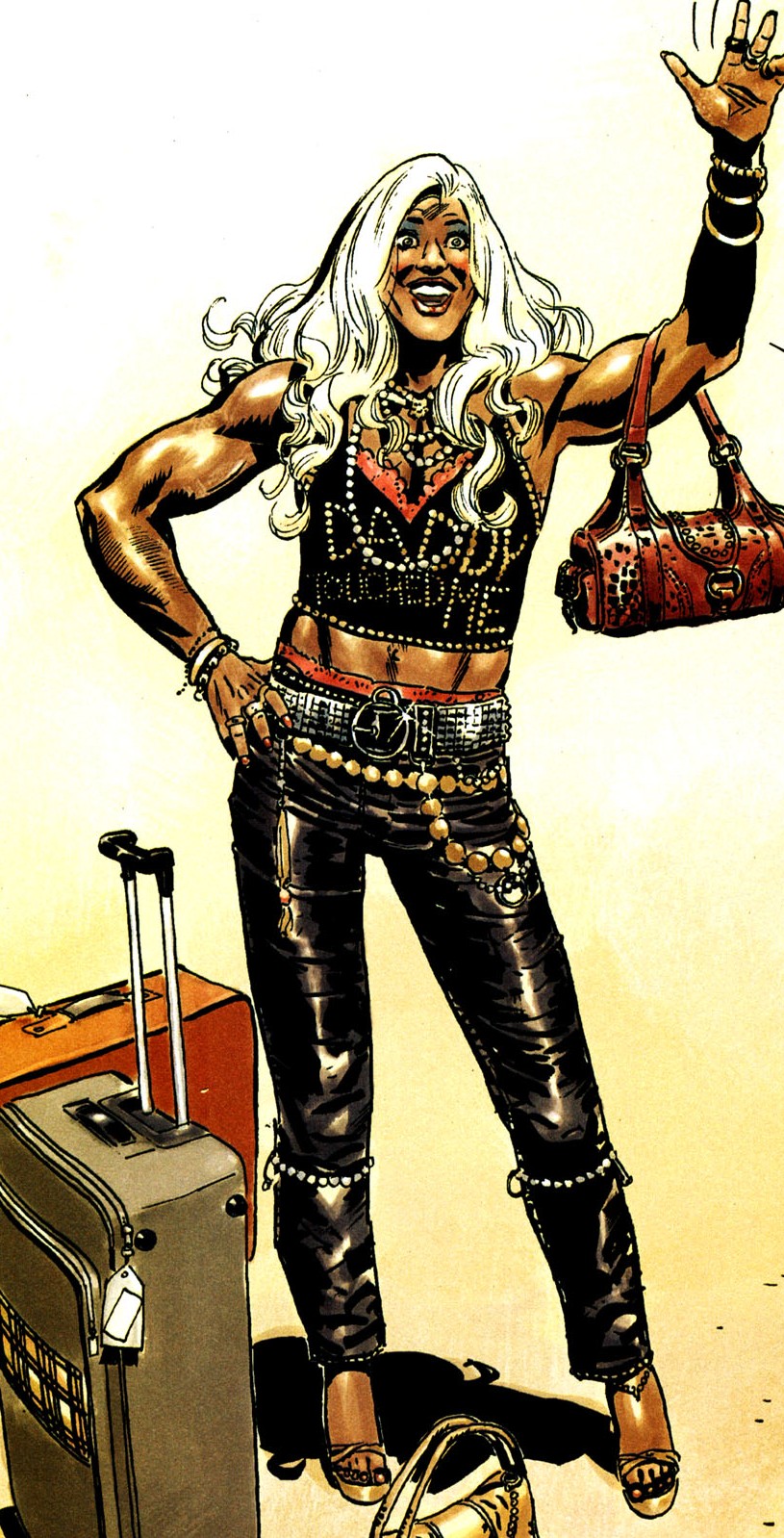 Publisher: Marvel Comics
Created by: Garth Enis
1st appearance: Punisher presents: Barracuda #2
Brief Biography
Fifty was a general in the United States Army and an old friend of Barracuda. They met while they were both serving in the United States Army. When Barracuda planned a coup of Leopoldo Luna's crime operation, he was contacted so he left his army post to be with him. Once in Santa Morricone he started a relationship with Leopoldo Luna. He was forced to defend the compound when they were attacked by an opposing army.  The next day while on a hellicoper ride with Barracuda and Leopoldo, the latter tried to have them killed. When fifty showed the homophobic Leopoldo his genetalia the villain was driven mad by what he had done. Along with Baraccuda they faced down an impending army. In the battle fifty was killed. Fifty was also a cross dressing bisexual that was in love with violence and combat!
Boom Box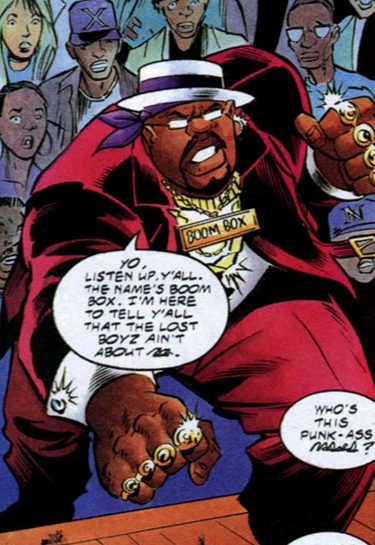 Publisher: Milestone Media
Created by:  Dwayne McDuffie and Denys Cowan
1st appearance: Static #40, October 1996
Brief Biography
A Bang Baby with the ability to amplify sound released through his mouth in a sonic boom. He also had a measure of resistance to injury since he received blows from Icon and was electrocuted by Static and was still able to attack and move. Upset that he was ignored by the recording industry despite his "mad skills" he somehow was present on Paris Island the night of the Big Bang. He survived the ordeal and with his superpowers tried to get a record deal but to no avail. When the Lost Boys were performing in Dakota he attacked them and battled Static alongside Icon. He proved a capable foe but still fell in battle and was never seen or heard from again. (Static #40, 1996)
~DIG DEEPER INTO BOOMBOX HERE~
Tempo
Publisher: Marvel Comics
Created by:  Louise Simonson and Rob Liefeld
1st appearance: New Mutants # 86, 1990
Brief Biography
Nothing is known of her past before she became a member of the Mutant Liberation Front and fought X-force. Despite being a member of this terrorist team she saved many lives by betraying her team and having X-force save a building full of people. During the "X-ecutioner's song" storyline she was defeated and imprisoned along with her MLF teammates. Reignfire broke them out to form a new MLF and they tried to kill Henry Peter Gyrich. Again they fought X-force; again she tried to thwart her team's evil plans by saving his life and was kicked out. She declined an offer to join X-force at Cable's behest and went back to school to lead a normal life.
On M-day when most of the world's mutants lost their powers she retained hers. She joined Exodus's Acolytes along with Frenzy with whom she became best friends. On this team she allied with the Marauders and fought the x-men. When Exodus disbanded the team she went to Utopia and joined the X-men. When Legion warped time she was killed in "Age of X".
Princess Zanda
Publisher: Marvel Comics
Created by:  Jack Kirby and Frank Giacoia
1st appearance: Black Panther #1, 1977
Brief Biography
Princess Zanda is the latest of rulers of the African nation of Narobia. Unlike previous rulers however she has turned to crime to finance many of her unconventional activities. After many travels she became known as a worthy thief while her antics throughout Europe landed her the title of Paris Hilton of Africa. She first clashed with the Black Panther when they both trailed a string of murders and Salomon's Frog. During the adventure that followed Zanda developed romantic feelings for T'challa. In the years that followed her criminal record continued to climb while T'challa got married to Storm. When she heard of the impending nuptials she planned to crash the wedding and impersonated Storm while shopping for a wedding dress. When Storm found out she promptly kicked Zandas ass and she returned to Narobia in shame.
~DIG DEEPER INTO PRINCESS ZANDA HERE~
Taboo
Publisher: Malibu Comics
Created by: Steve Englehart
1st appearance: The Strangers #23, 1995
Brief Biography
Paul Ntumbo grew up in one of the few remaining rural tribes of Africa located in a deep jungle. His parents had died when he was young and as a result he grew up with his grandfather who adhered to the "old ways". As he grew up him and his grandfather had a falling out as he wanted to leave the tribe and make a life for himself away from "tradition". He thrilled at the technology and education denied him while in the jungle. On his eighteenth birthday he left the tribe much to his grandfather's dismay to lead a modern life. At twenty five he returned to the village to make amends with his grandfather. Once back he discovered the village shaman about to kill him. Interfering Paul was cursed by the magic man, changing him into the creature called taboo. Leaving the village in shame he decided to use his newfound abilities to amass riches. As a criminal however he was under constant pursuit of the police. After a close call he left Africa and went to Andorra to lay low. There he came into conflict with the Strangers including Yrial.
Madam Slay
Publisher: Marvel Comics
Created by:  Jack Kirby and Don McGregor
1st appearance: Jungle action #18, 1975
Brief Biography
Madam Slay was the female companion and love interest of Erik Killmonger. She was a member of his team who took over Wakanda. After his death she tried to avenge him by killing the Black Panther. After her unsuccessful attempt she was defeated and jailed. She was served by fellow villain Mute. Slay had an almost preternatural ability to tame and have leopards do her bidding. It would be refreshing for Marvel to update and bring her into the modern age.
~DIG DEEPER INTO MADAM SLAY HERE~
Black Spider
Publisher: DC Comics
Created by: Gerry Conway and Ernie Chan
1st appearance: Detective Comics #463 (September 1976)
Brief Biography
Eric Needham started a life of crime from a young age. As a teen he became addicted to drugs and was jailed after a mugging gone wrong. After being released he got married and had a son. His addictions however lead him to rob a liquor store where he accidentally killed his father. Jailed once more he kicked the habit out of remorse. Upon his release he became a masked vigilante and decided to clean up the streets inspired by Batman. Unlike most masked heroes however he killed all the criminals who were unlucky enough to cross his path. Confronted by Batman he couldn't understand why they were at odds when they were both trying to protect the innocent. He was almost killed when a bomb went off prematurely. In modern DC he was a member of the Suicide Squad and later betrayed them.
~DIG DEEPER INTO BLACK SPIDER HERE~
Smiling Tiger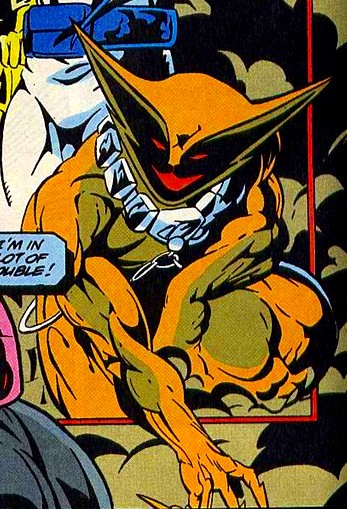 Publisher: Marvel Comics
Created by:  Fabian Nicieza and Mark Bagley
1st appearance: New Warriors #19, 1992
Brief Biography
Nothing is known of his younger days before his powers kicked in and made him the feral fur covered mutate he is now. His parents' whereabouts are also unknown. Conrad met the "Left Hand" who drafted him into the folding circle where they clashed with the New Warriors and Night Thrasher. Over the course of the adventure they went back to the place of his origin, the site of the Dragon's breadth cult. Here he learned his father was the African American soldier Collier Mack who served with Andrew Chord and father of Night Thrasher and Bandit. Despite having full filled their purpose by finding out about their origins they remained together now lead by Midnight's fire. Crash landing an Avengers Quinjet into Madripoor they became major players n the crime filled streets and serving Tyger Tiger the ruler of the nation. They helped her take down rival Aardwolf and clashed with NightThrasher once more.
~DIG DEEPER INTO SMILING TIGER HERE~
Pike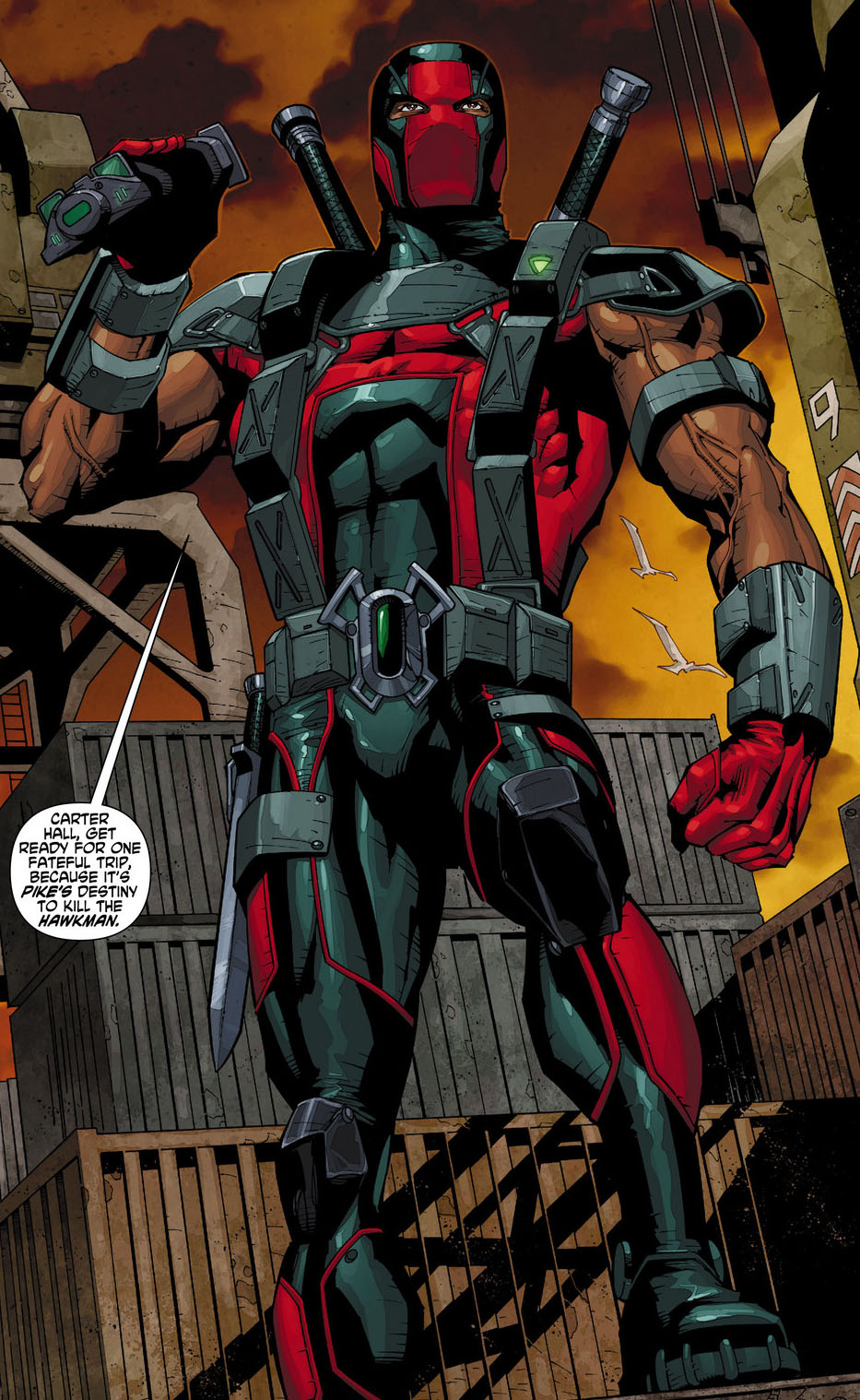 Publisher: Wildstorm/DC Comics
Created by:  Brandon Choi and Jim Lee
1st appearance: WildC.A.T.S. 1, (August 1993)
Brief Biography
Pike is a Kherubim by birth despite having joined the Daemonite forces intent on destroying the world. In the Daemonite army he has attained the rank of General, proving his skill and power. Pike's association with the Cabal began in the 1960's when his father the right hand man of slaughterhouse smith joined with Helspont to attack team one. It's assumed sometime after this he was taken in by Helspont and trained extensively. Because of this he has complete loyalty to Helspont even though his hatred for his own race surpasses that. Pike even shared a romance with fellow Cabal member Taboo yet he turned on her when she disobeyed orders.
Baron Macabre
Publisher: Marvel Comics
Created by:  Don McGregor, G. Kane & K. Janson
1st appearance: Jungle Action #9, 1974
Brief Biography
Nothing is known of his past before he sided with Eric Killmonger with plans to overthrow T'challa. He resurrected some of the wakandan dead and attacked T'challa, he almost defeated him but T'challa escaped. Again he attacked T'challa along with King Cadaver but this time him and his allies were defeated and jailed. Yet another Black Panther foe who needs to be updated and brought into the modern age.
~DIG DEEPER INTO BARON MACABRE HERE~
Gruesome George
Publisher: DC Comics
Created by:  Justin Gray, Jimm Palmiotti and Eduardo Pancisca
1st appearance: Batwing #33, July 2014
Brief Biography
George was not like other boys. His father realized that early on. His father was an abusive drunken psychopath who took a hot iron to his son's head because the boy spilled a beer. He pressed that hot it on as hard as he could and while George felt the pain of it there was hardly any damage to his skin. George's early life was a constant battle, akin to what it must have been like to be a Viking or the offspring of some other uncivilized warrior class in the Iron Age. He never had a chance at normal. His father threw him to backyard fighting at age eight. This made him more violent and he was constantly in trouble at school, George honed his skills for combat and deception without ever seeming to develop a personal interest in anything other than violence. He landed in jail and eventually Arkham Assylum. Once he escaped he fashioned himself a bat costume and put his violent tendencies to "good use". He started taking out thugs and leaving them for the cops. His methods though involved extreme acts of violence. Batwing tracked him down to his hideout, an abandoned sewer system. He was injured and was defeated by Batwing who left him for the police. His pets showed up, massacred the cops and he evaded custody.
~DIG DEEPER INTO GRUESOME GEORGE HERE~
Dr. Positron
Publisher: Marvel Comics
Created by:  Kevin Grevioux
1st appearance: Legend of the Blue Marvel #2 (2009)
Brief Biography
The son of Adam Brashear/Blue Marvel and his spy wife Candace Brashear/Agent 314. Max is Bi-racial since his father is black and his mother white.  He was in his final year at Howard University when his mother was killed. It's unknown when he found out his father was the superhero Blue Marvel. Max appears to have a deep-seated resentment toward his father Adam not just for the death of his mother but also an unknown incident which saw his brother Kevin stranded in the Neutral zone. In order to gain revenge and also rescue his brother he joined the criminal organization W.E.S.P. With their resources he engaged the Mighty Avengers, which included his father Blue Marvel and Monica Rambeau. Upon revealing his identity he engaged a machine with he intent of pulling his brother from the Neutral Zone.
~DIG DEEPER INTO DR.POSITRON HERE~
Bludgeon
Publisher: Image Comics
Created by:  Erik Larsen
1st appearance: Star #4,
Brief Biography
Brother of Chris Robinson the superhero Star, was Transformed into Bludgeon by Johnny Redbeard who had taken over the Circle. Bludgeon accompanied his new leader to battle Cyberface. Unfortunately for Redbeard Cyberface took control of Bludgeon's mind before killing his army and negating Redbeard's powers. He later resurfaces and in the fight reveals his identity to his brother who was now a cop. Chris took him back to his apartment to get help. Unable to aid him, he left. He then tried to get aid from She Dragon to return to his human form. He was still unable despite She Dragon's help in getting what he wanted. He disappeared and returned as a villain when a time travelling Dark Landers made him an offer he couldn't refuse, to return him to normal. When they were defeated he foolishly attacked Solar man and was destroyed.
~DIG DEEPER INTO BLUDGEON HERE~
Marie Laveau
Publisher: Marvel Comics
Created by:  John Byrne
1st appearance: X-men: Hidden years #6, 2000
Brief Biography
Marie Laveau was the daughter of a wealthy estate owner named Charles Laveau and a slave Darcantel Marguerite in Saint Domingue located, Haiti in the year of 1794. After a slave revolt in Haiti she arrived in New Orleans in 1809 where she made a living as a hairdresser.  Sometime later she began practicing voodoo magic and married Jacques Paris in 1819 but soon after he mysteriously died. By 1830 she was well known as a seller of charms. In 1835 she wed again and just as before he mysteriously died. Over the course of the 1800's she had fifteen children. Marie was reported as dead in 1881 but was still seen roaming the streets soon after. Marie is also reportedly the cause of the 1895 hurricane which struck New Orleans. In modern times she has clashed with Dr. Voodoo, Dr. Strange and even Dracula.
~DIG DEEPER INTO MARIE LAVEAU HERE~
Cyborgirl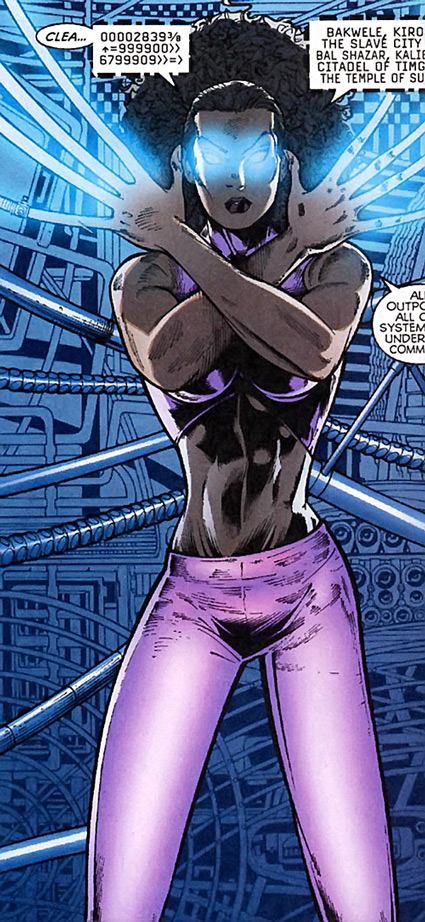 Publisher: DC Comics
Created by:  Phil Jiminez
1st appearance: Wonder Woman #179; 2002
Brief Biography
LeTonya Charles was a club girl who was into the drug scene. Her drug of preference became the highly addictive Tar, which had the added side effect of granting the user superhuman strength. LeTonya's continued use of the drug destroyed her body and her internal organs, leaving her on the verge of death. LeTonya's aunt Sara, who was a genius level scientist who worked at S.T.A.R. labs as a researcher and part of the team that rebuilt Cyborg, saved her live by implanting cybernetic technology in her to replace the damage parts that were similar to the that which was used to repair Cyborg.  Given a second chance, LeTonya did not use her newfound abilities for good, but instead chose to use them for her own personal gain and became a criminal. She was recruited by Queen Clea to become a member of the new incarnation of Villainy Inc., and was present when they invaded Skartaris. She used her powers to access Atlantean mainframes located in the sub-basements and while interfacing with them managed to get lost in their systems, which enabled her to be taken over by a treasonous member of Villainy Inc. She was freed and captured with the rest of the villains.
~DIG DEEPER INTO CYBORGIRL HERE~
Doctor Spectrum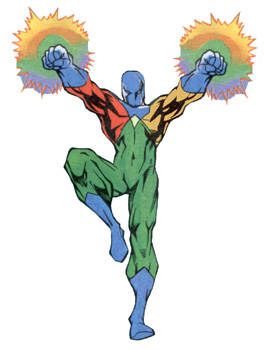 Publisher: Marvel Comics
Created by:  Roy Thomas and Sal Buscema
1st appearance: Avengers #69
Brief Biography
Dr. Kinji Obatu was the acting Finance Minister for Uganda when he was granted the Power Prism by the Grandmaster and became a member of the Squadron Sinister. Kinji, as a member of the Squadron, was now called Dr. Spectrum. The Squadron was created to fight the Avengers in a contest between the Grandmaster and Kang the Conqueror. Dr. Spectrum next appeared in Detroit battling Iron Man. He attacks Iron Man twice, and upon the second attack, Iron Man uses ultraviolet light to weaken and defeat Dr. Spectrum. As Kinji Obatu, he goes to Stark and asks if Iron Man could act as his bodyguard. At that moment, Kinji was attacked by a being called Rokk.  Rokk kidnaps Kinji and draws Iron Man into a fight. After bringing Iron Man close to defeat, Rokk vanishes and Dr. Spectrum appears. Kinji contacts Luke Cage in New York and asks him to be his bodyguard, but Cage turns him down. The entity which resides in the prism possesses Iron Man for a while, and when Thor arrives to help, the entity possesses him as well. The entity is defeated and the prism is smashed into pieces
~DIG DEEPER INTO DOCTOR SPECTRUM HERE~
Verrat Din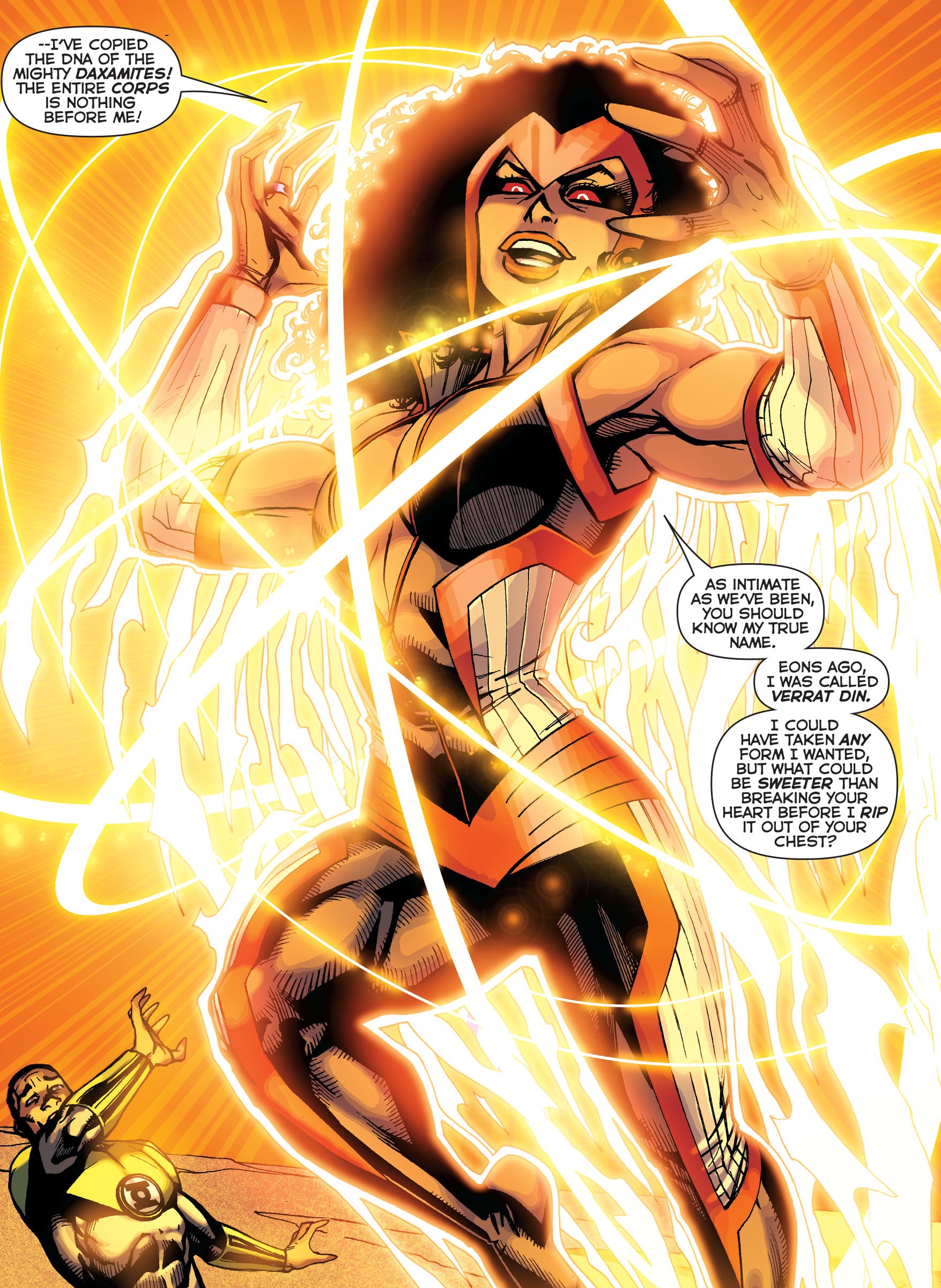 Publisher: DC Comics
Created by: Van Jensen and Bernard Chang
1st appearance: Green Lantern Corps #33, 2014
Brief Biography
Verrat Din was a member of the Durlan race, who have the power to shape shift.  Verrat planned a major blow to the Green Lantern Corps which was being rebuilt by the Green Lantern John Stewart. To this end Verrat captured and impersonated Fatality/Yrra Cynrill of the Saphire Lantern Corps and seduced Green Lantern/John Stewart who was the one at the helm of rebuilding the Green Lantern Corps. At the very end of the war with the Durlans she revealed her ruse to John which left him emotionally devastated and near directionless. After taking on the properties of a Daxamite permanently by devouring the energy of the living planet's ocean she became one of the most powerful beings in the universe and a world class threat.
~DIG DEEPER INTO VERRAT DIN HERE~
Venom
Publisher: Marvel Comics
Created by: Brian Michael Bendis and Sara Pichell
1st appearance: Ultimate Comics Spider-Man Vol 2 #1 (November, 2011)
Brief Biography
Dr. Conrad Marcus was a gifted biochemist working for the Roxxon Corporation. When reporter Betty Brant tracked him down to find information about a dead genetic experimental Spider which had given Miles Morales his abilities he went back to Roxxon and put on the Venom suit. With it he killed Brant and gathered her notes on who the new Spider-man was, Jefferson Davis. He attacked Jefferson and critically wounded him but was defeated by Miles Morales. He followed Jefferson to the hospital where he had a final showdown with Spider-man. He managed to seemingly devour Spider-man and attacked Rio Morales fatally wounding her in the process. Miles managed to overload the suit stripping him of it just as the police arrived to shoot him dead.
Bantam
Publisher: Marvel Comics
Created by:  Mark Gruenwald, David Wohl, and M.C. Wyman
1st appearance: Captain America Annual #12, 1993
Brief Biography
Roberto Velasquez was a talented boxer in his hometown of San Juan, Puerto Rico. With his small size and weight, he was unsure if he could make it as a professional boxer. He was approached by international crime boss Armando Aviles, who offered to finance an experimental physical augmentation treatment for him to undergo to aid him in his career. After receiving the treatment, Velasquez inadvertently killed his opponent in his first match. He went into hiding after refusing to join Aviles' gang. Bantam returned to San Juan and split his time between super heroics and training other boxers. Due to his powers, he never stepped into the ring to fight again.
Shades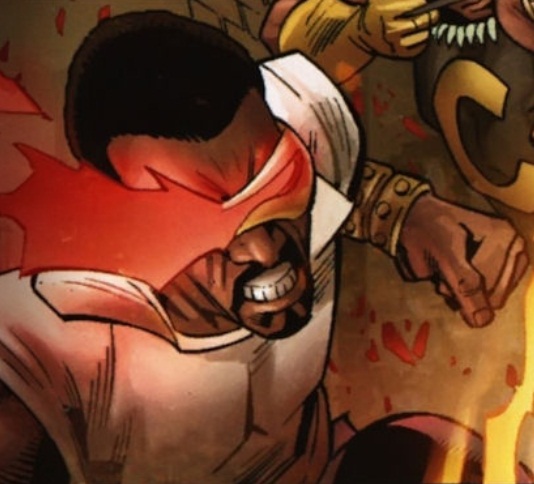 Publisher: Marvel Comics
Created by:  Archie Goodwin and George Tuska
1st appearance: Luke Cage, Hero for hire #1, 1972  
Brief Biography
Shades and Comanche were fellow hoods from Harlem who ran the streets with then, Carl Lucas and Willis Stryker. The four of them made up the gang called the Rivals. They worked the streets for the more established mobs. When they grew up, Lucas went straight, but Shades and Comanche continued to associate with Stryker once he became a mobster himself. They attempted to manipulate Lucas into starting a prison riot. After Lucas escaped, the guard responsible for Lucas' mishap, Rackham, took his frustration out on the prisoners, especially the Black ones. Shades and Comanche were able to dig escape tunnels out prison and went after Rackham, carrying a burning hatred for him due to his treatment of them in prison. The pair tracked Rackham across the country, committing small crimes to make cash.
Shadowcatcher
Publisher: Zoolook
Created by:  Nicholas Da Silva
1st appearance: Dread & Alive #2, 2010
Brief Biography
Shadowcatcher was born to the maroons of Jamaica. His birth name was Quaco, the male West African name for Wednesday. He was one of two rulers of the cockpit country along with his brother Cudjo. As the years went by, he delved into the dark magic of Obeah, which caused him to have a falling out with his tribe. In the end, his brother and the council banished him from the village. Left to his own machinations, he delved even deeper into the dark Obeah arts and became possessed by them. His physical body transformed to resemble the darkness within. He has taken up residence in the Windsor caves, where he plots the demise of the maroons, his brother and the entire cockpit country.
~DIG DEEPER INTO SHADOWCATCHER HERE~
Mr. Fish
Publisher: Marvel Comics
Created by:  Don McGregor and George Tuska
1st appearance: Power Man #29, 1976
Brief Biography
Mort Noris and his younger brother where born into the ghetto's of New York. After their parents died Mort took to crime to provide for himself and his little brother. Thanks to his brutality he was recruited by the Maggia crime Family based in New York. One night he was tasked with robbing a truck of an unidentified radioactive isotope for his bosses. After securing the truck he and his brother were accidentally irradiated by the compound. Rushing into the polluted east river Mort when he surfaced found himself transformed into a green scaled, finned headed, clawed hand, flipper footed creature. His condition and the resulting superpowers got him promoted to the head of the local Maggie territory. He then tried to strong arm local business by blowing up their trucks and buildings so he could get protection money or control over their entire operation. His reign of terror came to an end when said business owners hired Luke Cage to help them. Luke found his base of operation while Fish though the defeat of Luke would add to his notoriety. They battled high above a skyscraper and in the end Mr. Fish was defeated and fell to his death. After his death his young brother took up the mantle of Mr. Fish having been exposed to the same radioactive Isotope.
~DIG DEEPER INTO MR.FISH HERE~
Power Ring
Publisher: Marvel Comics
Created by: Gardner Fox
1st appearance: Justice League of America #29, 1964
Brief Biography
Power ring met a demon named Valthoom while traveling and was grated limitless power in the form of a power ring and battery. Using his new powers he fashioned the power ring identity and turned to a life of crime. He eventually joined with his fellow earth three criminals to form the unbeatable Crime syndicate of America, a parallel to the Justice League of America. After conquering their world they tried it on earth prime where they were defeated by the Justice League of America, him in particular by John Stewart. Power ring is a D.C earth 3 inhabitant and a member of the crime syndicate of America.
~DIG DEEPER INTO POWER RING HERE~
Scorcher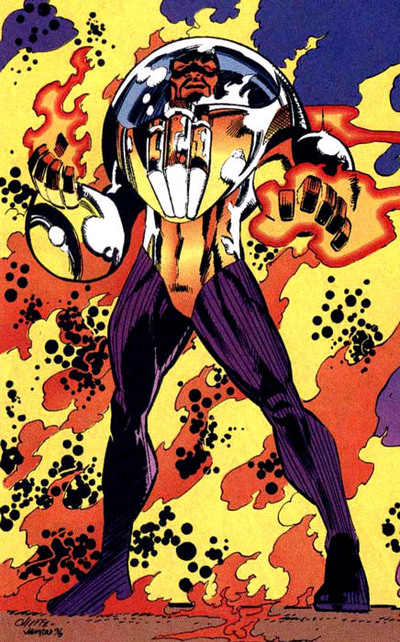 Publisher: Marvel Comics
Created by: Kurt Busiek and Pat Olliffe
1st appearance: Untold Tales of Spider-man #1 (1995)
Brief Biography
Steven Hudak was a keen intellect and chemist who was framed for embezzlement and sent to prison. Over time his mind turned and he became what he was framed to be, a criminal. Under the finances of Norman Osborn he created a suit of armor and battled Spider-man as one of his earliest villains. He was again returned to prison but escaped to establish a protection racket; again he was defeated by Spider-man and sent back to prison. He served his term and returned to society and remained crime free until a Christmas Eve which found him defeated by spider-man though this time he escaped. He joined the masters of evil and was defeated by the thunderbolts and sent back to prison. Escaping once again he confronted Daredevil and Spider-man alongside Diamondback 2 and was defeated.
~DIG DEEPER INTO SCORCHER HERE~
Punchout
Publisher: Marvel Comics
Created by:  Chris Claremont and Rick Leonardi
1st appearance: X-men: Hidden years #6, 2000
Brief Biography
Punchout is a super-humanly strong mutant who lived in Genosha. Nothing else is known of her past but she joined the Genoshan Magistrates and the Press Gang. Here she fought the X-men and Cable multiple times in Genosha's defence. She later helped defeat Mr. Fantastic of the Fantastic Four and took him to Genosha.  Later when the island fell into civil war she remained with her Press Gang friends to fight against the rebels. When Magneto rose to power in Genosha she seemingly disappeared and has not been seen since. It is unknown if she retained her powers after M-Day.
~DIG DEEPER INTO PUNCHOUT HERE~
Spear
Publisher: Marvel Comics
Created by:  Don McGregor and Frank Robbins
1st appearance: Power Man #33, 1976
Brief Biography
When his father, a professional wrestler fell sick and lay dying he agreed to an experimental treatment in hopes of saving his life. It failed however and he was killed. This left his mother near comatose and left him and his brother longing for revenge. He became the Spear to avenge his father's death by killing the man responsible. He fought Luke Cage in his bid for revenge and was defeated and jailed. He later returned to a life of crime alongside Deadly Nightshade, Mr. Fish, Chemistro, Cheshire etc. He recently fought both the New Power Man and Misty Knight during Spider-Island.
Salamander K'ruel
Publisher: Marvel Comics
Created by:  John Francis Moore and Steve Epting
1st appearance: Jungle Action #15, 1975
Brief Biography
Kruel and his men have an unknown history with Wakandan King T'challa one in which they parted on bad terms. Kruel seems to have been exiled from Wakanda. Him and his team of hunters found the resurrection altar and subjecting himself to it found himself granted unusual powers. Years later Eric Killmonger recruited him to his cause to overthrow T'challa and grant Kruel and his men rank and title in this new kingdom. While Killmonger went to town with his plan Kruel and his men met a battered and injured Black Panther who he defeated and bound in a trap. Panther eventually escape and beat Kruel within an inch of death. He dragged Kruel back to Wakanda before collapsing. Kruel was jailed for his crimes.
~DIG DEEPER INTO SALAMANDER K'RUEL HERE~
The Jackson
Publisher:
Created by:  Kurt Busiek
1st appearance: Astro City vol.2 #11, 19
Brief biography
Born into a family known for heroics this third generation would be hero was born after his father Jack in the Box 2 had died. Soon after his birth he was taken into the future by "The Brothers of Trouble" to escape what was called "the wasting".  After years of training Jerome was bathed in a chemical compound which gave him superhuman abilities. Apparently the process unhinged his mind as he started viewing the many jokes his father used in battle as a kind of Bible and doctrine. He travelled back in time to meet his father but upon realizing he wasn't the man he thought he was, joined forces with The Box to try and kill him. He was defeated and jailed before returning to his own time.
~DIG DEEPER INTO JACKSON HERE~
If you enjoyed this list be sure to check out
the Top 30 Black Superheroes- Traffic Edition, the Top 30 Black Superheroes-Fan Edition,
the Top Black Power Rangers, the Top 20 Black Superheroes-Milestone Comics editions, 50 Indy Black Superheroes you should know, 25 Caribbean Superheroes you never heard about and The Top 50 Black Superheroes- Fan Edition
What do you think ?
Sound off below!