Smiling Tiger (Character)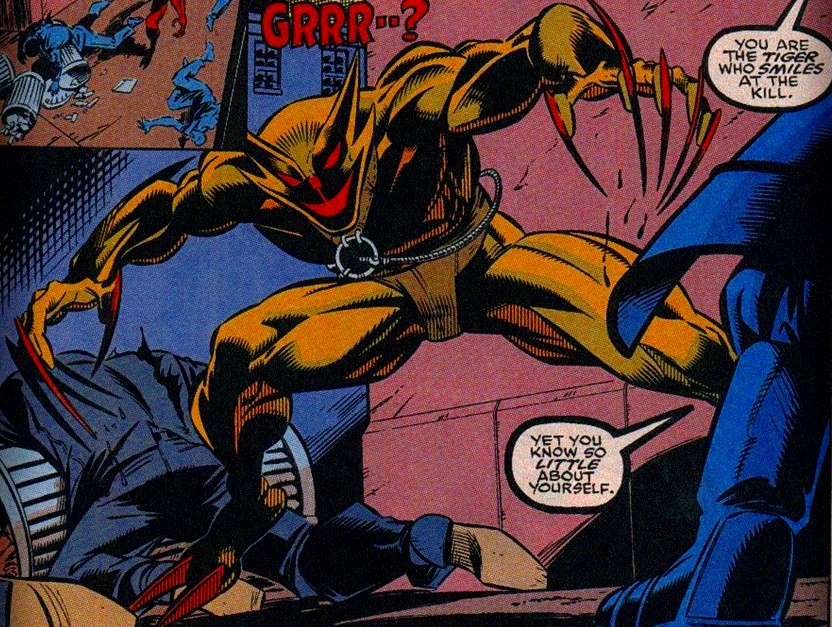 Created by: Fabian Nicieza and Mark Bagley
1st appearance: New Warriors #19, 1992
Real Name: Conrad Mack
Team Affiliations: Folding Circle
Legal Status: U.S citizen with no criminal record
Height: 5'10              Weight: 195 lbs
Eyes: Red                Hair: Orange
Relatives: Collier Mack (Father, deceased), Unnamed mother (Status Unknown)
Skills and Abilities: Natural fighter.
Powers: Smiling Tiger is a mute feral being covered in orange fur. He has sharp clawed fingers and toes which are very sharp.
Biography
Nothing is known of his younger days before his powers kicked in and made him the feral fur covered mutate he is now. His parents whereabouts are also unknown. Conrad met the "Left Hand" who drafted him into the folding circle where they clashed with the New Warriors and Night Thrasher. Over the course of the adventure they went back to the place of his origin, the site of the Dragon's breadth cult. Here he learned his father was the African American soldier Collier Mack who served with Andrew Chord and father of Night Thrasher and Bandit. They had to face off with the sorceress Tai while allied with the New Warriors. In the turmoil the leader of the folding Circe, Left hand was lost after Night Thrasher killed Tai.
Despite having full filled their purpose by finding out about their origins they remained together now lead by Midnight's fire. Crash landing an Avengers Quinjet into Madripoor they became major players n the crime filled streets and serving Tyger Tiger the ruler of the nation. They helped her take down rival Aardwolf  and clashed with NightThrasher once more.
After the Civil war he becomes a registered superhero joining the thunderbolt army. Alongside new teammates and old such as Bloodstrike , Coronary, Texas Twister and Pretty Persuasion he was a part of a squad responsible for Los Angeles. On their last known adventure the grandmaster opened the wellspring of power and Bloodstrike and himself were taken over by it's power and turned on their teammates because their powers stemmed from the well itself.
It's assumed he returned to normal when the Grandmaster was defeated.