General Kieta (Character)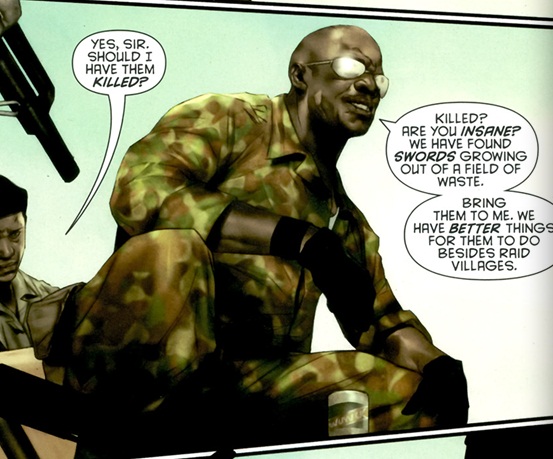 Created by: Judd Winnick and Ben Oliver
Real Name: Ayo Kieta
Alias: Warlord Kieta
First Appearance : Batwing #3, 2011
Skills and Abilities: Skilled leader  and manipulator.
Biography
He lead the Army of the Dawn which recruited David and Isaac Zavimbe into their ranks after their parents died of Aids. As their new father figure he used their natural aptitude for warfare and self defense to bolster his army. He christened them the dragon flies because of their speed and dexterity. After a year with his army he promoted the boys into his elite squad of men where they displayed uncanny skill, cunning, strength and a prodigious ability to kill. (Batwing #4)
Kieta thought of the boys as swords growing on a battlefield. They came into conflict however when he demanded they blow up a compound in which his rival Okkura was located and as a result kill innocent women and children. Isaac warned them by discharging his weapon and they were forced to retreat.
He punished Isaac by brutally beating him and when Isaac fought back he used his machete to slash his face and chest before the boy fell off a cliff. David fled but returned to capture Kieta and turn him over to his rival Okkura and walking away from the life of a child soldier forever. (Batwing #4)