Manslaughter Marsdale (Character)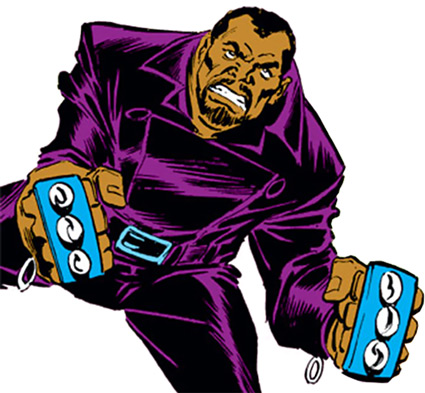 Created by: Tom DeFalco and Ron Frenz
1st appearance: Amazing Spiderman #271; December, 1985
Aliases: none
Nationality: American
Team Affiliations: Enforcer for Madam Fang; Gang-With-No-Name
Height: 6'8"          Weight: 385lbs
Eyes: Brown         Hair: Black
Skills and Abilities: Skilled Boxer
Powers: Marsdale has undergone a special operation early in his life which makes him unable to feel pain; Marsdale's strength is near superhuman levels though he can still be knocked out by a superhuman punch.
Weapons: Marsdale wears Knuckle Dusters on both hands.
Biography
Manslaughter Marsdale started out as an enforcer for Madam Fang, and also ran a boxing gym with her in New York. Early in his life, he underwent a procedure that made it so he no longer felt pain and possesses near superhuman strength. When the star boxer at the gym refuses to renew his contract, and decides to go with Madam Fang's rival, she sends Marsdale to "persuade" the boxer not to sign. Marsdale would have been successful if not for the intervention of Spider-man (Amazing Spider-man #271).
When Mary Jane is kidnapped, Spider-man once again runs into Marsdale while investigating her disappearance. Marsdale is once again defeated by Spider-man, and reveals that he has no idea about the case. (Amazing Spider-man #309).
Dark Reign
During Norman Osborn's "dark reign" Marsdale was mysteriously attacked and placed in a coma by an unknown assailant. The assailant; the villain Zodiac; revives Marsdale from his coma and earns Marsdale's loyalty. Marsdale joins Zodiac's "Gang-with-no-name". The gang attacks the Human Torch and places him in a coma, and then tries to blow up the hospital where he was taken. They were also successful in their attacks against Norman Osborn and his HAMMER organization. The gang was able to take a Red Ronin robot and set it on a rampage in Times Square. As the robot rampaged, Marsdale took the opportunity to locate the boxer from back in the day that first got him involved with Spider-man and torture and kill him and everyone at his gym. The gang invaded a HAMMER base in search of the agent who had figured out Zodiac's role in the attacks. (Dark Reign: Zodiac, #1-3)