25 Caribbean Superheroes You Never Heard About!?
It's that time of year once more where the former British colonies in the Caribbean celebrate both their "Emancipation" and their "Independence" days. As a Caribbean born blogger, I thought it would be prudent to list my favorite Caribbean heroes and villains. The list will also serve as an eye opener for those who view the term "Black Superheroes" as synonymous with "African-American Superheroes". The Caribbean is often overlooked in the annals of Black Superhero history but they are strategically located though often too stratified along racial lines to ever hold the power and prominence they could. Skin bleaching has become a sad reality in many nations like my own Jamaica and pride in African retentions are limited at best and none existent at worst. Many have taken on this bourgeois persona which only serves along with racial stratification to prevent any significant nation building. There is also the sensationalism of the mass-media depiction of people from the Caribbean. I have been asked by multiple Americans upon realizing I'm Caribbean born if we "live in trees" or we "have Internet" followed by the obligatory stereotypical questions. It's annoying but it's part of my job and nothing I say or do will stop those stereotypes.
Be proud of who you are, inside and out and remember the words of the great Jamaican Marcus Garvey: "THE BLACK SKIN IS NOT A BADGE OF SHAME, BUT RATHER A GLORIOUS SYMBOL OF NATIONAL GREATNESS"
Happy Emancipation and Independence Day!
Created by: James Mason
First Appearance:?
Nationality: Jamaica
Biography
Jalen is the strongest member of the Dragon Clan and is a master of the Tiger Style. He's the number one student of the young forest Dojo and serves as the leader of the Dragon Clan. A third generation martial artist, Jalen was taught by both his Japanese grandfather and his Jamaican father in the arts of kung fu and MMA (Mixed martial arts) from a very young age. This broad foundation allows him to neutralize most techniques and makes him an ideal training partner for most members of the Dragon Clan. Similar to Mary Free-Man/Crane Style, he's studied a variety of techniques and can defend well against most styles. Due to his great skill and past associations, yellow Dragon believes that he would make a prized ally for the Venom Clan and is seeking to recruit him to their cause. The strength of the Tiger style is only rivaled by the Scorpion Style. Jalen and Hector were once close childhood friends but had a falling out over circumstances surrounding the imprisonment of a mutual acquaintance. They remain bitter rivals to this day.
~DIG DEEPER INTO TIGER STYLE HERE~
Cecilia Reyes
Publisher: Marvel Comics
Created by: Scott Lobdell and Carlos Pacheco
1st appearance: X-Men #65, June 1997
Nationality: Puerto Rican
Biography
Cecilia grew up in a poor community while in her native Puerto Rico. She was the second child of her family after older brother Miguel. One day she witnessed her father's death outside the house and unable to save him he died in her arms. This traumatic event left the young Cecelia a very motivated young woman who dedicated her life to the study of medicine. This ambition and single-minded drive allowed her to leave her life in Puerto Rico and pursue her dreams in the United States. During Operation Zero Tolerance she was ousted as a mutant and lost her job but became a member of the renegade X-men. Even after she left the team she remained a close ally always ready to join the battle and aid her adopted family either as a Doctor or warrior. Cecelia also shared a romance with the X-men's Beast.
~DIG DEEPER INTO CECILIA REYES HERE~
Aizan 
Publisher: Pyroglyphics Studios/Street Team Studios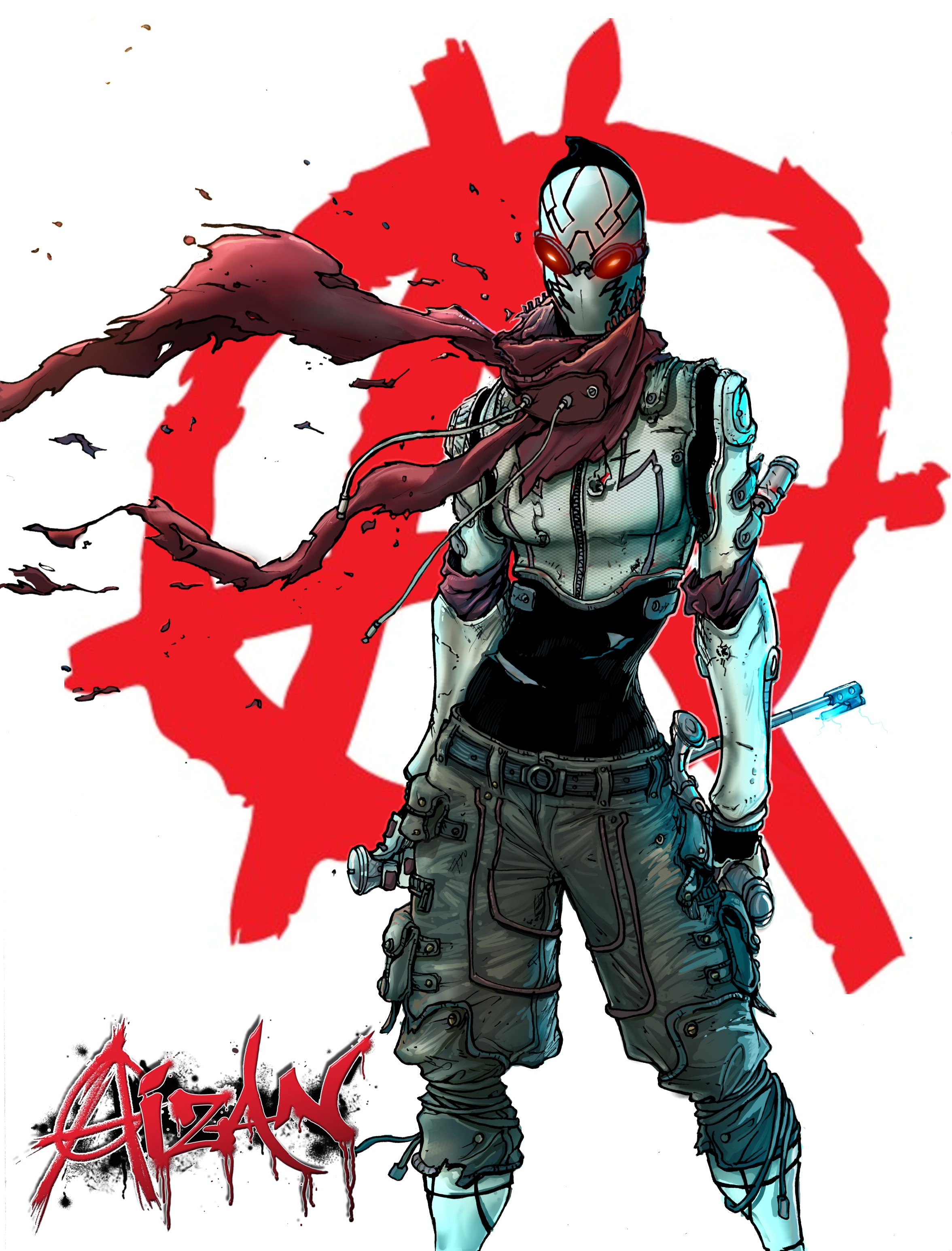 Created by: Shawn Alleyne
1st appearance: Aizan Mixtape Sketchbook
Nationality: Barbadian
Biography
Hela St. August, also known as Aizan, is a self-taught practitioner of parkour and break dancing, making her extremely agile and coordinated. Through a special ceremony of the Aizan Clan, some of her mentor's abilities were passed to her, allowing her to absorb some of his martial arts abilities. Aizan is now skilled in the clan's martial arts system "Anansea Vita Saana." With all of these elements, she has created a new hybrid, unorthodox fighting style all her own.
It is thought that Aizan is able to cast a psychic aura or "web" that allows her to perceive parallel realities. This allows her to see through illusions, to the "truth" of reality. Aizan can "read" body movements and actions, giving her the ability to anticipate attacks or even tell when someone is lying.
Doctor Voodoo 
Publisher: Marvel Comics
Created by: Len Wein and Gene Colan
1st appearance: Strange Tales #169 (1973)
Nationality: Haitian
Biography
Jericho was born with twin brother Daniel, as a child growing up in Haiti, a culture which embraced Voodoo, Magic and superstition the academically adept Jericho was out-of-place. He was very skeptical about magic actually existing until his parents died from a magic curse. Granted a scholarship to the United States he stayed away for ten years. While there he became an accomplished author, scholar and noted psychologist. He finally returns to Haiti when his brother lay sick and dying. After his brother died he trained with Papa Jambo to seek revenge. Jericho spent most of his years after this allied with many superheroes and being seen as the next go to the magic practitioner in the Marvel Universe besides Dr. Strange. When the mantle of Sorcerer Supreme was left vacant Jericho became the new Sorcerer Supreme and Houngan Supreme; become the first to hold both titles at once. He later joined the Avengers and died a heroic death saving Earth in the process. Jericho later resurfaced during AXIS and joined the latest Uncanny Avengers team.
~DIG DEEPER INTO DR.VOODOO HERE~
Shadowcatcher 
Publisher: Zoolook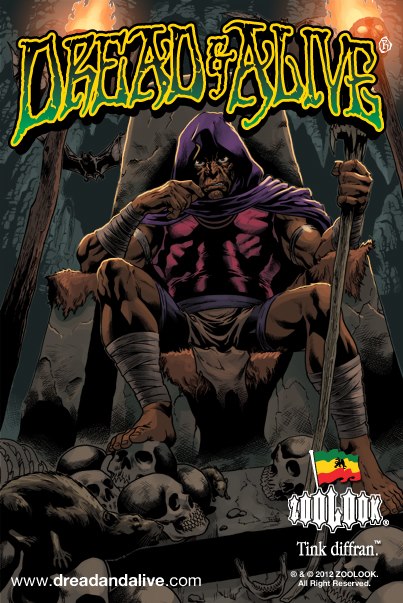 Created by: Nicholas Da Silva
First Appearance: Dread & Alive #2, 2010
Citizenship: Jamaican
Biography
Shadowcatcher was born to the Maroons of Jamaica. His birth name was Quaco, the male West African name for Wednesday. He was one of two rulers of the cockpit country along with his brother Cudjo. As the years went by, he delved into the dark magic of Obeah, which caused him to have a falling out with his tribe. In the end, his brother and the council banished him from the village. Left to his own machinations, he delved even deeper into the dark Obeah arts and became possessed by them. His physical body transformed to resemble the darkness within. He has taken up residence in the Windsor caves, where he plots the demise of the maroons, his brother, and the entire cockpit country.
~DIG DEEPER INTO SHADOWCATCHER HERE~
Flashback 
Publisher: Milestone Comics
First Appearance: Blood Syndicate #1, April 1993
Created by: Dwayne McDuffie, Ivan Velez Jr., and Denys Cowan
Nationality: Dominican
Biography
Flashback joined the Force Syndicate, Dakota's "Misfit" gang along with her brother Fade when they emigrated from Dominica. At the Big Bang Flashback was one of only a handful of people to survive the massacre.
After the incident, she gained superhuman powers as one of the "Bang Babies". She banded together along with her brother Fade and many more "Bang babies" to form the Blood Syndicate. For a while she dated teammate and then leader Holocaust. Because of the nature of her power she was used as a fail-safe for her teammates when in hectic situations. If anyone was mortally wounded she would travel back in time and prevent them from dying. Over time, however, this took a toll on her psyche since she had memories of all her friends being horrifically killed. To compensate for the nightmares which haunted her she turned to cocaine use. When Holocaust left the team she remained with her friends under the leadership of Wise Son. After Holocaust returned and challenged Wise son for leadership and lost she continued to follow Wise son. After meeting Icon and Rocket she became friends with Rocket who helped her kick her drug addiction.
~DIG DEEPER INTO FLASHBACK HERE~
Calypso
Publisher: Marvel Comics
Created by: Dennis O'Neil and Alan Weiss
1st appearance: Amazing Spider-man #209, 1980
Nationality: Haitian
Biography
Born and raised on the Caribbean island of Haiti, she showed an affinity for magic from an early stage. Her family itself had a strong magical lineage, her sister also wielded magic. She was a natural with Voodoo and reveled in the dark arts. When Kraven the hunter came to her land after he had given up the hunt, it was she who's lust and thrill of the hunt reignited his fire. As his lover she got him to resume his hunt of Spider-man.  After Kraven's suicide, she fell deeper into the dark magics and truly became evil. Returning to Haiti she increased her powers by sacrificing her sister, the sorceress Mambo and added her considerable powers to her own. To avenge her fallen love she used her powers to enthrall the Lizard and had him attack Spider-man. She spent the next few years as an adversary of Spider-Man and Daredevil before being killed. Having placed her soul inside a talisman she resurrected herself. Calypso is a powerful magic based villain to whom death means nothing.
~DIG DEEPER INTO CALYPSO HERE~
White Tiger
Publisher: Marvel Comics 
Created by:  Bill Mantlo and George Pérez
1st appearance: The Deadly Hands of Kung Fu #19, 1975
Nationality: Puerto Rican
Biography
Born in San Juan Puerto Rico to Nestor and Maria Ayala he studied martial arts from an early age. For college, he left his home and ventured to New York. Here he found the abandoned Tiger Amulets of the "Sons of the Tiger". By donning all three amulets he was magically transformed into the superhuman White Tiger. His identity was later made public by the villain Lightmaster which lead to his parent's untimely deaths. This left his little sister Ava Ayala deeply traumatized as she found the bodies; he always felt that their deaths were his fault. While tracking down the perpetrators he was badly wounded after being shot. During this time he stopped using the artifacts and they were returned to the Sons of the Tiger.
In his later years, he was put on trial for murder. Defended by Matt Murdock/Daredevil didn't help however as he was found guilty. Shocked by the verdict and the destruction of both his marriage and his reputation in the superhero and Hispanic community he grabbed a gun from an officer and fled the courtroom. On the steps of the courthouse, the police mowed him down with gunshots, resulting in his death.
His heroic legacy along with the amulets was continued by his niece Angela Del Toro and later Ava Ayala.
~DIG DEEPER INTO WHITE TIGER HERE~
Serge
Publisher: Wildstorm
Created by: Brett Booth
1st appearance: Backlash #12, (September 1995)
Nationality: Jamaican
Biography
Leon lived a happy life in Kingston Jamaica with his parents until one night they were gunned down by a Jamaican Gang. Witnessing this at age twelve was too much for the boy whose powers activated for the first time and he decimated them. Fearing for his life a close friend of the family sent him to live with his godparents in New York. He would spend the remainder of his teenage years there.
After graduating from high school he joined the CIA where his special abilities were put to use. For several years he was one of their top agents but due to a short fuse and his inability to work with others he was fired. Since then he has made a name for himself as Serge, gun for hire. He primarily works as a bodyguard or avenger for those who have been done an injustice.
Ava Ayala
Publisher: Marvel Comics
Created by: Christos N. Gage
1st appearance: Avengers Academy #20, 2011
Nationality: Puerto Rico
Biography
Born into the Puerto Rican Ayala clan, she was the baby of the family. By the time she was born, her sister Awilda had her own kids and most of her siblings were already adults. She idolized her big brother Hector who was the first real Hispanic superhero of any note. Her father and mother were killed because they were the parents of a superhero. Devastated by the loss, she moved in with her sister Awilda's family.
When Ava Ayala's niece, Angela Del Toro, retired from heroics, she passed the amulets of power onto her so she could carry on the legacy of the White Tiger. Joining the Avengers Academy, she had clashing personalities with fellow Latino Reptil in regards to their Latino culture.
She joins the Mighty Avengers during Infinity.
~DIG DEEPER INTO AVA AYALA HERE~
Jet
Publisher: DC Comics
Created by: Steve Englehart and Joe Staton
1st appearance: Millennium #2 (1988)
Nationality: Jamaican
Biography
Celia Winward was a Jamaican living in Great Britain when the guardians of the universe (creators of the Green Lantern) decided to recruit and empower ten earthlings to be their successors as the "new guardians". Celia was the fifth person empowered by them. Over the course of her adventures Jet apparently contracted a celestial class disease and sacrificed her life to save the earth.
Years later she returned to life since she had been granted Immortality by the Guardians. Celia also became the leader of the new Guardians now with additional members called the "global guardians". Fellow black superhero Freedom beast of Africa also joined their ranks. The team was then mind controlled into fighting Green Lantern Hal Jordon. Once freed they continued to police the globe and assisted Checkmate in stopping an impending apocalypse.
Stigmata
Publisher: Marvel Comics
First Appearance: Venom: Sign of the Boss #1, 1997
Created By: Ivan Velez Jr. and Tom Dorenick
Nationality: Dominican Republic
Biography
When the young mutant Ana Schwartz exhibited Stigmata (marks resembling wounds on the crucified Jesus Christ) and other seemingly supernatural powers, her grandmother sold her to the Catholic orphanage. The Vatican soon recognized her potential and recruited her into the Holy guard, who protected the Vatican and its wealthy patrons, but she eventually left to join the altruistic Jesuit Sect "Holy Fire". She was assigned to serve as the bodyguard for San Gregarian President Franco Santera, who claimed to have turned to God and repented for his tyrannical past; she was also tasked with determining if his conversion was genuine.
Santera's visit to the Bronx's St. Jude church was interrupted by a terrorist squad, led by the cyborg Teraknid (Aurelio Santurce), hired by Santera to make his repentance look real. Stigmata took out several terrorists, but Teraknid paralyzed her with his poisoned sting, and she was bound and gagged, preventing her from activating her powers. The situation deteriorated, exacerbated by the intervention of federal agent Venom (Eddie Brock) and the vigilante Ghost Rider (Dan Ketch), and Santera tried to kill all the witnesses; in the ensuing confusion, a nun removed Stigmata's gag, allowing her to call upon the angel Gabriel and activate her powers. She distracted Santera, allowing Ghost Rider to administer his soul-searing Penance Stare. Stigmata then took custody of Santera and delivered him to a secret Vatican Prison.
~DIG DEEPER INTO STIGMATA HERE~
Fade
Publisher: Milestone Comics
First Appearance: Blood Syndicate #1, April 1993
Created by: Dwayne McDuffie and Denys Cowan
Nationality: Dominican
Biography
Carlos Quinones joined the force syndicate with his sister Flashback in order to help them assimilate after moving to the U.S. from Dominica. He knew from early on that he was gay. While in the force syndicate, he fell in love with Tech-9, one of the founding members of  Force Syndicate, though Tech-9 had no idea of Carlos' true feelings. His gang-banger lifestyle left a strained relationship between him and his father. On the night of the Big Bang event, he was one of many gang members to attend. Unlike most of those present, however, he was changed by the event into a super-powered being. Stretched over a three-second time span, he would remain incorporeal and almost unseen forever. Luckily, his sister Flashback's power anchored him in whichever time she was in.  He lost the man he loved eventually and was blackmailed due to his sexuality by teammate Masquerade. It's unknown if he is still "in the closet" to this day.
Powermaster
Publisher: Marvel Comics
Created by: Chris Claremont and Daniel Green
1st appearance: Iron Fist #15, 1977
Nationality: Un-revealed Caribbean Island
Biography
Growing up on the street with his little brother Quincy, he became renowned for his street fighting and level head under pressure. After his brother was injured in an accident and had his feet and hand chopped off, he became a member of the Maggia's European division. He worked his way through the ranks until he became division head. His keen insight helped him to stay a step ahead of the FBI, CIA, and Interpol. He attempted to duplicate a power man formula so he could gain superpowers. The formula was a success, and he became more powerful than ever. However, his powers were unstable. After surviving an explosion, he slowly became living metal.
~DIG DEEPER INTO POWER MASTER HERE~
Shades
Publisher: Marvel Comics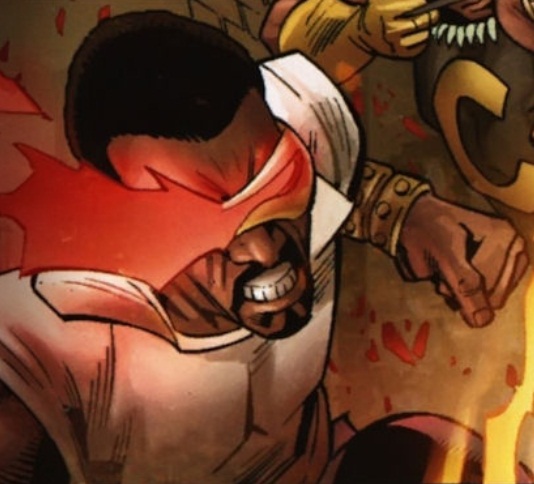 Created by: Archie Goodwin and George Tuska
1st appearance: Luke Cage, Hero for hire #1, 1972  
Nationality: Dominican
Biography
Shades and Comanche were fellow hoods from Harlem who ran the streets with then, Carl Lucas and Willis Stryker. The four of them made up the gang called the Rivals. They worked the streets for the more established mobs. When they grew up, Lucas went straight, but Shades and Comanche continued to associate with Stryker once he became a mobster himself. They attempted to manipulate Lucas into starting a prison riot. After Lucas escaped, the guard responsible for Lucas' mishap, Rackham, took his frustration out on the prisoners, especially the Black ones. Shades and Comanche were able to dig escape tunnels out prison and went after Rackham, carrying a burning hatred for him due to his treatment of them in prison. The pair tracked Rackham across the country, committing small crimes to make cash.
Kendra
Created by:  Joss Whedon
1st appearance: Buffy the Vampire Slayer, 1997
Buffy The Vampire Slayer: Ring of Fire (1st comic book appearance), 2000
Nationality: Jamaican
Biography
Kendra Young was a Slayer born on the Caribbean island of Jamaica. Unlike Buffy, she was identified as a "potential slayer" at an early age and was taken in and trained by Sam Zabuto in weapons and martial art. Kendra was the modeled slayer in training mastering the "slayer handbook" and carrying out orders to the letter.  Before she received her powers she carved a stake she affectionately called "Mr. Pointy". When Buffy Summers suffered a temporary death the slayer line and powers were activated in Kendra in 1997.
Investigating a supposedly "slayer-less" Hellmouth she fought Buffy and later allied with the Scooby Gang in battling the vampires, Spike and Drusilla. After Angel was reverted to "Angelus" she returns to sunny dale to aid her friends but is killed in battle with Drusilla in 1998. after only a year-long tenure as Slayer. Her death activated "Faith".
Tech-9
Publisher: Milestone Comics
First Appearance: Blood Syndicate #1, April 1993
Created by: Dwayne McDuffie, Ivan Velez Jr. and Denys Cowan
Nationality: Puerto Rican
Biography
Tech-9 was a loyal founding member of the Force Syndicate, one of the more benevolent gangs in Dakota. When all the gangs got together to battle it out for respect and turf on Paris Island the Force Syndicate was there and had a real shot at finally getting respect. That was until the cops arrived and started using the experimental tear gas, filled with "Quantum Juice". Hundreds of gang members started dying from the gas but somehow Rolando got back on his feet and grabbed Dogg and fled the scene.  He discovered that on the night of the Big Bang, he was blessed with the ultimate compliment to his natural marksmanship ability-no weapon he holds ever runs out of ammunition. His obsession with military strategy and discipline lead him along with Fade and Flashback to recruit Holocaust, Masquerade, Wise Son, Third Rail and Brickhouse to form the Blood Syndicate. Rolando tried to steer the team in the same benevolent way he had done with Force Syndicate by having them take out drug runners and clean up the neighborhood. He was met by spirited resistance from Holocaust who was once a member of the vicious Paris Bloods. After defending his leadership from Holocaust his body liquefied killing him instantly. He died in the arms of his best friend Fade.
Hardcore
Publisher: Marvel Comics
Created by: Marc McLaurin and Dwayne Turner
1st appearance: Cage #1, April 1992
Nationality: Unspecified Caribbean Island
Biography
Nothing is known of Hardcore's past except he was born on one of the many islands of the Caribbean. It's also unknown when he left the Caribbean and became a mercenary and later a well-trained assassin selling his skills to the highest bidder. He put together a team called the Untouchables composed of Kickback, Nitro, and Tombstone. Under the employ of Cruz Bushmaster, he clashed with Luke Cage while he was based in Chicago. After a long series of encounters, the feud ended with Hardcore's car plummeting into a cliff and his favorite weapon set to explode. He was assumed to have died on impact, but with Hardcore you never know.
~DIG DEEPER INTO HARDCORE HERE~
Bantam
Publisher: Marvel Comics
Created by: Mark Gruenwald, David Wohl, and M.C. Wyman
1st appearance: Captain America Annual #12, 1993
Nationality: Puerto Rican
Biography
Roberto Velasquez was a talented boxer in his hometown of San Juan, Puerto Rico. With his small size and weight, he was unsure if he could make it as a professional boxer. He was approached by international crime boss Armando Aviles, who offered to finance an experimental physical augmentation treatment for him to undergo to aid him in his career. After receiving the treatment, Velasquez inadvertently killed his opponent in his first match. He went into hiding after refusing to join Aviles' gang. Bantam returned to San Juan and split his time between super heroics and training other boxers. Due to his powers, he never stepped into the ring to fight again.
Steel Pulse
Publisher: Image Comics
Created by: Todd Johnson and Larry Stroman
1st appearance: Tribe #2
Nationality: Jamaican
Biography
A Jamaican-born skilled metallurgist, Desmond Negril's past is a mystery. He is identified as "Rastafarian," meaning he believes in the divinity of Ethiopian emperor Haile Selassie.
He was put in charge of a $2 million private research facility, Allotech, located on Strong Island. His life changed the day he was in the middle of an experimental liquid metal bonding process. His complex was attacked and exposed to his liquid metal chemicals. This changed the chemical composition of his body into a malleable liquid metal, yet still alive, form. Alongside the rest of Tribe they clashed with Diemos where it was revealed he was now nigh immortal.
~DIG DEEPER INTO STEEL PULSE HERE~
Tag
Publisher: Marvel Comics
Created by: Nunzio DeFilippis, Christina Weir & Carlo Barberi
1st appearance: New Mutants #10, 2004
Nationality: Puerto Rican
Biography
Tag's powers first manifested in his home town of San Juan, Puerto Rico. When they first manifested everyone in the class fled from him. His parents enrolled him in the Xavier Institute for higher learning during the mutant boom of the twenty-first century. Once at school he became fast friends with Hellion his roommate and became his official right hand man. When the students were placed in squads he became one of Emma Frost's Hellions. Together the team won a competition where all the squads were placed in opposition. When the school had summer break he accompanied his teammates to Hellion's house where they contacted the Kingmaker who would grant them all one wish. Unlike his friends Tag's wish was simple to keep his friends together so he would never be alone. Ultimately they refused his offer as they would be forced into becoming villains in exchange. On M-day when most mutants lost their powers Tag was one of them. Without his powers him and Hellion grew distant and he was forced to leave the campus and his friends on a bus which was blown up while him and many other students where inside. The last thing he saw before dying was his best friend trying to save his life before a secondary explosion took his life. He was buried on the school grounds; his death haunts his best friend to this day.
Hairbag
Created by:  Peter David and Larry Stroman
1st appearance: X-Factor # 75, 1992
Real Name: Michael Suggs
Nationality: Jamaican
Biography
His early life in Jamaica is unknown but he came to the attention of Mr. Sinister who quickly recruited him into his second team of operatives called the Nasty Boys. This team mainly fought the government sponsored X-factor lead by Havok. In most clashes he fought fellow feral mutant Wolfsbane. In a final showdown with X-factor his team was defeated and jailed. They were freed by Black Supervillain Reignfire's Mutant Liberation Front and later returned o the nasty boys. He fought the X-men's wolverine soon after and survived but hasn't been seen since though he has been confirmed as retaining his powers after M-day.
~DIG DEEPER INTO HAIRBAG HERE~
Ty
Publisher:  ?
Created by: James Mason
First Appearance:  ?
Citizenship: Jamaican
Biography
Along with her older ½ brother Jalen/Tiger Style, Ty is the latest in a long line of Jamaican-born Muay Thai kickboxers. At the age of 21, Ty was crowned the youngest ever Muay Thai Grand Champion. Eager for new challenges, Ty travelled to "Void City", seeing it as the best place to test her fighting skills. After losing a close bout to future heavyweight champion Indigo, she went on a two-fight win streak before leaving Void City to relocate to New Kingston, Jamaica. Tyra is currently retired from professional fighting, but has moved back to Void City after a loss to the infamous Ayumi. She now runs the Bad girl Yardie Gym where she continues to develop her fighting skills and help train others in Muay Thai and kickboxing.
Ty and Jalen share the same father, who was a professional fighter. While Tiger traveled to the United States with his mother, Tyra remained in Jamaica. The Two siblings remain in close contact.
Masquerade
First Appearance: Blood Syndicate #1, April 1993
Publisher: Milestone Comics
Created by: Dwayne McDuffie, Ivan Velez Jr. and Denys Cowan
Nationality: Jamaican
Biography
Born biologically a woman, most of his past is shrouded in mystery. From an early age he realized that his gender identity did not fit with his biological makeup, he was a man trapped in a woman's body. He joined Holocaust's gang the Paris Bloods along with his older brother who accepted his lifestyle. Only his brother knew he was a biological female dressed as a man in the gang. On Paris island during the Big Bang his brother was killed and he gained the power to shape shift and immediately used his powers to make his body reflect what's always been in his mind, he changed his biology to match is gender identity, becoming a man (Revealed in Interview with Ivan Velez).
As Masquerade he joined the Blood Syndicate. He was one of the more bloodthirsty members often reveling in the slaughter of their enemies. Masquerade was also present when Tech-9 died suddenly and witnessed the emotional breakdown of Fade. He kept the secret of his biological gender from his teammates for a long time becoming fast friends with Fade and often mocking the budding relationship of Brickhouse and Third Rail. Despite his seemingly outward happiness he still visited his mother and little brother in animal forms. While the team battled the Demon Fox he overheard Fade's secret that he was homosexual, Masquerade was also the last member of the team to fall. Fade found out her birth gender and he freaked out despite Fade agreeing to keep his secret. Not trusting that Fade would keep his biological gender a secret he blackmailed him. He was eventually ousted and was kicked off the team
~DIG DEEPER INTO MASQUERADE HERE~
Drew Mcintosh
Publisher: Zoolook
Created by: Nicholas Da Silva
1st appearance: Dread & Alive #1, feb 6 2010
Nationality: Jamaican
Biography
Drew Mcintosh is a direct descendant of the Jamaican Maroons who fought for Jamaica's Independence. His father was a cultural anthropologist who died a mysterious death. Drew grew up with the maroons and was granted the mantle of "keeper of the medallion". He must keep a constant vigil for the evil Shadowcatcher draws ever closer. As a man he has followed in his father's footsteps as a cultural anthropologist though with all the prowess of a Lion. Drew is Jamaican positivity given physical form, from the mind and heart of Brazilian born Nicholas Da Silva.
~DIG DEEPER INTO DREW MCINTOSH HERE~
There you have it!
The TOP Caribbean Superheroes
on
World of Black Heroes!
What did you think of our list, did we miss anyone?
Be sure to leave a comment below! 
If you enjoyed this list be sure to check out
the Top 30 Black Superheroes- Traffic Edition,
the Top 30 Black Superheroes-Fan Edition,
the Top 20 Black Superheroes-Milestone Comics editions.
and