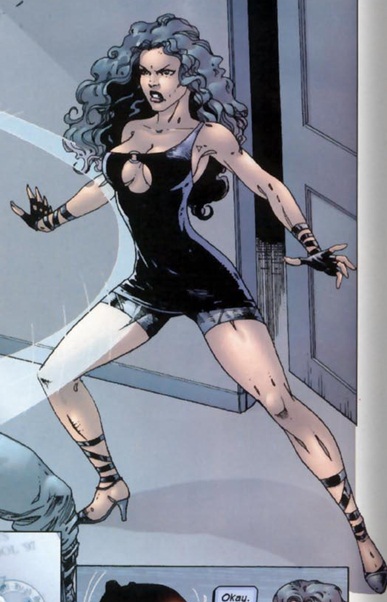 Publisher: Marvel Comics
Created by: Christopher Priest
1st appearance: Black Panther #1, 1993
Nationality: Wakandan
Team Affiliations: Dora Milaje
Legal Status: Unknown
Height:  6'           Weight: 120 lbs
Eyes: Brown           Hair: Black
Relatives: Unknown
Skills and abilities: Trained since puberty in Wakandan and mixed martial arts. Also highly proficient in armed and unarmed combat of all kinds, Okoye also speaks fluently in Hausa as well as English.
Powers: None
Biography
Taken from an unknown tribe from Wakanda at the onset of puberty, she was chosen by the Black Panther to serve as one of his Dora Milaje. Okoye stood out from an early stage and eventually became one of his personal aids along with Nakia/Malice. Unlike her sister she harbored no romantic feelings towards the Black Panther realizing her rank among the Dora Milaje was purely ceremonial. She served as his chauffeur while Nakia was his personal aid.
When Nakia developed romantic feelings for T'challa she tried to reign in her fellow Dora Milaje to no avail.  After Nakia became Malice she joined with T'challa in executing a plan to put an end to her schemes.
Later when Kasper Cole became the Black Panther she engaged him at T'challa's behest to test his skills. She was also involved in his "Ascension" where Kasper defeated her. Okoye later showed romantic feelings for Kasper and they shared a kiss despite him having a pregnant girlfriend. Okoye also presented Kasper with his White Tiger garb after he passed the ascention.
She has not been seen since.