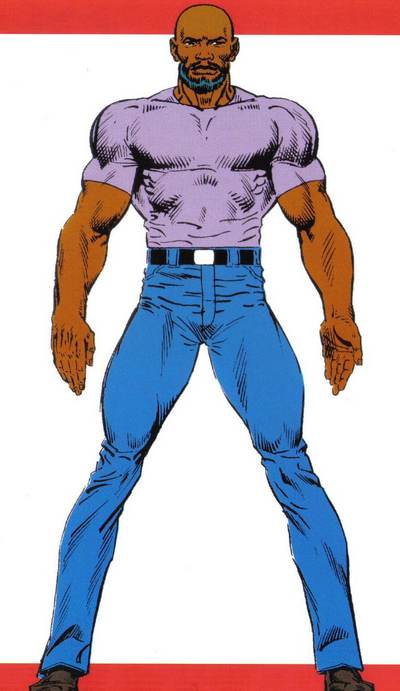 Publisher: Marvel Comics
Created by: Fabian Nicieza and Mark Bagley
1st appearance: The Mighty Thor #411 (May 1990)
Real Name: Andrew Chord
Team Affiliations: New Warriors, US army
Legal Status: U.S citizen with no criminal record
Height: 5'11              Weight: 195 lbs
Eyes: Brown                  Hair: Black
Relatives: Silhouette Chord (Daughter), Midnight's Fire (Son), Miyami (Wife), Tai (Mother in Law), Night Thrasher (Ward)
Skills and Abilities: Trained in armed and unarmed combat by the army.
Powers: None
Biography
Serving in Vietnam during the 'Vietnam war' Andrew Chord along with his squad the "Half Fulls" found themselves in an unknown part of Cambodia where they met Tai, a sorceress of the Dragon's breadth cult. He and his squad mates except for Daryl Taylor were married off to the young women from the cult. He married Tai's daughter Miyami with whom he returned to America. Once there Miyami abandoned him while pregnant and secretly gave birth to twins Silhouette and Midnight's Fire.
Believing them dead he became a mercenary and traveled the world and even met with Cable of the X-men. He met back up with his mother in law Tai who had him resume his friendship with Daryl Taylor as he became godfather to his son Dwayne. To fulfill his role in the pact formed between himself and her back when he was a soldier he was tasked with killing his friend and wife. He accomplished the task and Tai erased parts of Dwayne's memories allowing them to become his guardians and turn him into the crime fighter Night thrasher. Along with Tai he also helped Taylor run his business and invested his money in criminal activities globally.
After Night Thrasher formed the New Warriors he found out about Chord's misuse of company funds and confronted him. Chord tried to commit suicide by shooting himself in the head but was unsuccessful and was saved in the hospital. While in the hospital he confessed to his part n the deaths of Night Thrasher's parents and was visited by his wife Miyami who revealed that Silhouette and Midnight's fire were his children.
Miyami was killed by her mother for her deception all those years before and Chord was healed by magic. While he recovered Tai was killed by Night Thrasher and the New Warriors when she tried to sacrifice them. Chord and Dwayne later reconciled and he became the legal guardian of Rage when his Grandmother was killed.
He helped investigate the legitimacy of Bandit, Dwayne's half brother.
Strangely he disappeared for years and has not shown up after the death of Dwayne and Bandit has taken over both the company and the identity of Night Thrasher.