[amazon_link asins='1401225128,B01N1029PS,B000REM930′ template='ProductCarousel' store='Black panther' marketplace='US' link_id='39c67e66-e929-11e7-b243-8b95699fa95f']
Publisher: DC Comics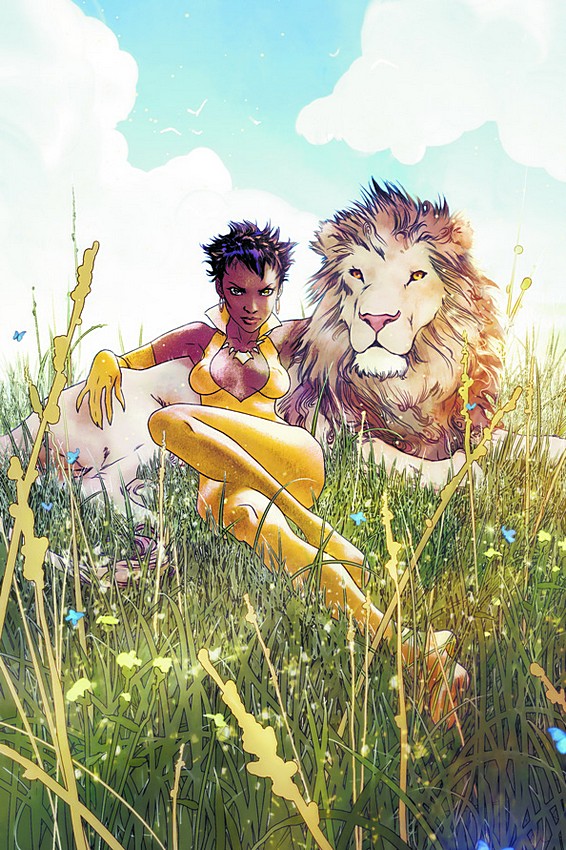 Created by: Gerry Conway and Bob Oksner
1st appearance:Action Comics #521, (July 1981)
Real Name: Mari Jiwe McCabe
Nationality: African (Zambesi)
Team Affiliations: Justice League
Weight: 140 lbs    Height: 5'7
Eyes: Brown          Hair: Brown
Relatives: Reverend Jiwe (Father), Jeanne-Mari Jiwe (mother, deceased), General Mustapha Maksai (uncle, deceased), Tantu (ancestor)
Skills and Abilities: Trained Psychiatrist, model, fashion designer and hand to hand combatant.
Powers: Vixen has innate animal mimicry powers which are further enhanced by her necklace the "Tantu Totem". A drawback to her power is that she is occasionally overwhelmed by the feral nature of the animals she mimics.
[youtube=http://www.youtube.com/watch?v=GCrnrE5H4lQ&feature=related]
Biography
Origins and Early Adventures
As a child Mari grew up in a rural village in the fictional African province of Zambesi where she always felt like an outsider. Her father was a reverend in the christian church who eventually came into possession of the Tantu Totem, a voodoo relic said to contain the power of the god Anansi.  Tragedy struck when her mother was killed reportedly by poachers, though in reality by Aku Kwesi [Vixen: Return of the Lion #1]. Her father was killed by her uncle who took possession of the totem.
She managed to make her way to America where she became a successful super model and went on to study Psychiatry. Using her new-found wealth she could now travel the world. Upon returning to Africa she retrieved the totem from her uncle and became the superhero Vixen. As Vixen she battled poachers in India [Action Comics #521] and went on to join the Justice League of America [Justice League of America Annual #2]. While a member of the team her uncle re-entered her life and stole the totem back. His impure heart however caused him to be transformed into a hideous monster. Unfortunately for Mari her uncle died while in battle  [Justice League of America #234-235]. When the team faced Amazo they found themselves defeated and chained. Vixen with her powers and quick thinking managed to save the day [Justice League of America #242]. Mari remained with the team until it was disbanded by Martian Manhunter [Justice League of America #261].
Suicide Squad and the Bronze Tiger
Returning to her successful modeling career Mari ended up in the Caribbean on a photo-shoot. Unfortunately they were attacked and many of her friends killed. The Suicide Squad was called in and during the exchange she lost control of her powers and killed the man responsible. She joined the Squad in hopes of gaining better control of her powers [Suicide Squad #11-12]. While with the team she met Bronze Tiger and the two began an ill-fated relationship. After the team was disbanded she managed to launch a successful clothing line before being pulled back into action because of her feelings for Bronze Tiger [Suicide Squad #40]. The relationship eventually imploded as Turner who had been brainwashed by the League of Assassins for years needed more help than Mari could provide. The situation was worsened by Turner's inability to admit he needed help. Mari left Ben and the Suicide Squad [Suicide Squad #58].
Now a free  agent Vixen went on an adventure with the Birds of Prey where she helped Huntress rescue mind controlled villains [Birds of Prey #69-72].  She also aided Flash battle Gorilla Grod [Flash v2. #44-46], aided Wonder Woman battle Circe [Wonder Woman v2. #174-175] and aided the Justice League Task Force [Task Force 37-8].
Back With the League
She rejoins the Justice League after infinite crisis where she befriends Firestorm, Green Lantern/John Stewart and Cyborg. Her powers then go wild because of Anansi who she eventually defeats. When her powers were wild she could mimic the powers of even super  humans.
While on a mission to stop Intergang Superman informs her their is a connection with the insurgence and the killer of her mother. She return to her village in Africa where she runs afoul of Aku Kwesi who at first she thinks is her real father due to their similar powers but after taking him and the Intergang contingent with him she realizes his powers are technology based [Vixen-Return of the Lion 1-4].
When Darkseid tries to rule the world she helps thwart his plans. After this she quits the Justice League saying they need more international branches to deal with crime on a global scale.