Kevin Brashear (Character)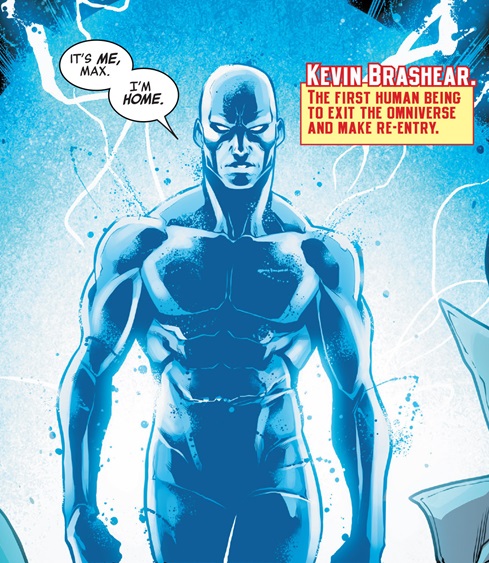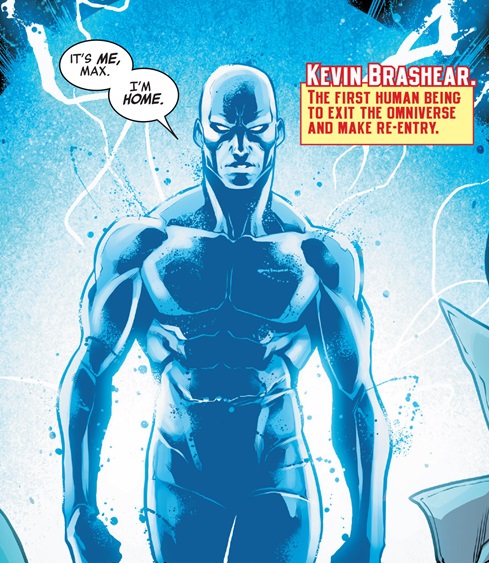 Publisher: Marvel Comics
Created by: Al Ewing and Valerio Schiti
1st appearance: Mighty Avengers #8, (2014)
Nationality: American
Team Affiliations: None

Legal Status: U.S citizen with no criminal record
Weight: Unknown    Height: Unknown
Eyes: Unknown           Hair: Unknown
Relatives: Adam Brashear/Blue Marvel (Father), Marlene Frazier/Candace Brashear/Agent 314 (Mother, deceased), Max Brashear (Brother), Adrienne Brashear (Sister)
Skills and abilities: Unknown
Powers: Unknown
[amazon_link asins='0785188746,B00P16G516,0785190724′ template='ProductCarousel' store='Marvel Comics' marketplace='US' link_id='d6ea207b-c80c-11e7-b81b-69a76a08ed83′]
Biography
The son of Adam Brashear/Blue Marvel and his spy wife Candace Brashear/Agent 314. Kevin is Bi-racial since his father is black and his mother white [Mighty Avengers #8, 2014].
Kevin was born in 1970 after his father had retired from the life of a superhero. Like his father before him he had an incredible aptitude for the sciences. Despite his fathers best efforts to shield him from a a heroic life in 1983 the technocracy attacked. Now aware of his father's past as the Blue Marvel he graduated from High School in 1991 [Mighty Avengers #9]. By 1993 he had started accompanying his father on his adventures as "Doctor Brashear".  In 1993 they battled the Atomic Skeletons of Paris, In 1997 they Kevin saved his father from the dream machine of Doktor Skorpion. During the 1999 "Y2K" scare they battled the Millennium Bug [Mighty Avengers #9].
Some undisclosed time later as the Fantastic Four battled Galactus he accompanied his father to Egypt to battle Evald Skorpion who was tampering with the time travel technology of Rama-Tut. During the battle Kevin is knocked into a Neutral Zone portal [Mighty Avengers #9]. Lost and alone the neutral zone changed him on a molecular level. His disappearance caused his sister Adrienne to have nightmares and started Max on the path to villainy  [Mighty Avengers #9].
His father eventually realized that being in the Neutral Zone for so long would make him unable to survive back on earth so he gave up on trying to bring him back. When Blue Marvel reemerged Max now going by Dr. Positron and allied with HIVE opened a massive portal to pull his brother out of the neutral zone. It was partially successful but he was gigantic and unstable [Mighty Avengers #8, 2014]. The Mighty Avengers were forced to send him back through the portal to save the earth [Mighty Avengers #9].
Kevin finally makes re-entry into our universe when the Captain America and the Mighty Avengers face the "Beyond Corporation" in the body of Mr. Quantrell. Upon re-entry he uses his tend seconds in Earth to drag the villain from our universe and into the Neutral Zone [Captain America and the Mighty Avengers #7].