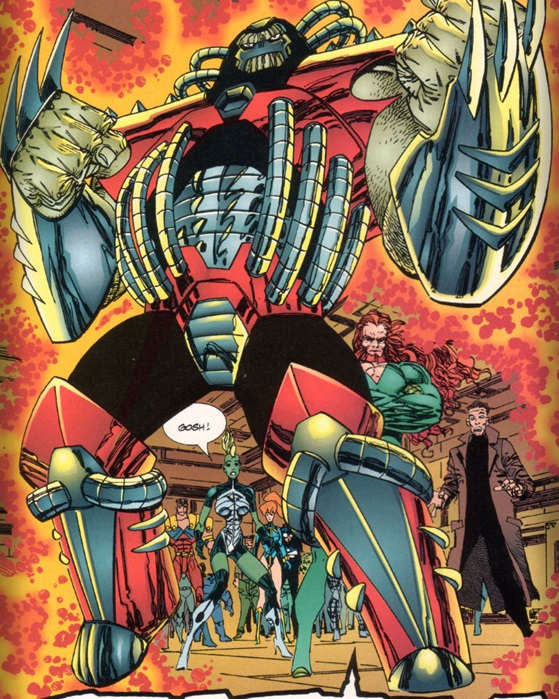 Publisher: Image Comics
Created by: Erik Larsen
Real Name: Charles Johnson
1st appearance: Star #4,
Nationality: American
Team Affiliations: Vicious Circle

Legal Status: Unknown
Weight: 225 lbs    Height: 6'4
Eyes: Brown        Hair: Black
Relatives: Unknown
Skills and abilities: Capable unarmed combatant.
Powers: He has superhuman strength and superhuman resistance to injury.
Biography
 Brother of Chris Robinson. Transformed into Bludgeon by Johnny Redbeard who had taken over the Circle [Savage Dragon #25]. Bludgeon accompanied his new leader to battle Cyberface. Unfortunately for Redbeard Cyberface took control of Bludgeon's mind before killing his army and negating Redbeard's powers [Savage Dragon #27].

He later resurfaces and in the fight reveals his identity to his brother who was now a cop [Savage Dragon #50]. Chris took him back to his apartment to get help. Unable to aid him, he left [Savage Dragon #51]. He then tried to get aid from She Dragon to return to his human form [Savage Dragon #53]. He was still unable despite She Dragon's help in getting what he wanted [Savage Dragon #54-55]. He disappeared and returned as a villain when a time travelling Dark Landers made him an offer he couldn't refuse, to return him to normal [Savage Dragon #71].
When they were defeated he foolishly attacked Solar man and was destroyed [Savage Dragon #165].