[amazon_link asins='0785119442,0785168486,0785168494′ template='ProductCarousel' store='Black panther' marketplace='US' link_id='d9b81439-e929-11e7-b08f-2f8b48b979c2′]
Publisher: Marvel Comics
Real Name: Mercedes Knight
Created by Tony Isabella and Arvell Jones
1st appearance: (unnamed) Marvel Team-Up (1st series) #1 (March 1972), (name revealed) Marvel Premiere #20 (January, 1975)
Team Affiliations: Heroes for Hire, Villains for Hire, Daughters of the Dragon, Fearless Defenders
Legal Status: Us citizen with no criminal record.
Height: 5'9              Weight: 136
Eyes: Brown         Hair: Black
Relatives: Unknown
Skills and Abilities:  Skilled martial artist whose skill allowed her to face off with X-men villain Sabertooth and fight Iron Fist to a draw in her first appearance. Since then she has had further training by Coleen Wing and Iron Fist.  Trained weapon specialist with guns and one of the best detectives in the marvel universe. Her computer skills are also world-class.
Powers: Bionic arm grants her superhuman strength and she can interface with electronics through the arm. The arm itself is a product of Stark Technologies made from Antarctic vibranium and diamond. This also allows her arm to liquefy even adamantium at close range. The arm also grants limited technopathy allowing her to control machines.
Biography
Misty Knight was a hard-hitting and controversial New York city cop working for the NYPD's bomb squad who lost her arm during a bomb blast [Daughters of the Dragon #4]. She resigned from the force after this and got a bionic arm courtesy of Tony Stark/Iron Man [Marvel Team-Up #1, March 1972]. A chance encounter with Spider-man [Marvel Team-Up #1, March 1972], Iron Fist [Marvel Premier #15] and new roommate Jean Grey [X-men v1. #102] made her a part-time superhero. Jean would eventually return to the X-men. On her own again she befriended Samurai Coleen Wing after saving her from an attempted rape [Deadly Hands of Kung-Fu #32-33]. The two women would later found  "Nightwing Restorations Ltd" a private investigations bureau.
She fell in love with martial artist Iron Fist and helped him on his adventures. The most notable being against John Bushmaster [Iron Fist #15] and later the Steel Serpent [Marvel Team-Up #64].  Misty would befriend Luke Cage after the two fought [Powerman #48]. While aiding Luke Cage she was captured by Deadly Nightshade [Power Man and Iron Fist #51-53]. Alongside her old roommate Jean Grey and the X-men she battled Moses Magnum [Uncanny X-men #118-119]. Misty briefly broke up with Iron Fist and dated Tyrone King [Power man and Iron Fist#117] which caused tension between herself and Coleen Wing. After rescuing Iron Fist they briefly dated once more [Power man and Iron Fist#122] but broke up again.  When Rand was presumed dead[Power man and Iron Fist#125]. She helped Namor rescue him and fight off his impersonator [Namor the Submariner #16-17] and the two resumed their relationship.
Daughters of the Dragon & Heroes for Hire
Misty and Coleen then expanded the newly reopened 'Nightwing Restorations' from just a PI firm but also into the field of bail bondsmen. It worked by them lending bail money to apprehended street-level super-villains until their cases work their way through the criminal justice system [Daughters of the Dragon #1]. If those villains miss their scheduled court dates however Knight and Wing become bounty hunters, who track them down and bring their clients back to justice [Daughters of the Dragon #1-4]. During the Daughters of the Dragon miniseries the duo get entangled with the villain Caledonia and Misty loses her original bionic arm [Daughters of the Dragon #4] Tony Stark/Iron Man has it replaced with an upgraded model [Daughters of the Dragon #4]. The trauma of losing the arm causes Misty to have flashbacks of when she lost her real arm [Daughters of the Dragon #4]. The event left her emotionally distant as she put up her defenses to both Coleen and boyfriend Danny Rand/Iron Fist. She eventually defeats Ricadonna and ends the threat [Daughters of the Dragon #5-6].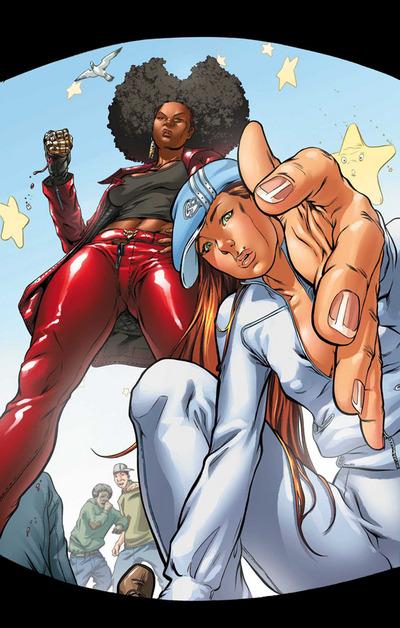 During 'Civil War'  she is recruited by Iron Man to hunt unregistered heroes and forms a new 'Heroes for Hire' consisting of Coleen Wing,  Shang-Chi, Humbug, Orka, Black Cat, Paladin, and a new Tarantula [Heroes for Hire v2. #1]. After the event she becomes a registered superhero and a member of the Avengers Initiative [Avengers Initiative #1]. Alongside Coleen and Luke Cage she aided Iron Fist his land of Kun Lun [Immortal Iron Fist #9]. During Civil War Iron Fist had sided with those who opposed registration despite this in it's aftermath their relationship grew even more serious [Immortal Iron Fist #16-17]. Her squad disbanded after the events of 'World War Hulk' where her actions left Coleen traumatized and feeling betrayed [Heroes for Hire v2. #13-15]. These events left her depressed even as she aided Iron Man in the aftermath of 'World War Hulk' [World War Hulk Aftersmash #1].
Moving in with boyfriend Iron Fist the two were faced with a phantom pregnancy caused by his powers. He also proposed to her as a result of said pregnancy. She declined and it caused a strain on their relationship [Immortal Iron Fist #27]. The trauma of losing her arm, the breakdown of her friendship with Coleen and the phantom pregnancy eventually cause her relationship with Danny to end and she moves out [I am an Avengers #1]. Misty is left emotionally devastated.
Shadowland and the Fearless Defenders
During shadowland she joins with her friends to stop daredevil but can't convince him to end his hold on Hell's Kitchen. She also uncovers her former partner using the ordeal to kill criminals who were never convicted during Shadowland: Blood on the streets. When Daredevil kills his long time enemy and he himself is defeated she questions her place in the world as all her friends have abandoned her or gone evil.
She shared a romance with Paladin in the aftermath of Shadowland. Misty under the control of Puppet Master revamps the Heroes for hire and utilizes various street level heroes based on their powers and abilities in exchange for money or information. When Puppet Master is defeated she continues the operation in her spare time and joined Valkyrie as a fearless defender.