Daughters of the Dragon #1 Review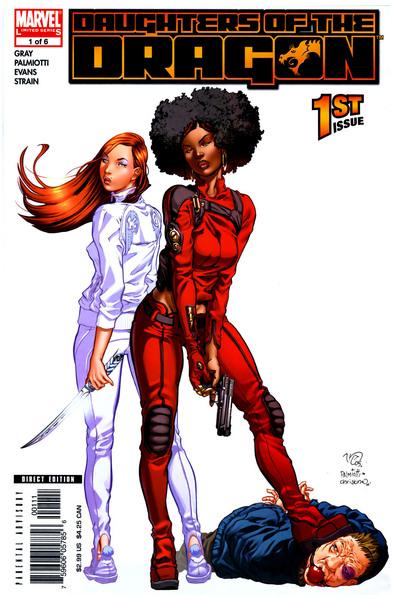 Summary
Misty knight is chasing the Rhino who's supposed to be in court. Coleen uses her car to temporarily take him down and Misty does the rest. They have a brief skirmish with some cops before heading back to the office.
Meanwhile in an apartment building some d-list super villains break into a safe and steal it's contents. At a party the woman who owns the apartment returns home to discover the heist. She has them on film and plans to kill them all and get back a certain "artifact".
Misty and Coleen make plans to apprehend the d-list criminals who have skipped parole. They get the info on one of them and Coleen plans to visit his house. In the house the man gets beat up and his girlfriend and child threatened. Coleen discovers a battered villain with another standing over him with a bladed hand to the child's throat.
The Good
Coleen and Misty have great character chemistry, very believable and very fluid. The story quickly established who they were, kick ass samurai and bionic ex cop martial artist and what they were about "certified bail bondsmen" of the super villain variety. 😛
Humor was peppered into many of the interactions from start to finish making every page entertaining.
The art by Khari Evans hits all the right notes. The women are sexy, the villains are goofy when they need to be, scary in others and every character has a range of emotions splashed across their features that make this a visual feast! Subtle nods that some artists don't get like Coleen being Asian as opposed to just another white woman in a comic are welcome.
Undoubtedly though this issue was a wonderful read for fans of Misty knight who get to see her have lots of spunk, be sexy and have great banter with her opposite, Coleen. 🙂 One is a calm collected samurai the other a hot blooded, hott tempered ex-cop!
The script for the story was also great we got a healthy dose of action without all the exposition some writers think they need to tell a story. Mind you this was a far simpler story than say New Avengers #1 but by avoiding the exposition this issue is totally accessible to new readers. This is issue wont alienate female readers with its weighty back story and exposition and for that I salute Jimmy Palmiotti and Justin Gray.
The Bad
The art will not be suited for everyone, there's just not the same amount of detail one might get from say…Carlos Pacheco and the women are often in "compromising" positions clearly meant to titillate male readers. The same cant be said for eye candy for women 😛
Fans of the Rhino will be disheartened by how easily these girls take him down. 😛
The Ugly
This issue had a great balance of story, coolness and a cast you could easily identify with and it was all very exciting from start to finish 4/5