All New Captain America #6 Review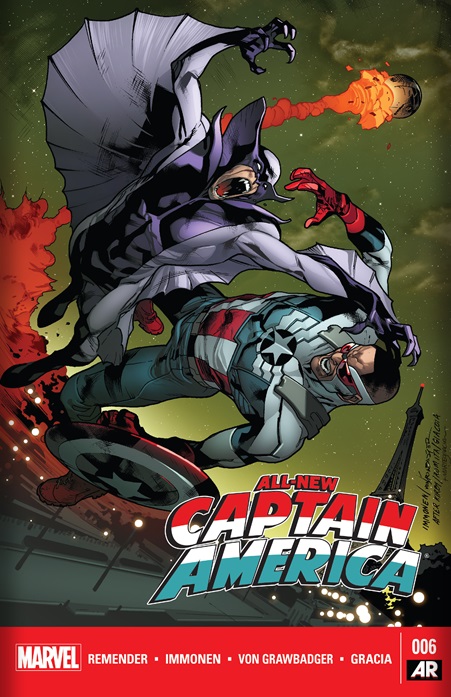 Baron Blood vs Captain America, Hydra's war is won, and Zemo's atrocities continue. Sam Wilson will earn his strips–the single greatest sacrifice in a lifetime of them–and he will never be the same again. The end of the first story arc that sets the stage for the coming Age of Hydra.
The Good
Action-I found the sky spanning battle very intense as Captain America and tried to save the world. The flying capabilities of our hero get a major highlight.  It was brutal and stunning all at once. I also enjoyed the battle waged by Nomad against Zemo and Batroc.
Characterization-All New Captain America under the pen of Rick Remender is a selfless, heroic and downright beautiful character. I feel so much for Samuel right now I never thought it was possible. I found this opening arc and especially this finale issue full to the brim and overflowing with copious doses of emotion. I found myself growing misty eyed as I thought about the reality of not being able to have kids and what my own life would be like without my girls….
New Power Couple– So Misty Knight and All New Captain America swap spit in this book. With Storm and Black Panther now a distant memory and Photon and Dr. Voodooo also a memory we can only hope that Blue Marvel/Spectrum and Misty/Captain America can keep the momentum and deliver far more substantial goods.
Art– By now you know Stuart Immonen is doing a great job
on the art details and this book doesn't disappoint. Instead it continues to highlight the action, tension, emotion and sheer awesomeness of the book.
Threat- I don't know about you guys but this opening arc came across as absolutely epic! This would make a damn good motion comic with voice-overs etc.
Mystery- Who the hell is Misty Knight working for?
The Bad
Development- So Red Wing is now a vampire…..ok.
The Ugly
This is the stuff good comics are made of, run out and buy it! 5/5 stars