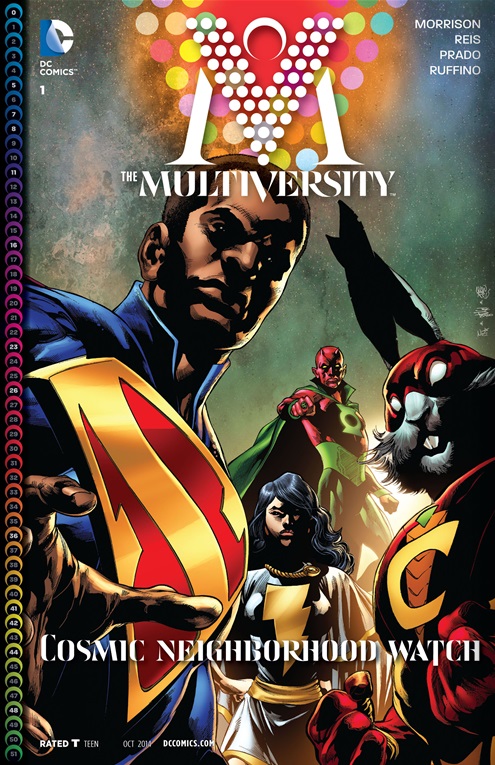 Join visionary writer Grant Morrison, today's most talented artists, and a cast of unforgettable characters from 52 alternative Earths of the known DC Multiverse! Prepare to meet the Vampire League of Earth-43, the Justice Riders of Earth-18, Superdemon, Doc Fate, the super-sons of Superman and Batman, the rampaging Retaliators of Earth-8, the Atomic Knights of Justice, Dino-Cop, Sister Miracle, Lady Quark, the legion of Sivanas, the Nazi New Reichsmen of Earth-10 and the latest, greatest Super Hero of Earth-Prime: YOU!
Comprising six complete adventures – each set in a different parallel universe – plus a two-part framing story and a comprehensive guidebook to the many worlds of the Multiverse, THE MULTIVERSITY is more than just a multipart comic-book series. It's a cosmos spanning, soul-shaking experience that puts YOU on the frontline in the Battle for All Creation against the demonic destroyers known as the Gentry!
In issue #1, pencilled by superstar artist Ivan Reis (AQUAMAN, JUSTICE LEAGUE), President Superman of Earth-23 uncovers a threat to all Reality so apocalyptic it will take a team of incredible heroes from across the Multiverse to face it – including Captain Carrot, like you've never seen him before!
But even with a multitude of alternate worlds to choose from, where every variation is possible, can anyone hope to prevail against the onslaught of ultimate evil and undying hatred – in the unstoppable form of a one-time cosmic defender with unimaginable powers?! Join us, if you dare, for the beginning of THE MULTIVERSITY!
What I thought
I have been waiting on this book for so long I can hardly believe I'm finally holding it. Having said that my first thought was how much I dig the cover which features President Superman and Captain Carrot, Mary Marvel and a Green Lantern. The latter two don't appear in this opening salvo but give it a certain Justice League vibe. I must also say I've had a man crush on Grant Morrison since he wrote JLA and later New X-men. With Grant when he's allowed to do his own thing you're almost always guaranteed to get a thrill ride. Multiversity is a thrill ride, one that spans multiple earths with a large number of Black Supeheroes along the way. Black Heroes who make an appearance are; Nix Uotan the last of the original Monitors is back in his shiny new packaging as superjudge, President Superman whose name says it all, his Justice League consists of Steel, Vixen, Black Lightning, John Stewart, Nubia, Cyborg and even the Manhattan guardian. Brand new Aboriginal god Thunderer is also given a central role while even Bloodwynd makes an appearance. While a host of Black Heroes show up that's as far as diversity goes in this opening tale there wasn't a single Asian around, unless I missed it. We also have the obviously gay couple Justice 9 and Power Torch.
On the story front we have the multiverse spanning threat of Anti-death equation seems legit. We get some decent action and grand art. The idea that the Earths are connected by comic book is also fascinating and I'm curious to see just how much mileage a mind like Morrison can get out of it.
Overall
It's a step in the right direction and with Morrison on board I'm hoping this book launches President Superman into his own ongoing monthly series. This was an exciting opening salvo and here's hoping things only get better from here. We give Multiversity #1- 4/5