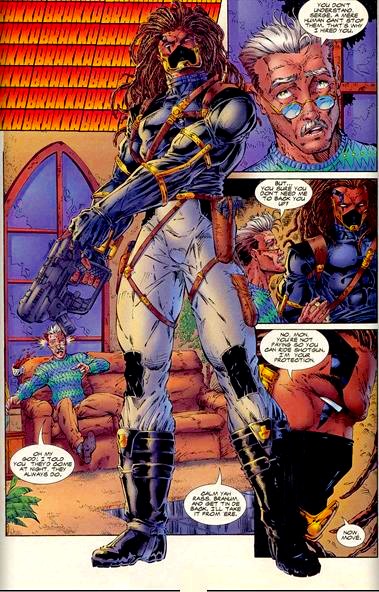 Publisher: Wildstorm
Created by: Brett Booth
1st appearance: Backlash #12, (September 1995)
Real Name: Jean Yves Smith
Nationality: Jamaican
Team Affiliations: Phantom Guard
Weight: 270 lbs    Height: 6'3
Eyes: Brown           Hair: Brown (worn as dreads)
Known Relatives: Mother, Father, Maria (Fiancé, Deceased)
Skills and Abilities: Serge is an expert marksman and hand to hand combatant.
Powers: Jean has the power to control his adrenaline levels. He uses this to boost his speed, strength and healing. His powers have a fatal weakness however the longer he uses his powers the faster he tires which can leave him too weak to defend himself.
[youtube=http://www.youtube.com/watch?v=wpzz3VZudME]
Biography
Leon lived a happy life in Kingston Jamaica with his parents until one night they were gunned down by a Jamaican Gang. Witnessing this at age twelve was too much for the boy who's powers activated for the first time and he decimated them. Fearing for his life a close friend of the family sent him to live with his godparents in New York. He would spend the remainder of his teenage years there.
After graduating from high school he joined the CIA where his special abilities where put to use. For several years he was one of their top agents but due to a short fuse and his inability to work with others he was fired. Since then he has made a name for himself as Serge, gun for hire. He primarily works as a bodyguard or avenger for those who have been done an injustice.