Drew McIntosh (Character)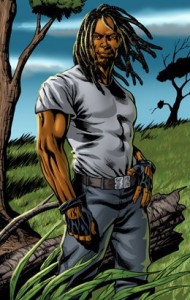 Created by: Nicholas Da Silva
1st appearance:Dread & Alive #1, feb 6 2010
Height: 6′      Weight: 200 lbs
Hair: Dark Brown    Eyes: Brown, glowing yellow when using powers/enraged
Known Relatives: Phillip McIntosh (Father, deceased), Maria McIntosh(mother), Cudjo (1/2 brother).
Notes: He is the first Jamaican superhero to have his own ongoing series.
Powers: "Felinethropy" allowing him to change into feline/lion man hybrid with all the added benefits of enhanced senses, strength and healing.
He also possesses the maroon medallion which has unrevealed powers and enhances his own powers considerably.
[youtube=http://www.youtube.com/watch?v=0WwyN0WCGQQ&feature=related]
Biography
Drew Mcintosh is a direct descendant of the Jamaican Maroons who fought for Jamaica's Independence. His father was a cultural anthropologist who died a mysterious death. Drew grew up with the maroons and was granted the mantle of "keeper of the medallion". He must keep a constant vigil for the evil shadowcatcher draws ever closer. As a man he has followed in his father's footsteps as a cultural anthropologist though with all the prowess of an enhanced Lion.