Sh'ri- Black Panther (Character)
Created by: Jeff Parker and Salvador "Salva" Espin
1st appearance: Exiles #6, 2009
Nationality: Wakandan
Relatives:[Paternal] T'Challa/Black Panther (Father), Azzari the Wise (Great grandfather), S'yan (Uncle), T'chaka (Grandfather), Shuri (Aunt), White Wolf (adopted Uncle), Jakara (Uncle),  T'shan (Cousin), Bashenga (Ancestor)
[Maternal] Storm (Mother), Ashake (ancestor, deceased), Mr. Munroe ( Great grandfather), Harriet Munroe (Great grandmother), unidentified Kenyan Great grandmother, David Munroe (Grand father, deceased), N'dare Munroe (Grand mother, deceased), Vivian Munroe (Grand Aunt, deceased), Colonel Shetani (Great uncle), David Evan Munroe Jr. (Cousin)
Alternate reality siblings: T'chana (1/2 Brother), Azari (Brother), Becka Munroe (sister), T'chaka/Panther (Brother), Sky-Panther (Sister), Torrent (1/2 sister)
Skills and Abilities: Trained from birth in hand to hand combatant as a princess of Wakanda.
Powers: As the Black Panther of her world she must have ingested the heart shaped herb which granted Superhuman physical characteristics such as enhanced strength, Speed, senses and vitality like all other black panther's and a connection to Bast The Panther God.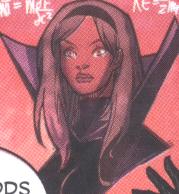 Biography
The only other child on her earth besides T'chaka of Storm and the Black Panther. When he was presumed dead after disappearing she took the mantle of the black panther.