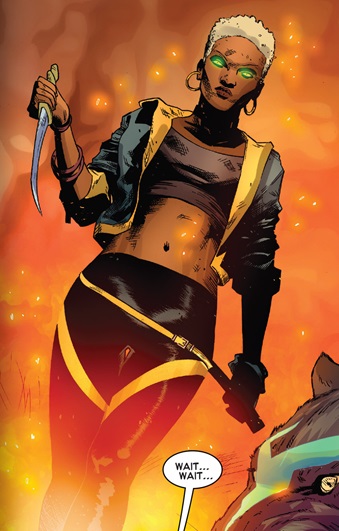 Publisher: Marvel Comics
Created by: Jason Aaron and Giuseppe Camuncoli
1st appearance: Wolverine and the X-men #36 (2013)
Team Affiliations: The X-men
Legal Status: Unknown
Height: 5'6              Weight: 120 lbs
Eyes: Green                 Hair: White
Relatives:

[Paternal] T'Challa/Black Panther (Father), Azzari the Wise (Great grandfather), S'yan (Uncle), T'chaka (Grandfather), Shuri (Aunt), White Wolf (adopted Uncle), Jakara (Uncle),  T'shan (Cousin), Bashenga (Ancestor)
[Maternal] Storm (Mother), Ashake (ancestor, deceased), Mr. Munroe ( Great grandfather), Harriet Munroe (Great grandmother),  unidentified Kenyan maternal grandmother, David Munroe (Grand father, deceased), N'dare Munroe (Grand mother, deceased), Vivian Munroe (Grand Aunt, deceased), Colonel Shetani (Great uncle), David Evan Munroe Jr. (Cousin)
Alternate reality siblings: Panther/T'chaka , Azari,  Twari, T'chaka, unnamed son, Naze (Brothers),
Becka Munroe , Sh'ri, Torrent, Sky Panther, Medea, Unnamed twins,  Orora (Sisters)
Skills and Abilities: Capable hand to hand combatant, skilled in knife based combat.
Powers: Kymera seems to have the ability to communicate and command animals as well as enhanced tracking skills.
[amazon_link asins='0785189076,B012RV9FRI,B010H9LHE6′ template='ProductCarousel' store='Marvel Comics' marketplace='US' link_id='bf2ee712-c7a6-11e7-8f94-8dc4173ad1ba']
Biography
During the Battle of the Atom story line she was a member of the X-men stationed at the Jean Grey Institute met by Magik, young Iceman and Young Beast when they went into the future [Wolverine and the X-men #36, 2013]. It's obvious that her mother is Storm but her feline like eyes and the Cat like creature she's seen which suggests that Black Panther could be her father or perhaps Wolverine due to his feral mutation.
After journeying back into the past with her teammates at the behest of Young Iceman Beast and Magik she battled renegade future mutants, the brotherhood [Uncanny X-men #13, 2013]. In battle with Wolverine and Mystique's son she made Storm aware that they were related [Wolverine and the X-men #37, 2013]. After the battle and the death of a few of her teammates she chose o remain in the past at the Jean Grey institute to hunt down the brotherhood members remaining there. [X-men Battle of the Atom #2, 2013].
While at the school she has grown closer to her mother Storm and was present during the bombing of the school when Shogo's real father came to take him back [X-men (2013) #13-14].
After using Shogo to aid the X-men she departs for parts unknown after leaving a note with her mother.