Created by: Reginald Hudlin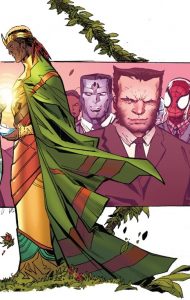 1st appearance: Black Panther Annual, 2008
Nationality: Wakandan
Legal Status: Diplomatic immunity as a head of state
Weight: 185 lbs    Height: 6'
Eyes: Brown        Hair: Black
Relatives:[Paternal] T'Challa/Black Panther (Father), Azzari the Wise (Great grandfather), S'yan (Uncle), T'chaka (Grandfather), Shuri (Aunt), White Wolf (adopted Uncle), Jakara (Uncle),  T'shan (Cousin), Bashenga (Ancestor)
[Maternal] Storm (Mother), Ashake (ancestor, deceased), Mr. Munroe ( Great grandfather), Harriet Munroe (Great grandmother), unidentified Kenyan Great grandmother, David Munroe (Grand father, deceased), N'dare Munroe (Grand mother, deceased), Vivian Munroe (Grand Aunt, deceased), Colonel Shetani (Great uncle), David Evan Munroe Jr. (Cousin)
Siblings:  Unnamed Twins (Sisters), T'chaka (Older Brother), Unnamed Male Sibling (Younger Brother),
Dorma [Wife], Namor [Father in Law], Unnamed Mother in law [Status Unknown],
Alternate reality siblings: T'chana (1/2 Brother), Azari (Brother), Becka Munroe (sister), Sh'ri (sister), Panther/T'chaka (Sister), Torrent (1/2 sister)
Powers: Unknown
Biography
T'wari appeared to be Storm's favorite child and the greatest warrior among the children of T'Challa/Black Panther and Storm. He always had a crush on Danielle cage but was too shy to ever make a move and as a result she fell in love with T'chaka his older brother.  On the day of the wedding he had to be tracked down by his mother and brought to the wedding when no one else could locate him [Black Panther Annual, 2008].
Years later he would fall in love with Dorma, the daughter of Namor the sub-mariner and King of Atlantis. This was a a strategic move to cement the peace between the once hostile nations [Black Panther Annual #1, 2018].