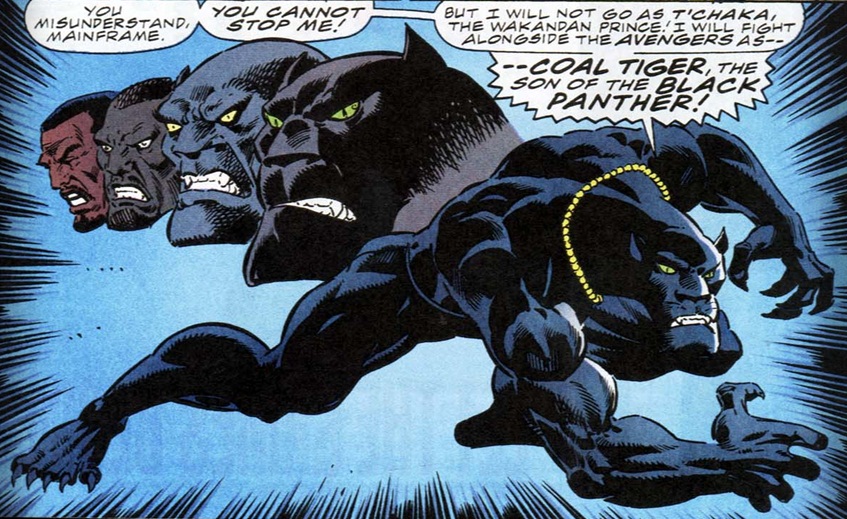 Publisher: Marvel Comics
Real Name: Prince T'chaka
Created by: Tom DeFalco, Ron Frenz
1st appearance: A-Next #4(January, 1999)
Nationality: Wakandan
Team Affiliations: Avengers
Legal Status: Wakandan citizen with criminal record
Height: 6'1          Weight: 220 lbs
Eyes: Brown          Hair: Black
Relatives: 
Relatives: T'Challa/Black Panther (Father), Azzari the Wise (Great grandfather), S'yan (Uncle), T'chaka (Grandfather), Shuri (Aunt), White Wolf (adopted Uncle), Jakara (Uncle),  T'shan (Cousin), Bashenga (Ancestor), Evil Black Panther (Cousin)
Alternate reality siblings: T'chana (1/2 Brother), Azari (Brother), Sh'ri (sister), Sky-Panther (Sister)
Skills and abilities: As a prince of Wakanda he has been trained since birth in a variety of different martial arts forms, both armed and unarmed.
Powers: Coal Tiger has the ability to transform into a were Panther form with superhuman strength, healing and senses.
Biography
Born in Wakanda to King T'challa and an unknown mate in the MC2/Earth-982 timeline. Trained from birth in Wakandan martial arts he grew into his own superpowers though wasn't granted the mantle of back panther since his father was still alive. As the coal Tiger he was the escort of former adventurer Vibraxas now simply known as ambassador N'Kano. In America they were attacked by the Soldiers of the serpent. N'kano was captured but Coal Tiger was rescued by the new generation of Avengers. They initially refused to have him accompany them but upon revealing his powers they complied. Together they rescued ambassador N'kano and defeated the Soldiers of the Serpent. He was then offered probationary membership with the team which he accepted. Years later he would join the team as a full member where he took the code name "Black Panther", whether it was taken to honor his father's initial stint as an Avengers of this meant his father had died and he was now the king/leader of the Black Panther cult was never revealed.