Black Panther (2016) #1 Review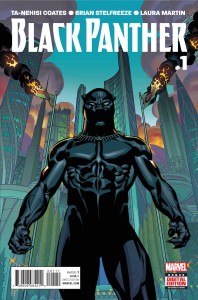 Written by MacArthur Genius and National Book Award winner TA-NEHISI COATES (Between the World and Me) and illustrated by living legend BRIAN STELFREEZE, "A Nation Under Our Feet" is a story about dramatic upheaval in Wakanda and the Black Panther's struggle to do right by his people as their ruler. The indomitable will of Wakanda — the famed African nation known for its vast wealth, advanced technology and warrior traditions — has long been reflected in the will of its monarchs, the Black Panthers. But now the current Black Panther, T'Challa, finds that will tested by a superhuman terrorist group called The People that has sparked a violent uprising among the citizens of Wakanda. T'Challa knows the country must change to survive — the question is, will the Black Panther survive the change?
The Good
Emotional-I don't know about anyone else but my heart was heavy when I realized that Shuri was still dead after that first page, after all T'challa had used the time gem to return to the past and had changed enough of the timeline to save the first set of Wakandan's killed in New Avengers by Hickman. Yet his sister's death remained intact.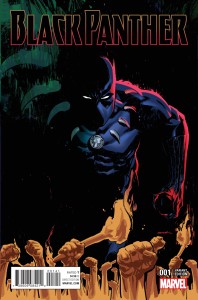 Ramonda carrying out her duties while the rest of the immediate royal family remained dead was intoxicating. There were many scenes throughout the book that tugged at my heart strings and it's been awhile since a comic did just that. I also can't help but be overwhelmed with T'challa' big screen debut coming up, movie announcement and his book selling over 300k as a long time panther fan and the only person on the net to review ever issue of his last three series all misty eyed.
Art-Let me admit off the bat that I was indifferent to Brian Stelfrez being announced as the artist on this book. I had no expectations and thus was pleasantly surprised by the book's visuals.
Love– Ayo and Aneka are the breakout couple of 2016 as they rebel against their king and nation for each others sake. Duty would demand that they simply serve their king but instead their own wants and desires have over taken them. The couple also bring up something that has been ignored for so long. Like the amazons of Wonder Woman's Themiscria they are mostly ever together. Taken as young girls, they are trained with women, by women in the service of a King who never beds nor shows any affection. Logic would demand a few would seek physical intimacy outside the group like Queen Divine Justice did but others would be drawn to each other. Ta-Nehesi depicts their love in a manner very similar to the one which would lead to the end of the Jedi in Star Wars Episode 1-3. Will their love change the purpose and direction of the Dora Milaje?
Villains-I love when I get some new villains and The Nigandan border amassing to strike against T'challa is also steeped in Black Panther Continuity since the last time the nation was mentioned back during the Hudlin run they had been inspired by Killmonger's death to join with the death regimen and vow death to Wakanda and its King. Zenzi and her mentor are also interesting for the reason that Marvel wants to expand its connection of Wakanda to the wider marvel U, perhaps Zenzi is a Wakandan Inhuman. Interesting times ahead!
Continuity– I love the fact that Ta-Nehesi's tale is steeped in the established continuity of the Panther. I was slightly worried that this book would be another soft reboot but thankfully we get a Wakanda after Doomwar, Avengers Vs. X-men and Infinity. A broken nation shamed and humbled by recent occurrences.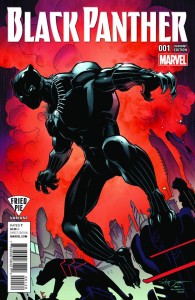 That finale page where T'chall fails at resuscitating Shuri was the nail in my coffin. I think it was Hanibal Tabu who mentioned that with all the crap that has happened to Wakanda under T'challa' rule he should be called "the shamed" or "the disappointment" and it's true. Under no other King has Wakanda suffered as much. How does one recover from that type of emotional baggage? When your family has been composed of the best and brightest in human history and you're a prodigy in every single field known to man but you're the failure. How do you recover as a man when you're have shamed not just your father but your ancestors? How?! That question becomes a central crux of the series and if Ta-nehesi can dig into the once proud king's psyche then he may become my favorite Black Panther writer.
Joy– Thank god Shuri is around in some capacity! She has been central to Black Panther since 2005 and while she was given a glorious battle to die in I can't help but think they could get so much more out of this character given time.
Cast– Ta-Nehsi wastes little time in setting up his major players as we get T'challa on the battlefield, the mysterious Zenzi, Queen Ramonda, Ayo and Aneka. No doubt they will have a major role to play in this epic and we are given just enough to know who they are, what motivates and drives them in a concise enough manner that new readers can wrap their minds around it.
Conversation-In this opening issue Ta-Nehesi asks a bold question that only Hickman's Panther run and Doomwar have asked. Is an absolute monarchy the best form of government for a notion as theoretically advanced as Wakanda. The Black Panther's job has always been to keep the people safe. Under King T'challa however that case can't be made in any serious way. They were flooded by his wife's ally Namor during Avengers Vs. X-men, his uncle and many others were killed during Doomwar and in that same arc his country had been literally taken over. He's not kept the people safe as his predecessors did and for a nation as advanced as they are it's time for people to ask questions and demand accountability. It's time for a change!
The Bad
No complaints.
The Ugly
The Black Panther is back and better than ever! TA-NEHISI COATES and BRIAN STELFREEZE deliver a grounded Wakanda steeped in raw emotion, and erupting politics! A very solid start! 5/5 stars