Black Panther (2005) #2 Review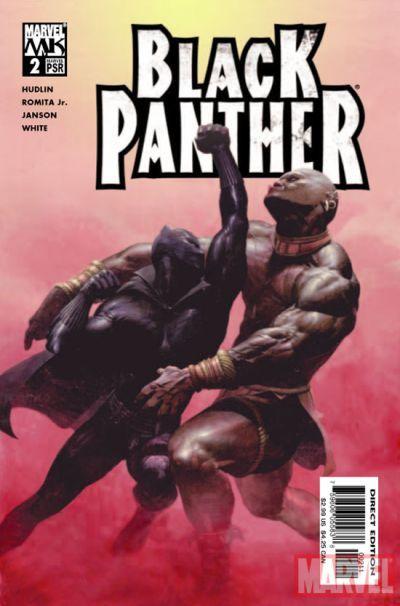 WHO IS THE BLACK PANTHER?
The Wakandan super hero is back with Hollywood heavyweight Hudlin (HOUSE PARTY, BOOMERANG) and fan favorite Romita Jr. (WOLVERINE, AMAZING SPIDER-MAN,) teaming up to deliver a book that's sure to excite true believers. The Black Panther's origin is retold in a cinematic scope with social satire and all-out action. "Who is the Black Panther?" Part 2: While a team of super-powered mercenaries prepares their assault on Wakanda, a contest is underway in that warrior kingdom: Who will be the next Black Panther? Part 2 (of 6).
Summary
The U.N continue there meeting with Everett K Ross as he fills them in on the history of Wakanda and about the king T'challa. We get a flashback of T'challa defeating his uncle to become king at the expense of the young princess shuri. T'challa's cousin; T'shan  is displeased with this turn of events and departs after T'challa's victory.
The UN brand Wakanda a rogue state but cant afford to do anything about it with so much resources sent to Afghanistan already. Ms. Rice instead offers to send in some special ops to deal with Wakanda since it is a threat to the united states.
Klaw takes the mysterious man from last issue to a brothel where he switches bodies with a girl then he departs with Klaw both intent on dealing decisively with the Black Panther.
The Good
Art again is just fitting like a glove, the story continues to draw me in. T'challa is given a very regal, majestic feel that few heroes or villains have in the marvel universe. I also loved Shuri's skill even a this point before her training was complete. Lovely Easter egg for those now following her as the black panther 🙂
The Bad
Two issues in T'challa has not yet taken center stage in a book where he's supposed to be lead protagonist, this may be jarring to some.
The Ugly
4.5/5 stars for a great read with great visuals.