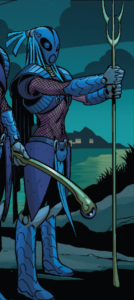 Created by: Jonathan Maberry and Will Conrad
1st appearance: Black Panther Vol.5 #8, 2005
Nationality: Wakandan
Team Affiliations: Dora Milaje
Legal Status: Wanted criminal in Wakanda
Height: 6′              Weight: 150 lbs
Eyes: brown         Hair: Black
Relatives: Unknown
Skills and abilities: Skilled Martial artist and expert with numerous Wakandan weapons. Described as the fighting master of the Dora Milaje.
Powers: None
Equipment: The Midnight Angels Prototype armor grants her flight, enhanced strength and resistance to injury.
Biography
Her childhood is shrouded in mystery.
Aneka was one of the Captains of the Dora Milaje who trained young recruits at Upanga under the watchful eyes of Mistress Zola [Black Panther- World of Wakanda #1, 2016]. Aneka was an integral part of the Dora Milaje during the reign of Queen Shuri after T'challa abdicated the throne. She was also instrumental in training the Dora Milaje when Dr. Doom allied with the Desturi and staged a major coup. She was tasked by T'challa to create a new fighting style to combat Doom's Doombots [Doomwar #1-6].
After the battle she remained loyal to the crown despite the doubts that lingered in her mind.
[amazon_link asins='130290650X,1302901915,1302900544′ template='ProductCarousel' store='Black panther' marketplace='US' link_id='d6e4ea14-c804-11e7-bebd-eb41920830d3′]
It was during this recuperation time that she met a young recruit named Ayo who reminded her of herself and who she was drawn to. The young woman would test her boundaries and skills constantly but she resisted yielding to their attraction [Black Panther- World of Wakanda #1, 2016]
As tensions grew between Wakanda and Atlantis she lead Ayo, Folami and the recruits into battle to locate the Atlantian spy. Her life was saved by Ayo on that mission and they were successful. For this the recruits were inducted into the ranks of the Dora Milaje but as they celebrated Namor now host to the Phoenix Force attacked [Black Panther- World of Wakanda #1, 2016, Avengers Vs. X-men #8].
She still remained loyal to the throne despite the pain of her people. After the Black Order attacked Wakanda and razed the capital and left Queen Shuri dead however her emotions began to take control of her. To this end she took it upon herself to deal with a chieftain who had started sexually abusing the young women under his charge when he refused to aid her words she killed him. This was captured by the Kimiyo net and she was set to be sent to prison for her actions. Ayo tried to defend her actions but the Queen Mother Ramonda condemned her. She was willing to accept her fate but Ayo broke her out and the two fled in prototype armor [Black Panther #1, 2016].
N.B: It should be noted that she was depicted as older (around 35-40) when she first debuted but since 2016 she has been depicted as being in her early 20's.