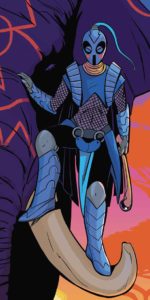 Created by: Al Ewing and Keneth Rocforte
1st appearance: Ultimates #2, 2016
Nationality: Wakandan
Team Affiliations: Dora Milaje
Legal Status: Wanted criminal in Wakanda
Height: 5′9              Weight: 145 lbs
Eyes: brown         Hair: Black
Relatives: Unknown
Skills and abilities: Skilled Martial artist and expert with numerous Wakandan weapons.
Powers: None
Equipment: The Midnight Angels Prototype armor grants her flight, enhanced strength and resistance to injury.
Biography
Brash and young Dora Milaje who fell in love with her Captain Aneka.
When Aneka was to be executed she stole two proto-type armors and rescued her lover. Together they rebelled against the Monarchy and stared a coup to aid those they felt were neglected by the crown. They eventually take control of the Jabari Region after killing M'Baku's brother Mandala who had started raping and killing the women on the outskirts of Wakanda.
Together they inspired other Dora Milaje to rebel against the Monarchy and those who disagreed with his methods. They eventually allied with rebels Tetu and Zenzi after they are rescued by them from the Hatut Zeraze.