18 Indie Comics you should have for 2018 (and a few more for good measure)
2017 was a stellar year for independent comics. Over the last 12 months Independent comic publishers have been churning out some of the best comic book stories across all genres, and in doing so, are consistently bringing in new fans and replacing the books from the major comic companies in these fans pull list.  Companies like Kid Comics, Catalyst Prime/Lion Forge, YouNeek Studios, and The Powerverse, to name a few, are offering fresh new takes on superhero comics and and bringing the most diverse characters out there. Companies like Peep Game Comix and Shortfuse Media Group LLC. are providing an outlet for creators to get there comics in the hands of fans, and simplifying the the places where fans can gain access to the various titles that are out there. Other companies like Epoch Studios, Comic Republic, and Beyond Publishing Caribbean offer not only comics with an international flair, but offer their books to read or download for free! With 2018 upon us we here at WOBH would like to submit our list of 18 comics that you should have in your collection coming into this new year, plus a couple (few) more that we couldn't leave out!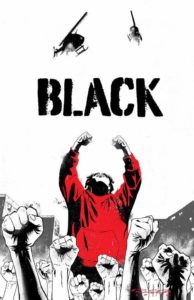 Black Vol 1 TPB (Black Mask) by Kwanza Osajyefo and Jamal Igle
In a world that already hates and fears them – what if only Black people had superpowers. After miraculously surviving being gunned down by police, a young man learns that he is part of the biggest lie in history. Now he must decide whether it's safer to keep it a secret or if the truth will set him free.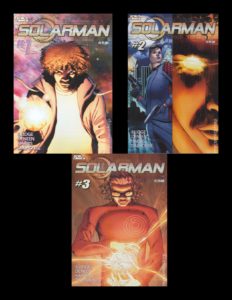 2.  Solarman (3 issues) (Scout Comics) by Joe Illidge and N. Steven Harris
Ben Tucker is a teenage hacker going after the wealthy and corrupt, fighting bullies, and living in his father's basement. When a mysterious alien attacks a space station conducting secret experiments, Ben is accidentally exposed to extraterrestrial technology and imbued with near-nuclear-based power. Now a fugitive, he has the police, an alien menace, and a paramilitary division hunting him down, with the intention to capture…or kill.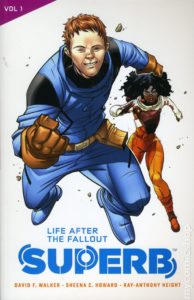 3.Superb: Life After the Fallout TPB (Catalyst Prime/Lion Forge) by David F. Walker and Sheena Howard
One year ago, Earth was saved from an asteroid, but a meteor shower hit the world! Youngstown, Ohio, became a Level 5 impact zone, and teenagers are emerging with new superpowers! Kayla Tate has returned to Youngstown and reunited with her childhood friend, Jonah Watkins, a young man with Down syndrome. Together, they'll uncover the mystery of the superhero and Internet sensation "Cosmosis" and his nighttime battle against the supposedly-benevolent corporation known as Foresight.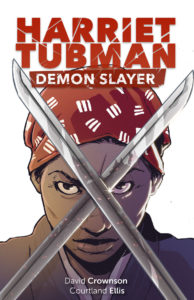 4. Harriet Tubman Demon Slayer (David Crownson) by David Crownson
When slave owners can't stop the formidable ninja warrior Harriet Tubman, they call on the help of Vampires, Werewolves, Witches, & Demons to stop her. Harriet Tubman must lead a family of slaves to freedom while battling an army of darkness.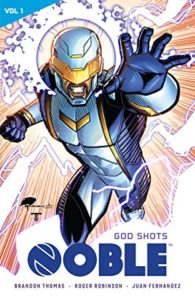 5. Noble: God Shots, Vol. 1 TPB (Catalyst Prime/Lion Forge) by Brandon Thomas and Roger Robinson
One year after "The Event," missing astronaut David Powell has resurfaced! With dangerous new abilities and no memory of the man he once was. While desperately trying to regain his identity David quickly finds himself a man on the run from shadowy forces as well as his forgotten past.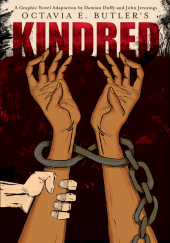 6. Kindred (Abrams) by Damian Duffy and John Jennings
Kindred tells the story of Dana, a young black woman who is suddenly and inexplicably transported from her home in 1970s California to the pre–Civil War South. As she time-travels between worlds, one in which she is a free woman and one where she is part of her own complicated familial history on a southern plantation, she becomes frighteningly entangled in the lives of Rufus, a conflicted white slaveholder and one of Dana's own ancestors, and the many people who are enslaved by him.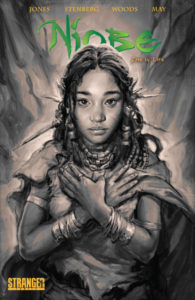 7. Niobe Vol. 1 TPB (Stranger Comics) by Sebastian A. Jones & Amandla Stenberg
Niobe, the child of prophecy first introduced in The Untamed, is on the run both from her destiny and those who would see it unfulfilled. She finds shelter among her mother's people, but when a boy is murdered it sets off a series of events that will lead to war.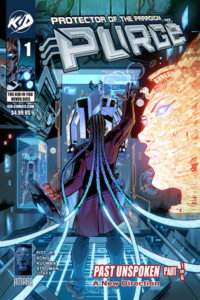 8. Purge: Past Unspoken A New Direction (Kid Comics)  by Roosevelt Pitt and Keithan Jones
Purge has taken on the mantle, hero of New Salem, a state-of-the -art metropolis he himself designed. The vision of New Salem is to build a true utopia within the network of modern America. However, nefarious forces threaten to destroy that vision and exploit Purge's para-natural abilities for their purposes. Now more than ever, Purge must live up to his title as the purifier, the protector of the city and the people he vowed to lead to a better world. Can he do it?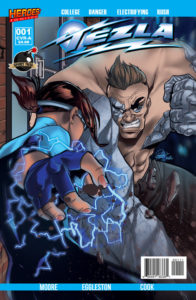 9. Tezla #1 (Heroes Ignited) by Dimitrus Moore
She thought going into her first year of college would be a breeze. Unfortunately, fate had a different idea for her.When a pharmaceutical test goes horribly wrong at her father's work, Tessa is gifted with…quite shocking abilities.
But she wasn't the only one.
Feeling the need to help clean up this mess, she now juggles a budding career as a superhero with the rigors of campus life as the supercharged TEZLA. She will soon learn not all tests come from inside the classroom…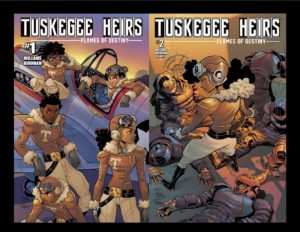 10. Tuskegee Heirs (2 issues) by Marcus Williams and Greg Burnham
Tuskegee Heirs: Flames of Destiny is a futuristic sci-fi action-adventure comic book series set 80 years into the future that follows a squadron of young, gifted aviators, who are forced to become Earth's last line of defense against a menacing race of artificially intelligent villains bent on destroying civilization.  Trained at the legendary Moton Field, by Col. Mars (our own fictional descendant of the Tuskegee Airmen), these five teens and their crew embody strong moral ethics and team strategies used by the Red Tails themselves to overcome their problems. Follow along as our team travels the globe in an effort to save  civilization, exposing little known history and geography along the way.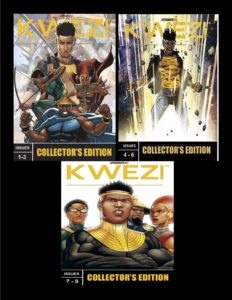 11. Kwezi (Vol. 1,2, & 3) (Loyisomkize Art) by Loyiso Mkize and Clyde Beech
Kwezi is the world's most powerful superhero, but does he have the will to discover his greatness?
Kwezi is a young city dweller who discovers he has super human abilities. His journey starts off as a self-serving narcissist who only uses his abilities to further his social status. This is until he is tracked down by three individuals who exhibit similar evolutionary talents. It is not long until Kwezi is confronted with the truth about his powers and is faced with an important decision: to carry out his life serving no particular purpose, or joining his new companions on a journey to discover who he really is and what he is destined to be.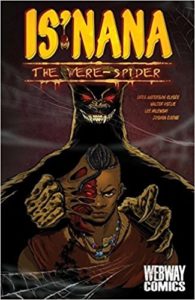 12. Is'Nana the Were SpiderVol 1 : Forgotten Stories (Webway Comics) by Greg Anderson-Elysee
Accidentally breaking a barrier between our world and theirs (called THE MOTHER KINGDOM), Is'nana, the son of Anansi (The West African God of Spiders) accepts the responsibility for releasing creatures of horror into our world, villains who want nothing more but to cause chaos and mayhem to achieve their own diabolical or selfish goals. With guidance from his father, Is'nana not only strives to live up to his father's name but to also reach his own potential while he seeks to discover his individuality and place in the world.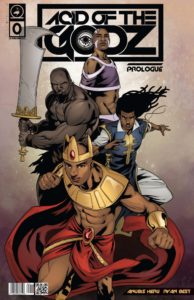 13. Acid of the Godz #0 Prolouge (Urban Arkanum Publishing) by Anubis Heru
A massive horde of genetically engineered creatures systematically stalk and terrorize the people of the planet. Fortunately the powerful Kingdom of Avaris has the military might to thwart this evil menace. But there is more at stake, environmental weather anomalies have begun to surface and cause substantial damage to the planet. A young prince and three unlikely hero's must join together to find an ancient artifact that can bring balance back to their world. In the midst of conflict and danger lurking around every turn, will they find the artifact in time?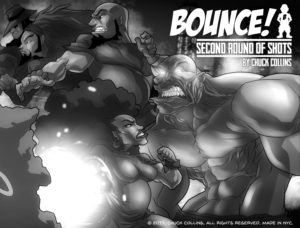 14. Bounce Vol. 2 Second Round of Shots (Rat Ronin) by Chuck DragonBlack Collins
The Bouncer and Yemaya are back for more shenanigans at the no name bar on the Lower East Side of NYC. This time they're joined by a new cast of characters… Nord, Ife, and Nikka. From drunken idiots to super steroid villains, this volume is full of adventure, laughter, and sadness. So get your whiskey shots ready and enjoy the ride!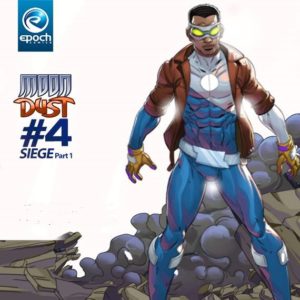 15. Moondust #4 Siege part 1 (Epoch Studios) by Martin Okonkwo & Emmanuel Ezeabiama
A new and even bigger  threat, MALLET emerges even though Moondust is yet to completely bring down Raze. They both have one primary target… Mr Oladapo. How is he going to deal with this monstrousity coupled with the the gun totting madman while protecting his father.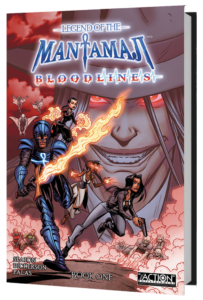 16. Legend of the Mantamaji: Bloodlines (And Action Entertainment) by Eric Dean Seaton
Two months ago, Elijah Alexander was a cocky and conceited Assistant District Attorney who wanted everything his poor upbringing couldn't give him. When he learned he was descended from an ancient race of heroes, Elijah became the last Mantamaji and used his mystical ankh and powers of illusion to defeat the evil sorcerer Sirach. But now that this enemy is gone, a new enemy—Gideon's Army—forces Elijah into a fight he was never trained for… and one that forces him to question the very origins of his people.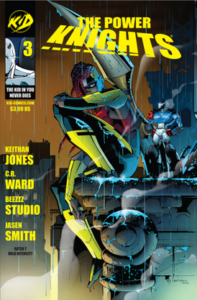 17. The Power Knights: Unbounded 3 (Kid Comics) by Keithan Jones and C.R. Ward
Kandle Watson and his older brother Davion, find themselves caught in the middle of an age old battle between the maleficent, King Sinoj and the six powerful beings that once fought for him. These Power Knights, were forced through a wicked spell to use their special abilities to wage war across the galaxy for, Sinoj.Eventually, the spell was broken and they fought back the maniacal king. Despite their heroic effort, they were not absolved of their crimes and were sent into a black hole to die. Through mysterious circumstance, they somehow survived unscathed and crash land on Earth. Vowing to not interfere with the affairs of mankind, the six retreat into a reclusive life, to ponder their atrocious past. However, Warseed, not willing to risk becoming a slave to a new master, designs plans to take Earth for his own. He recruits, Davion Watson as his first Earth soldier, only to be betrayed by him. The remaining Knights, must decide to either stay in the shadows or reveal themselves as, Earth's new defenders.
18. Celflux Vol3: Reluctant Heroes (Gemgfx) by Dixie Ann and Everad McBain
Okira is a young, benevolent, kind-hearted priestess who becomes the involuntary leader of a disjointed group of strangers. They wake up one day in a remote lab without any memory of how they got there, or what happened to them. They must begin a journey of trying to find the answers to those questions, and this task is made difficult not only because of the fact that they have conflicting personalities and prejudices, but also because they are relentlessly pursued by a powerful group with a global agenda. To get the answers they seek, they must endure great loss, and when they do get the answers, they realize that they have to make a choice. A choice that will cost them everything, and whose outcome will determine the fate of their planet.
Here are a few more that certainly deserve a spot in your collection: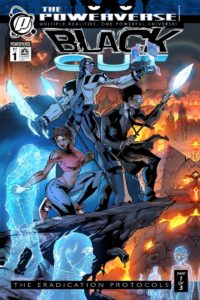 1. Blackout The Eradication Protocols (Powerverse) by Roosevelt Pitt and Jay Kelly
 How deep is your programing? How much do you see? There's an DARK undertaking afoot and only PURGE and THE BROTHER can stop it! The POWERVERSE™ presents a provocative tale that will shake your resolve and WAKE you from your "Sunken Place!"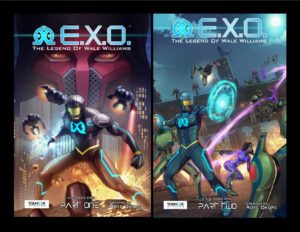 2. E.X.O. The Legend of Wale Williams Part 1 and 2 (YouNeek Studios) by Roye Okupe
Set in a futuristic 2025 Africa, the story follows the journey of Wale Williams, an impetuous young man who inherits a suit with super powers after his father goes missing. Tricked into returning home to Lagoon City, Nigeria following a five year absence, Wale embarks on a journey to investigate his father's mysterious disappearance. As he comes to understand the suit's powers, Wale realizes he must restore hope to his city by preventing catastrophic attacks from the sociopathic, Oniku, leader of an extremist group called The CREED.  Part two continues to chronicle the journey of Wale Williams a.k.a EXO, who was last seen hanging on for dear life after his first encounter with the incredibly powerful and sinister Oniku, leader of the extremist group, The CREED. After his shocking revelation, Oniku now has all he needs to launch a crippling attack at the heart of Lagoon City, an attack that would be felt across the nation of Nigeria. Can Wale finally become the hero he has always avoided but was always meant to be in time to stop the inevitable? And what role does the combat adept Fury play in all this? Only time will tell.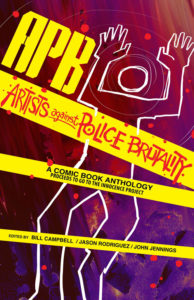 3. APB: Artist Against Police Brutality (Rosarium Publishing)  Bill Campbell, Jason Rodriguez, and John Jennings
We've all seen the pictures: a six-year-old Ruby Bridges being escorted by U.S. marshals on her first day at an all-white, New Orleans school in 1960; a police dog attacking a demonstrator in Birmingham; fire hoses turned on protesters; Martin Luther King Jr. addressing a crowd on the National Mall. These pictures were printed in papers, flashed across television screens, and helped to change the laws of this nation, but not necessarily all of the attitudes.
Similarly, we've seen the pictures of Michael Brown lying face down in a pool of his own blood for hours; protesters with their hands up, facing down militarized policemen. There are videos of Eric Garner choked to death, John Crawford III shot down in Walmart for carrying a toy gun, and 12-year-old Tamir Rice gunned down in broad daylight for the same reason. APB: Artists Against Police Brutality is a benefit comic book anthology that focuses on hot-button issues including police brutality, the justice system, and civil rights, with one primary goal: show pictures and tell stories that get people talking.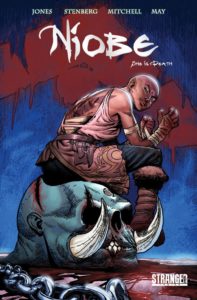 4. Niobe: She is Death (Stranger Comics) by Sebastian A. Jones & Amandla Stenberg
A tale of hard truths and revelations for a young woman who is tired of running. Niobe has lost her faith – in humanity and the world around her. Witness Niobe's journey from heartbroken teenager to warrior woman, set to take on a world that would see her dead. Narrowly escaping a violent prison death, she learns that girls like her are being abducted. But the hunted becomes the hunter when she allies herself with a savage mentor who teaches her how to take vengeance on those who prey on the helpless – by being a bounty hunter herself. 
Niobe will hunt down and capture human traffickers, rescuing the victims for the families who seek her help. But each step takes her further down the path toward a destiny she did not ask for and a burden she does not want.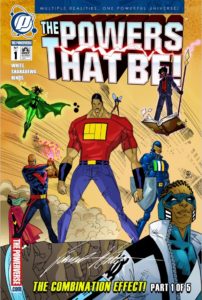 5. The Powers That Be #1 (Powerverse) by Vince White
Centered on the events that took place in issue #1 of Vince White's: "THE LEGEND OF WILL POWER", the indie-comic-multiverse is now dimensionally porous! Because of this, the multi-verse finds itself closer than ever before. Heroes from around the Indy universe have to come together to defeat a greater foe. The after effects leave a porous multi-verse the likes of which you've never seen! THIS IS THE POWERVERSE™!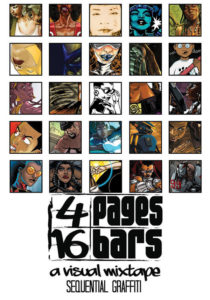 6. 4 Pages 16 Bars: A Sequential Mixtape Limited (Griot Enterprises) by Jiba Molei Anderson
In 2015, diversity has become the buzzword in the comic book industry with companies like DC and Marvel claiming to lead the charge, but merely scratching the surface of the complexity and intersection of race, culture and gender. The 4 Pages | 16 Bars: A Visual Mixtape presents Sequential Graffiti is a sampler for potential fans to enjoy our intellectual properties, a showcase for existing and upcoming talent as well as a source guide for those fans to purchase our books. The scene is more diverse than Image or Dark Horse. This is visual Jazz, Rock, Funk, Hip Hop and electronic music. This is art for the people.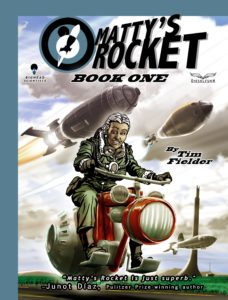 7. Matty's Rocket Book 1 GN (Bighead Scientist) by Tim Fielder
JOIN Space Pilot Matty Watty as she takes on Flying Saucers, Aliens, and Southern Heat, in this Retro-Futuristic Adventure!  Take Fritz Lang's 'Metropolis' and mix in a bit of 'Buck Rogers' and 'Flash Gordon,'  Finally, add Lena Horne and the cast of 'Stormy Weather' and you've got Matty's Rocket.  This 120 page graphic novel collects Matty's Rocket issues 1-3 with a 12 page Epilogue, special guest appearances, and behind the scenes exposes.  Creator Tim Fielder takes this ongoing graphic novel series into a beautifully painted style that fully delivers cinematic power.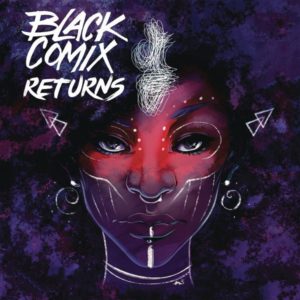 8. Black Comix Returns HC (LionForge)(W) John Jennings, Damian Duffy (A) Ashley A. Woods & Various (CA) Ashley A. Woods
Eisner-winning writer/artist/scholar JOHN JENNINGS (The Blacker the Ink) and Glyph Award-winning writer DAMIAN DUFFY (The Hole, Octavia E. Butler's Kindred) follow up their highly respected (and out of print) 2010 artbook BLACK COMIX with an all new collection of art and essays celebrating African American Independent Comics Art & Culture. Featuring over 40 of the best writers and illustrators in the industry, this massive volume will be a brand new milestone spotlight on the amazing diversity in comics today. Artists include RON WIMBERLY, SANFORD GREENE, DAVID WALKER, ED PISKOR, AFUA RICHARDSON, ASHLEY A. WOODS, VALENTINE DELANDRO, KHARY RANDOLF, CHASE CONLEY, ROBERT LOVE, JEREMY LOVE, SHAWNA MILLS, JIMMIE ROBINSON, KIETH KNIGHT, RICHIE POPE, and many more!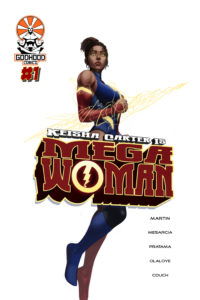 9. Kiesha Carter is Mega Woman #1 (Godhood Comics) by Tyler Martin
Urban culture meets Greek mythology when college basketball star Keisha Carter discovers she is the last child of Zeus. Destined to one day bring about the apocalypse.
Check out some of our previous list:
17 comics to read in 2017 Black Superhero Edition
16 comics to read in 2016 Black Superhero Edition
15 comics to read in 2015 Black Superhero Edition
14 comics to read in 2014 Black Superhero Edition
13 Comics to read in 2013 Indie Edition