13 Comics to Read in 2013- Indy Edition
So my original 13 comics to read in 2013 was a huge hit! So much so it galvanized both my fans and facebook friends. Now mind you that was created in January 2013 and everyone clearly just discovered it. They then further bitched and moaned about the amount of mainstream comics on said list. Newsflash people, if this were an indy only site we would have pushed up daisies because no one would give a damn. Now I was going to wait until summer to create a mid 2013 list which would have included more Independent brands and dropped quite a few of the mainstream books that didn't live up to my lofty expectations. Alas I must silence the mob early by shedding some light on 13 indy books that I've read and can recommend for you my thousands of loyal fans. Like! Share! Comment!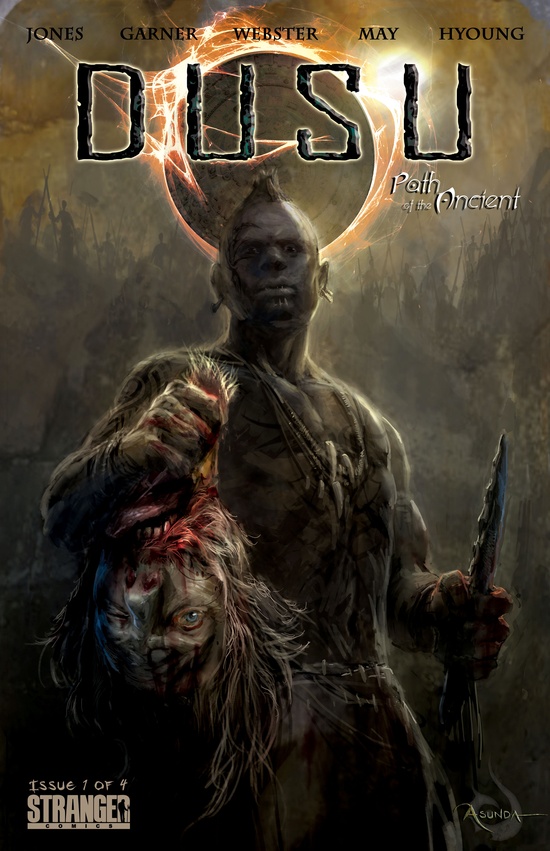 1.   Dusu: Path of the Ancient by Sebastian A. Jones, Christopher Garner, James C. Webster & Derrell May
Synopsis: Hidden from his kin and sheltered from his future, Dusu is raised among the Galemren (Wild Elves) in the secret heart of the Ugoma Jungle, a world in which he does not belong. But Dusu is not entirely human either. He is on the Path to something more… Dusu must focus his rage and become the savior of Ugoma before all he loves is destroyed.!  5/5

2.      The Many Adventures of Miranda Mercury by Brandon Thomas
 Synopsis: Miranda Mercury, the greatest adventurer in this or any other galaxy, is dying, and there's no possible cure. With only one year left to live, Miranda is forced to wage the greatest fight of her life, and secure the heroic legacy that has defined her since she was a young girl. Her morality will be tested, her values shaken, and the partnership that means everything to her will never be the same. For Miranda, victory is once again impossible – but that's never stopped her before!  I give this one   5/5
3.      Will Power by Vince White
 Synopsis: Find out How the legend begins! Issue one tells the tale of a young teen named WILLIAM POWER and his epic journey that will cast him at odds with everything he knows! See how this modest teen football captain has the universe turned upside-down and his fate sealed to become the legendary WILL POWER! 4/5
4.      Lucius Hammer by  Brian Williams
 Synopsis: Lucius Hammer is the explosive tale of a black superhero born from the pages of American Myth and forged in the fires of our country's civil rights struggle! In a world where black paranormals have longer life expectancies than their Caucasian counterparts, Lucius is a man searching for his place in the world. His amazing powers have enabled him to become America's most visible and controversial superhero. But just when Lucius thinks he's found his calling in life, certain "powers that be" join forces in a campaign to smear his good name, changing his status to Public Enemy Number One. This sets the stage for the greatest black superhero story ever told . 4/5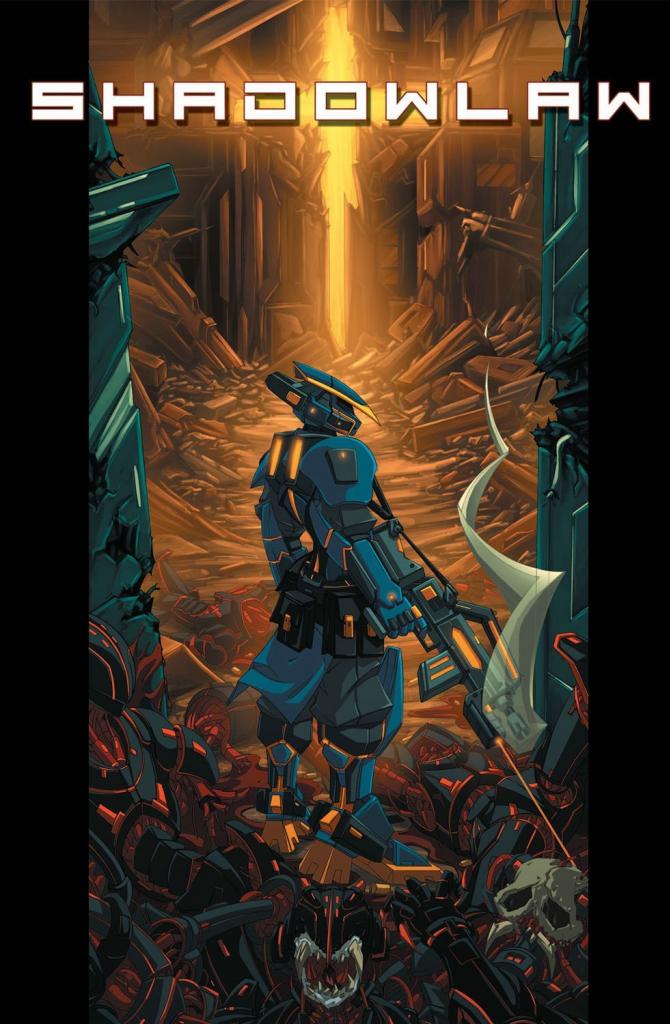 5.      Shadowlaw by Brandon Easton
 Synopsis: Rictor Caesaro, a soldier in the New Earth Alliance elite corps, kills his commanding officer during a botched riot control mission. He is sentenced to life in the Sanctuary District – a special prison camp located deep in the swamplands of the South. In this dark domain, Rictor uncovers a secret that not only threatens his life, but the fate of the Earth.  4/5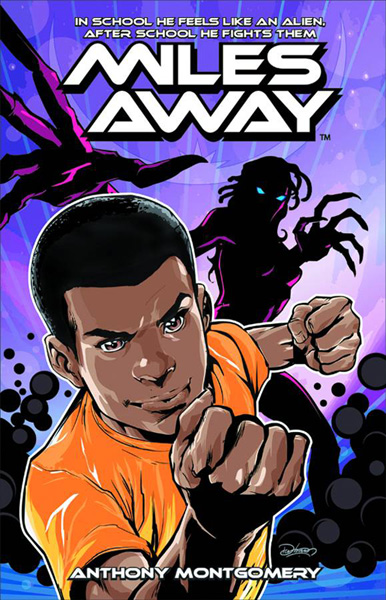 6.      Miles Away by Anthony Montgomery and Brandon Easton
 Synopsis: Miles Away is an epic action adventure about Maxwell Miles, a shy, teenage orphan with super-photographic reflexes. Max's already odd life goes beyond Twilight Zone territory when he encounters alien refugees who involve him in an interstellar war connected to his family's dark past! Aided by remarkable companions, young Max battles evil entities on two worlds: Future Earth and Ro-Twyla! 4/5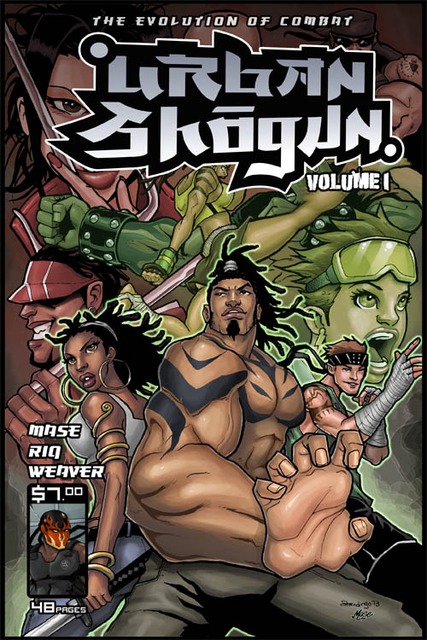 7.      Urban Shogunz by James "MASE" Mason
 Synopsis: Follow the exciting adventures of students of an inner-city martial arts school and their Kung Fu Style wars on the streets of Atlanta. Specializing in updated forms of Five Animal Kung Fu, Tiger, Crane, Phoenix, Mantis and Cheetah protect the streets from criminals and their dangerous martial arts rivals – the Venom Clan! 3/5
8.      Vasion by Christian Hall
 Synopsis: An ancient curse from the past is feasting on a special race of people known as the "Enforce Race".  Why are these people dying and why have they been chosen? Now (present day) with an extreme amount of Enforcers missing the people want answers. They are tired of their forefather's mythology. The Enforce Council feels they have found the problem and sends out their armed forces to eradicate it. What they discover leads to an "All Out War"!  3/5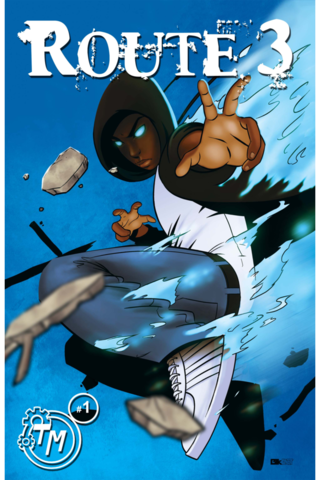 9.      Route 3 by Robert Jeffrey II
 Synopsis: Sean Anderson's greatest concern right now is surviving 10th grade. He has no idea that a series of events which began on a Virginia plantation in 1690, will lead him to gain the absolute power to set a fractured world on the right course. That is, if he can survive 1st period. 3/5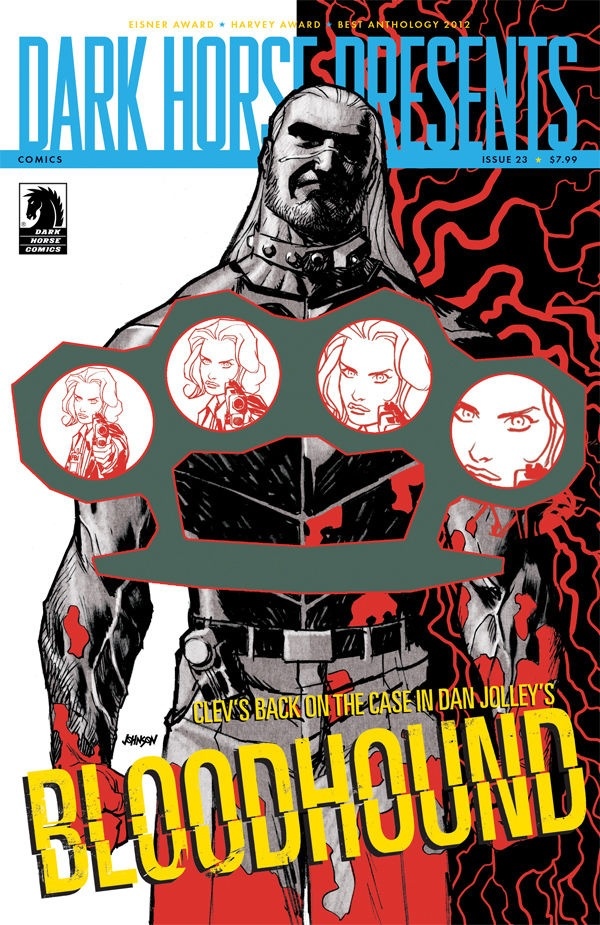 10.  Dark Horse presents: Bloodhound  
Synopsis: Dan Jolley and Leonard Kirk's supervillain tracker Clev is back out of prison to help the FBI hunt an invisible killer, Fred Van Lente and Freddie Williams II delve into a world of psychic espionage in Brain Boy, and Peter Hogan and Phil Winslade pull you into another magical dimension with King's Road. 3/5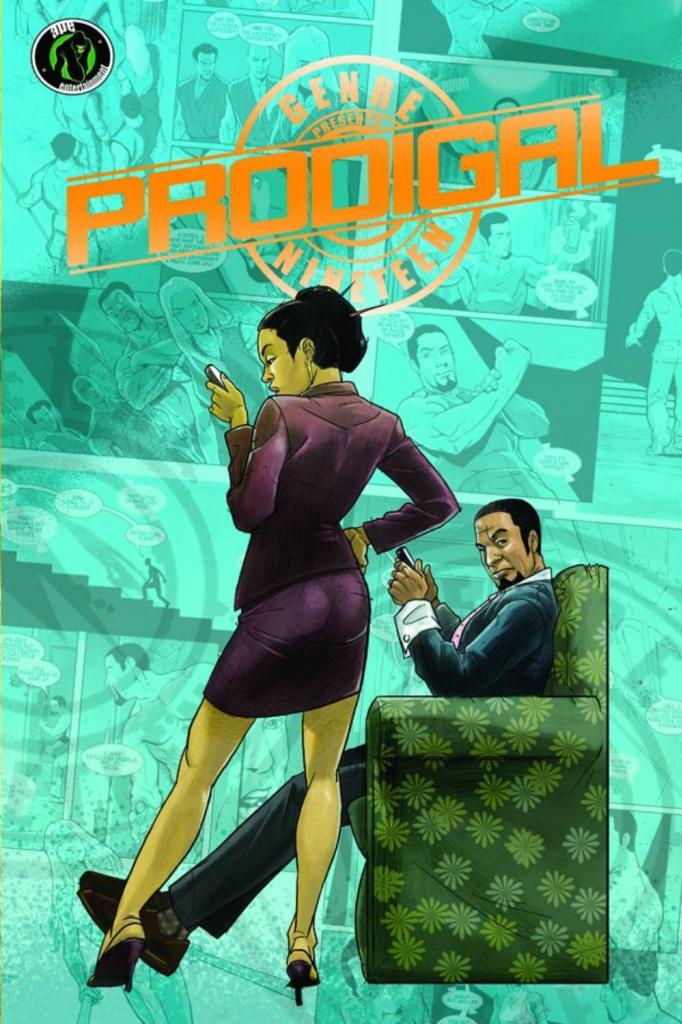 11.  Prodigal: Egg of First Light by Geoffrey Thorne
 Synopsis: Rough week for Jacinto & Lennox Retrievals. Monday: The Egg of First Light is stolen. Tuesday: J&L are hired to retrieve it. By Thursday alien magic, super assassins, and Armageddon stand between them and their payday. Friday: Ka-Boom?! 3/5
12.  Dread & Alive by Nicholas Da Silva
 
Synopsis: Dread & Alive is a multicultural fiction series that's a mix of action, adventure, fantasy, horror, mystery and thriller all wrapped up in one story. It's about the never-ending conflict between good and evil while meshing cultural fact with fiction, inspired by the Maroons of Jamaica and the sounds of reggae music. 3/5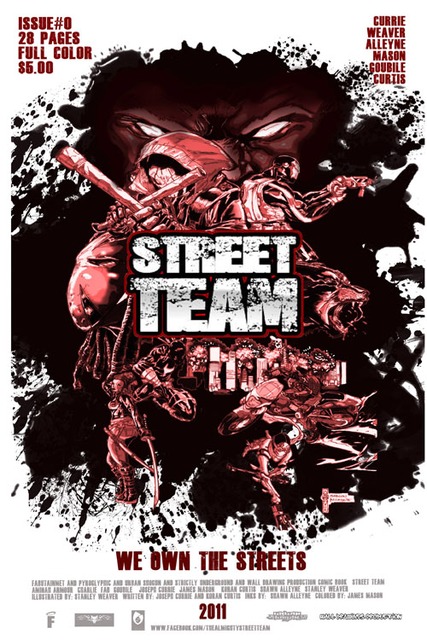 13.  Street Team by Stanley Weaver Jr., Joseph Currie, James "MASE" Mason, Shawn Alleyne, Koran Curtis
Synopsis: After a LARGE-SCALE surprise attack has rendered the city of Bridgeport defenseless. GRANDMASTER OGUNN and his newly acquired alliances have moved in for TOTAL DOMINATION of Bridgeport and the other surrounding cities. Standing in their way are 5 street level heroes, from 5 independent comics who have joined forces to put a Stop to Their master plan. Join Aaron, Blackbird, Dodger, Tiger and Stalker as they have united to face an adversary so cunning and so dangerous, that only by working together do they stand a chance of stopping the "REIGN OF THE IRON DRAGON". 3/5
UPDATE: Some friends and fans suggested I add some honorable mentions so here they are! The essentially "bubbling under the top 13″……

Pilot Season: Seraph #1 by LANCE BRIGGS, PHIL HESTER and JOSE LUIS
Synopsis: The angelic warrior now known only as Seraph was once a sinner. After living a life of selfishness and sin, personal tragedy drove him to kill himself. Plucked on his way to Hell by Heaven, the man was made Heaven's soldier in an endless battle. Charged with fighting an ancient war, but bound by God's law, can Seraph triumph over opponents not restricted in the same way and regain his faith in the process?
Molly Danger/Princeless

By Jamal Igle and Jeremy Whitley
Two complete stories! She's Strong, She's smart, and she's incredibly brave. She's the protector of Coopersville, the Princess of Finesse, the petite powerhouse known only as Molly Danger! But what secrets threaten everything she holds dear. And in Princeless, on her way to rescue her sisters, Adrienne finds another mysterious princess locked away in a tower, but she's guarded by one of the knights sent to hunt Adrienne. Who is this princess and will Adrienne and Bedelia survive trying to rescue her?
Halloween Eve by Brandon Montclare and Amy Reeder

Eve has an imagination that's more than active – it can be downright dangerous! Working late at the costume super-store Halloween Land, she gets lost in her own thoughts until something goes bump in the night. The rubber masks and plastic novelties are coming to life, and Eve must face ghosts, goblins, and gorilla suits made real. 
Midnight Tiger by Ray-Anthony Height and DeWayne Feenstra
Synopsis: In the almost lawless city of Apollo Bay, high school student Gavin Shaw takes on the role as it's sole protector. The acrobatic Midnight Tiger! Gavin wants nothing more than to release the stranglehold the criminal have on his city, but if he keeps getting in to trouble at school his dad is going to kill him before he even has the chance.
    
    Having lost all hope in the heroes of his world, fate steps in and gives young Gavin Shaw the power to do the things they have not. Only as the teenage hero Midnight Tiger does his city have a chance at redemption.
Hotshot by Michael Watson
Michael is the superhero called Hotshot and he has just been dumped. While trying to forget about his personal life;downtown Columbus comes under attack from an unknown monstrosity. Wait who is that caught in the middle, yup that would be thee ex girlfriend. Can Mike/Hotshot save the city, his ex and himself?
In the wake of the cataclysmic Zero Event, a young hero has risen in the superhero community. Inspired by the late Justice. He has devoted his life to helping others while trying to juggle his hectic life as a college art student.
Dreadlocks by Andre Batts
One man's quest to become one like the gods through the book of death, finds himself being consumed by the powers that are within its pages as it controls his every thought and his actions. The search for mysterious murders continues. Kaaria (Dreadlocks) comes closer to the one known as Anakis. The one called Anakis lures Dreadlocks to a parallel dimension where the battle of the past and future collide as one.
Pilot Season: Genius by Marc Bernardin, Adam Freeman and Afua Richardson
What if the greatest military mind of our generation was born in strife, surrounded by violence and combat since birth? When the gauntlet is dropped, the question isn't "How did 17-year-old Destiny Ajaye unite the gangs of South Central into a killer army and declare war on the LAPD?" No, the question is, "Can anyone stop her?" — From the minds of writers Marc Bernardin and Adam Freeman (The Highwaymen, Monster Attack Network) and innovative illustrator Afua Richardson (Half Dead), Genius is a book that will have readers talking for months to come. (Read the whole issue for free here)
Bayou by Jeremy Love
Lee Wagstaff is the daughter of a black sharecropper in the depression-era town of Charon, Mississippi.
When Lily Westmoreland, her white playmate, is snatched by agents of an evil creature known as Bog, Lee's father is accused of kidnapping. Lee's only hope is to follow Lily's trail into this fantastic and frightening alternate world. Along the way she enlists the help of a benevolent, blues singing, swamp monster called Bayou. Together, Lee and Bayou trek across a hauntingly familiar Southern Neverland, confronting creatures both benign and malevolent, in an effort to rescue Lily and save Lee's father from being lynched.
One Nation by Jason Reeves, Alverne Ball and Luis Guerrero
Featuring the hero Paragon, the first superhuman the world has ever seen, whose idealistic views of being a superhero and doing good for mankind is challenged when the reality of changing the world hits. At first harkening in name, design and deed to the likes of Captain America or Superman, as the series progresses Paragon; along with a rising generation of superhumans called Keramats, find the trappings of being a superhero ill-fitting when it comes to his larger role of saving the world…from itself.
WATSON & HOLMES by Karl Bollersand Rick Leonardi
Re-envisioning Sir Arthur Conan Doyle's Sherlock Holmes and Dr John Watson as African Americans living in New York City's famous Harlem district. Watson, an Afghanistan war vet, works in an inner-city clinic; Holmes is a local P.I. who takes unusual cases. When one of them ends up in Watson's emergency room, the unlikely duo strike up a partnership to find a missing girl. Watson & Holmes bump heads along the way as they enter a labyrinth of drugs, guns, gangs and a conspiracy that goes higher and deeper than they could have imagined
There you have it our Indy list of early 2013,
Agree?
Disagree?
What indy books are on your pull list?
Sound off Below!