Publisher: ?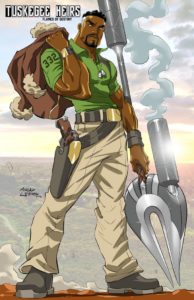 Created by: Greg Burnham and Marcus Williams
1st appearance: Tuskeegee Heirs #1, 2016
Nationality: African American
Team Affiliations: Tuskeegee Heirs
Legal Status: Unknown
Weight: 190 lbs    Height: 6'2
Eyes: Brown            Hair: Black
Relatives: Unknown
Skills and abilities: Unknown
Powers: None
Equipment: Uses a mechanized Spear in Combat
Biography
The founding Tuskegee Heir. Mars is the guiding force for the kids and keeps them together with lessons of team building and core values that aid them in all of their endeavours. While he takes a backseat to the action overall, underestimating this original Tuskegee Heir would spell disaster for any opponent.