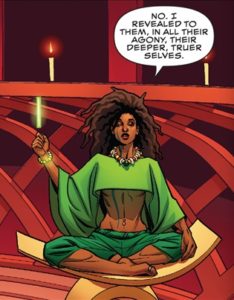 Publisher: Marvel Comics
First Appearance: Black Panther #1, 2016
Created by: Ta Nehesi Coates and Brian Stelfreeze
Alias: Unknown
Real Name: Unknown
Team Affiliation:  Nigandan Army
Height: 5' 7"                           Weight: 115 lbs.
Eye Color: Brown                  Hair Color: Brown
Relatives:  Unknown
Skills and Abilities: Unknown
Powers: The nature of her powers is unknown. Whether she is Inhuman, Mutant, altered human or a magic user are unknown.  According to T'challa she brings out the awful feelings that people have hidden deep within.
Biography
The woman who is now known exclusively as Zenzi is apparently a Nigandan by Birth. Like many in her nation they fell under the rule of Erik Killmonger, the Black Panther's deadliest foe. While Killmonger ruled her people she became one of the many who were subject to the experiments of Killmonger [Black Panther #2, 2016].
After Killmonger's death she joined with the Nigandan rebels and started a riot in Wakanda after the events of Doomwar, Avengers Vs. X-men and the invasion of Thanos' army had left Queen Shuri apparently dead and the nation more fragile than ever.