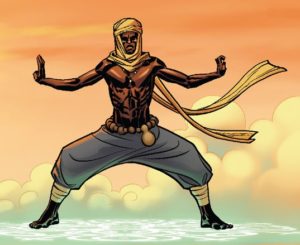 Created By:  Brian Stelfreeze and Ta Nehesi Coates
First Appearance: Black Panther #1, 2016
Nationality: Wakandan
Team Affiliations: Nigandan Army
Legal Status: Unknown
Weight: 155 lbs             Height: 6'
Eyes: Brown                 Hair: Unknown
Relatives: Unknown
Skills and Abilities: Unknown
Powers: Tetu has magical abilities allowing him to commune with mother nature and command her to do his will.  He has teleported via water, Caused plants to grow in deserts and even caused earthquakes.
Biography
A Wakandan by birth. Tetu's curiosity and the many questions that lingered in his mind brought him to the Shule. Here his mind was nourished by the Philosophy of Changamire. When Idealistic Philosophy offered no answers he left the Shule. He sought answers by way of Magic and mysticism. At first he found no real magic but charlatans instead [Black Panther #4, 2016]. He then retreated into the Wakandan wilderness and communed with nature itself. When he returned he had the powers of an Earth elemental. With this power he helped the poor and unjustly treated in Wakanda. His answer to the Philosophical questions of his youth were a revolution. He would overthrow the monarchy and create a Wakandan of equality [Black Panther #4, 2016].
After he joined the Nigandan rebels in the aftermath of Doomwar and Avengers vs. X-men to overthrow the Wakandan monarchy with the help of Zenzi [Black Panther #1-3, 2016]. When he heard of the Midnight Angels (Ayo and Aneka) who had caused a revolution in the Jabari lands he sought to ally with them against the Panther [Black Panther #4, 2016]. He put a hit out on the King globally, the person successful would be ceded a part of Wakanda when he took over [Black Panther #6, 2016]. American Ezekiel Stane, an adversary of Iron Man was one of the first to accept. With Stane's help he set off an explosion that gravely injured the Queen Mother [Black Panther #4, 2016].
Alongside Stane and Zenzi he managed to get a confession from Jorick Kroawl on the cruel advice he gave the king to instill organized Chaos in Wakanda to ensure his reign continued. A video of this was sent out virally across the globe to aid their cause [Black Panther #5, 2016].
When the Midnight Angels and their rebels were on the verge of being overrun by the Hatut Zeraze he had Zenzi save them thus cementing their alliance [Black Panther #6,2016].