Malcolm Dragon (Character)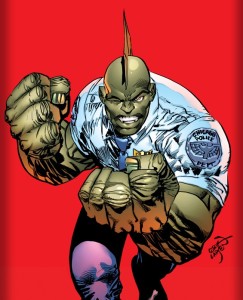 Publisher: Image Comics
Real Name:Malcolm Eugene Jackson Dragon
Created by:  Erik Larsen
1st appearance: Savage Dragon #33, 1996
Nationality: American
Team Affiliations: None
Legal Status: US citizen with no criminal record
Height: 6'2              Weight: 330 lbs
Eyes: Brown             Hair: None
Relatives: Rapture (Mother), Savage Dragon (Father), Angel Dragon (Adopted Sister), Kevin/Thunder Head (1/2 Brother), Willie (Uncle), Marsha Bradley (1/2 Sister)
Skills and abilities: Trained unarmed combatant by his father Savage Dragon and veteran superhero Super Patriot. Also inherent leader.
Powers: Superhuman strength, endurance and resistance to injury.  He can also generate electricity.
Biography
Origin
Born to superheroes Savage Dragon and Rapture he entered the world prematurely but thanks to his alien DNA was just as healthy as many full term babies. He was abducted and replaced by a synthetic copy which lead his parents to think he was dead.
Taken by Darklord who traveled through time; he was trained as a warrior and groomed by an alternate version of his mother Rapture. The plan was to create an army of superhumans. At age four he first met his father who came to rescue other abducted children [Savage Dragon #74]. An other dimensional counterpart of his mother Rapture was also present during his formative years [Savage Dragon #75].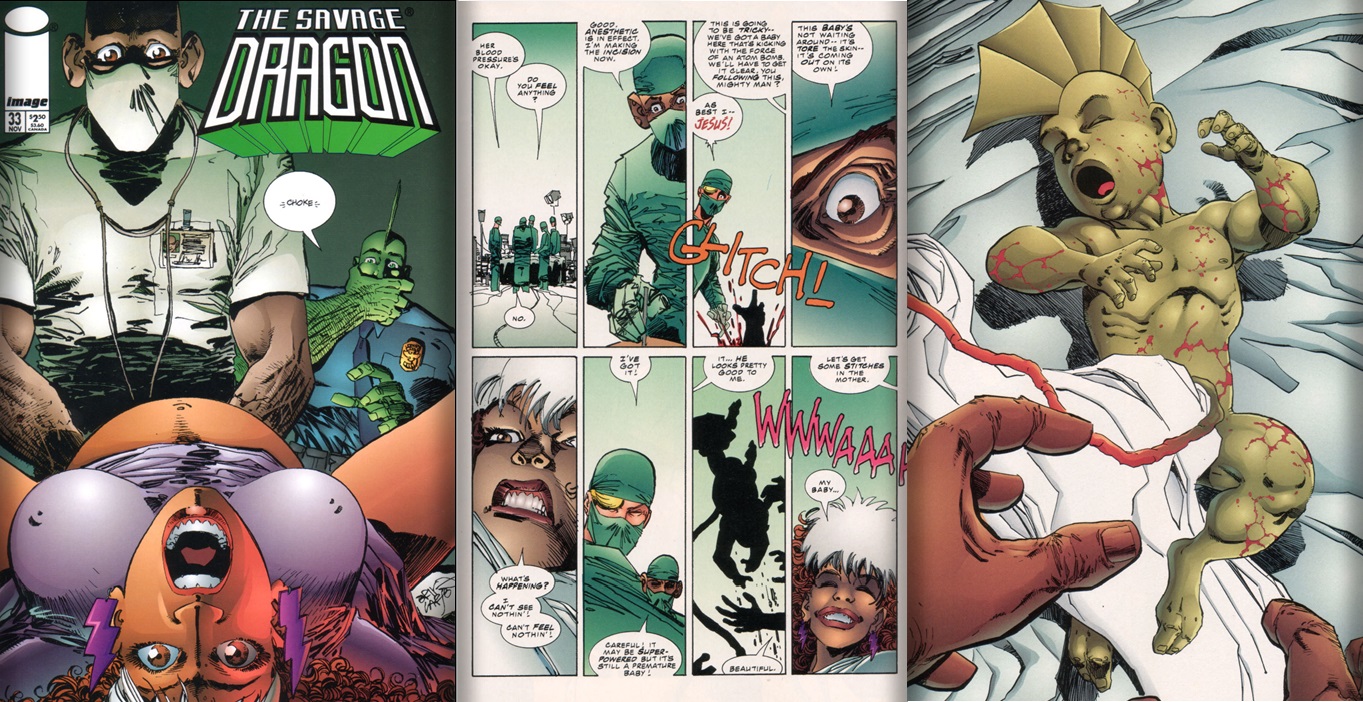 He is eventually re-united with his father who explained the history of his parents to him [Savage Dragon #100]. At first Malcolm was angry about what he learned but knew deep down it was true. He rebelled against his captors and was rescued by the angel "Debbie" who died soon after [Savage Dragon #100 and #102]. Malcolm briefly fell into another dimension where he continued to grow [Savage Dragon #103].
Malcolm then had to fight hard and lead a team back to earth [Savage Dragon #132, #138, #140 and #141, #142]. Back on earth he was reunited with his father and step sister Angel [Savage Dragon #143].
When Savage Dragon disappears alongside his sister they take up his superhero job of protecting the city [Savage Dragon #151-152]. His blood was used as a cure after his father was infected with an alien virus [Savage Dragon #153]. He was the first person to realize that the man he thought was his father, was actually an impostor [Savage Dragon #157-158].
With the onset of puberty he began to develop and look more like his father [Savage Dragon #161]. The continued being heroes while searching for their father [Savage Dragon #161]. Around this time he started dating Tierra Jones a friend of his sisters [Savage Dragon #162, #163, #164]. With his mind wiped of all his Earth memories Savage Dragon reverted to his Emperor Kurr personality. Malcolm and friends attempted to stop his rampage [Savage Dragon #165, 166, 167 and 168]. Malcolm was killed with his sister in Dimension-X but his father later had time altered and he remained alive on Earth [Savage Dragon #168]. On the day he graduated from 8th grade he first killed someone in battle [Savage Dragon #172]. He fought Darklord and caught his sister having sex the first of the new school year [Savage Dragon #176].  They learned their dad was alive in another dimension and his girlfriend broke up with him. While battling Overlord his dad finally returned [Savage Dragon #183]. He started dating the Asian student named Maxine. Around the same time his ex-girlfriend Tierra revealed she was pregnant for Frank, his sister's boyfriend. His father was put on trial for murder and found guilty [Savage Dragon #185].
Malcolm has since moved into his own place and begun attending a new High School [Savage Dragon #193].