Meet The Independents: Erik Larsen
The need for more control over ones creation is nothing new. Comic book character creators draw and write their creations to go in a certain direction, and want to be the ones with the final say as to how their character is portrayed. Some may say this next person isn't truly representative of the independent struggle, but if we take into account the end goal of every person who picks up a pencil, we realize that this person accomplished the dream of many independents. He has worked on things big and small when he first started out, even having the opportunity to include his early rendition of a character he created in one of the comics he was working on. After having worked for companies such as Marvel, DC, and Eclipse, doing everything from cover art to penciling, to sometime writer, to whatever else was needed, he grew weary of drawing other people's stories and wanted to do his own. He banded together with a group of like minded individuals and started a flagship company called Image Comics. This "flagship" company now stands as the third largest comic book publisher in the US. His list of characters are numerous, but our favorite is Savage Dragon, which was his first creation and first appeared in a comic called Megaton. To this day he still writes and draws Savage Dragon even though the original character has left the titular role to his son Malcolm.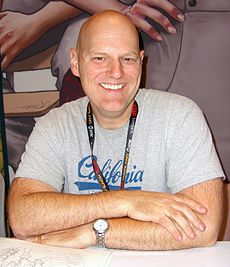 We were glad that Erik Larsen decided to give us some of his time and answer our questions! He was actually the very first person to respond back to our request, and that fact alone impressed me. Here's his answers to our questions.
How did you get started in the comic industry?
I published a fanzine called Graphic Fantasy in 1982 with a couple pals and sent it out to everybody we could think of. A few folks in the comic press reviewed the book and a couple of aspiring publishers bought copies and then hired me to draw for them. One story led to another. Every time I drew something I sent of copies to other publishers and worked my way up the food chain.
Who were your early influences?
Jack Kirby, Herb Trimpe, Gil Kane, Walter Simonson, Frank Miller, John Byrne, Klaus Janson and Terry Austin early on.
What project are you currently working on?
Savage Dragon is my ongoing assignment.
What books did you collect or read growing up?
Hulk, Spider-man, the FF, Kamandi, Captain America, Avengers. At one point I was buying 80% of the books Marvel put out and a healthy number of DC books.
If you could rewrite any character which one would it be and why? 
Captain Marvel—Shazam—just to restore him to his original form, which has been just destroyed.
Given the success of books like Watson and Holmes and Midnight Tiger, what other books do you see having mainstream appeal?
Anything good can catch on with a strong hook and good word of mouth.
If there were anything you would say to someone looking to get into the comic industry; especially a person of color; what would it be?
Do good work. Make your deadlines. Keep your promises and maintain a positive attitude. Rather than badmouth others—show by example. It's easy to bitch—but that changes nothing. It's like—people will bitch that there are no good comics for younger readers—and a guy like Jeff Smith just goes out and does a book like Bone. He's not dwelling on negativity and badmouthing others—he just does the work and reaps the rewards.
Is there anyone in particular you would like to work with on a book?
I liked working with a number of creators over the years. Had a great time—but it's honestly most rewarding to do it all myself. If some great project comes together—that's awesome—but I don't seek out others to work with at this point. I just do what I want to do.
Name three independent books that you would like to see as movies.
I'd rather not see any of them as movies. I'd like to see more artists take the Bill Watterson route and let their comics just be comics. There's no shame in that. I like that readers don't hear a specific actor's voice or see a specific actor's face when they read my books. Having these characters "brought to life" isn't always a good thing.
Learn more about Erik Larsen below!
Dig Deeper into Malcolm the Savage Dragon here!
Dig Deeper into Bludgeon here!
Dig Deeper into THUNDERHEAD here!
Check back next week as we continue to MEET THE INDEPENDENTS!
If your a black indy writer or have a series starring a black protagonist then send us an email at Worldofblackheroes@gmail with the subject "Meet the Independents" for your chance to be the next independent spotlight!
Worldofblackheroes where independent creators get mainstream coverage,BELIEVE IT!