Justice League (2011) #1 Review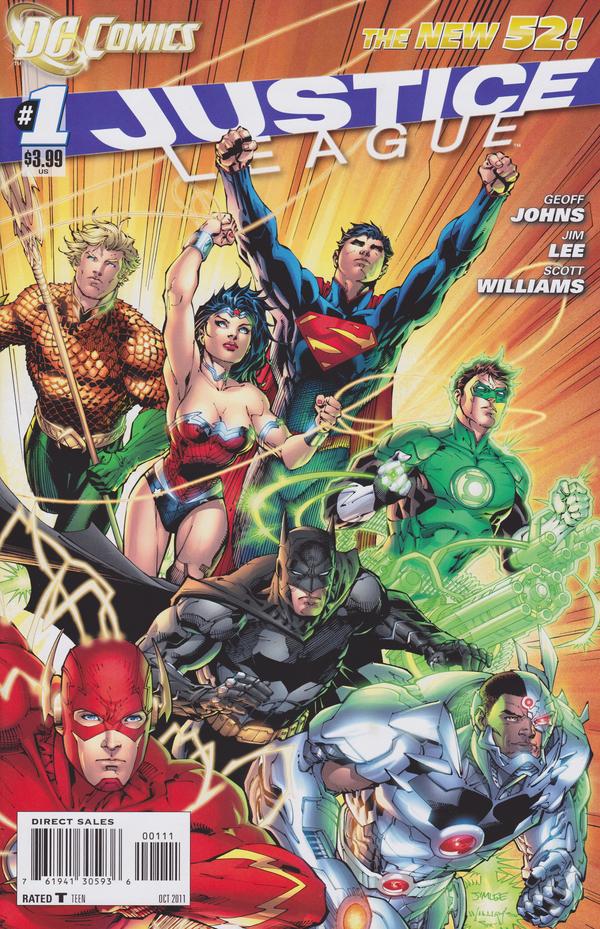 Comics superstars Geoff Johns and Jim Lee make history! In a universe where super heroes are strange and new, Batman has discovered a dark evil that requires him to unite the World Greatest Heroes!

Summary
Five years ago Batman is being tracked by armed feds while he tracks an unknown assailant. Green Lantern/Hal Jordan shows up to assist him and they meet for the first time. Together they track down the assailant who self destructs leaving them with a mother Box. They head to metropolis!
Meanwhile Victor Stone wins another match for his team and the scouting agents go wild to sign him. His dad has again missed the game and doesn't even show up much to his dismay.  Overhead Batman and Green Lantern fly to metropolis. They arrive and get attacked by Superman.
The Good
Cover– Gorgeous! Jim Lee's style is perfectly suited to the larger than life characters of the Justice League and don't get me started on how cool Cyborg looks!
Sombre tone-DC has taken a page out of marvel's post civil war line up and re-created the dc universe as abhorrent to superheroes and vigilantes. It works wonders in injecting freshness in to the otherwise "stale" DC comics of couple months ago. Sure I miss old continuity and sure most of my dc collection is rendered useless and irrelevant but the new status quo fills me with a sense of excitement I HAVEN'T FELT IN YEARS!
Cyborg– Victor Stone is the everyman on this team of established Superheroes. Here we see Victor as an all American football star with the whole world ahead of him. No doubt we are being set up for tragedy on an epic scale in his new origin tale. Also noteworthy is just how unhappy Victor is. In the age old tradition of Superhero's he also has a neglectful dad which results in "daddy issues", can't complain when things have me anticipating next issue already.
Interior art- Jim Lee's style has improved somewhat in recent years. For years after drawing X-men #1 his characters had similar poses, bodies and costumes but here Lee flexes his art muscles by having a very distinct look and feel to each of his characters. I particularly like his rendering of the batman and superman costumes.
Action- Every good comic needs good fight scene and this first issue managed to give us a taste of Superman vs Batman and Green Lantern, while also get a explosive opening with a dazzling chase scene.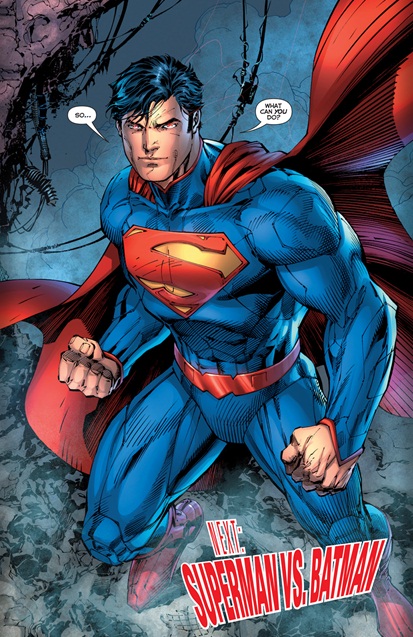 Dynamic- Batman and Green Lantern instantly have a great dynamic since they have different approaches to heroics. Literally night and day and with a newer younger more aggressive Superman, good times ahead!
The Bad
Ryan Reynolds- Someone please tell DC to stop incorporating Ryan Reynolds personality into Hal Jordan, it's like the taste of bad aftershave in the mouth. Sure Hal has always been a flat personality but was he in need of a "reynoldsification"? Kyle already has the corner market on being the Joker of the Lantern squad this is just bad taste!
Pacing– The issue felt stretched, not allot happened in this issue when compared to Justice League International which literally hit the ground running 🙁
The Ugly
4/5