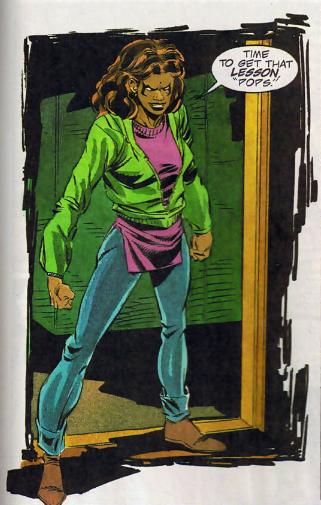 Publisher: Milestone Media, INC.
First Appearance: Icon #4, 1993 ;becomes Rocket in Icon #22, 1995
Created by: Dwayne McDuffie and Mark Bright.
Code Name: Rocket
Nationality: American
Weight: 120 lbs    Height: 5'7
Eyes: Brown              Hair: Brown
Known Relatives: Unknown
Skills and Abilities: Thinks on her feet
Powers: Inertia belt allows her to manipulate kinetic energy for a variety of effects.
Biography
Darnice grew up with Raquel in Dakota since they were young children. They eventually became best friends. We first meet Darnice when Raquel suspects that she may be pregnant. Wanting to ensure her friend knew for certain she took Raquel to the stole to buy a home pregnancy test. When the test turned out positive she was present when Raquel's grandmother accidentally walked in and heard the news (Icon #4, 1994). Darnice was the only person to whom Raquel confided that she was Rocket and as her pregnancy progressed Darnice was offered the mantle and power of 'Rocket'. She gladly accepted though she refused to have Raquel cut her long hair. Both women then went on the hunt for a replacement 'Icon'. Static, Hardware and DMZ were all approached but none fit the mold. Buckwild literally fell into their lap and he gladly accepted the 'Icon mantle'. Together they shut down villain SweetStick Max and his 'Ho hordes' (Icon #22). Raquel taught her the nuances of her powers while they stopped a store from being robbed (Icon #23). Alongside Buckwild over the next few months they continued to save Dakota, during that time they grew close and Raquel gave birth to her son Amistad (Icon #24). When the alien Oblivion landed in the city and went on a rampage searching for the real Icon she rushed to the scene to save innocents she was no match for the sheer ferocity of Oblivion. Buckwild intervened to save her life but was critically wounded in the process. Traumatized by what she saw she rushed back to Raquel in fear. Quick thinking Raquel quickly took back the mantel and tried to contact the real Icon. Darnice still in tears protected young baby Amistad while his mother engaged Oblivion (Icon #25). While Buckwild lay in a hospital bed comatose she visited him regularly where displayed deep affection for her partner. While still at his side Buckwild died (Icon #29). She later attended the funeral of Buck wild and revealed she had fallen in love with him. When a bunch of Buckwild villains showed up and lead to his brief resurrection she was the one to talk him out of killing the villains and accepting his death and moving on. Darnice was later called a true hero by Icon (Icon #30).