Black Panther (2005) #3 Review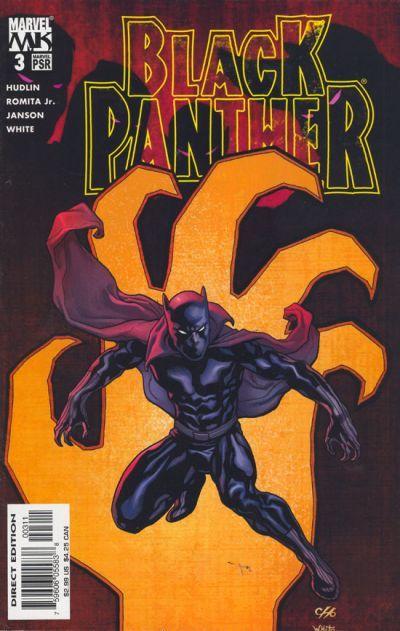 "WHO IS THE BLACK PANTHER?"
Many years ago, Klaw killed the reigning Black Panther – but not without a price. Learn how he did it…. as he readies himself for the death of T'challa! Part 3 (of 6).
Summary
Klaw and his crew are already in Africa. Rhino and Batroc are there along with a man known only as Igor they make plans to Kill T'challa while Klaw tells them how he managed to kill T'chaka, lost his hand and was scarred. He also reveals the reason for his hate of the black panther. His ancestor was killed by a former king in what he calls an unfair fight. His revenge has driven him to use his life to get revenge on the nation and its kings.
In England the mysterious body jumper meets with the church to discuss how they will be getting the black knight to go along with their plans. We get a flashback to T'challa's coronation and the resources he has poured into finding his father killer to no avail. He decides to send his jealous cousin T'Shan to new York as their emissary while he speaks with Mandela, Bush and Namor on the phone.
Klaw meets with a leader of south Africa who also wants the panther dead, he agrees to work with him. Klaws plans continue to mount.
The Good
The story in this issue touched on a lot of things, Christianity and its perception of all religions outside its own. The conspiracy theories of religion and government, etc. It all came together for a very deeply engaging and thought provoking read. Highly recommended for fans of comics that do more than just  the typical run of the mill stuff. I'm impressed with Hudlin's 3rd issue very much, this issue reminds me of something Grant Morrison would write. We also got the origins of Klaw and it was far more engaging that I expected it to be engaging.
Visuals also remain top notch.
The Bad
No complaints
The Ugly
5/5 must read