Captain America: Civil War (Movie Review)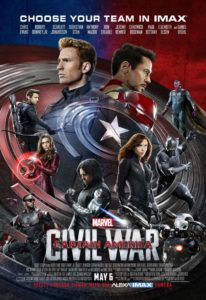 Captain America: Civil War is a 2016 American superhero film featuring the Marvel Comics character Captain America, produced by Marvel Studios and distributed by Walt Disney Studios Motion Pictures. It is the sequel to 2011's Captain America: The First Avenger and 2014's Captain America: The Winter Soldier, and the thirteenth film of the Marvel Cinematic Universe (MCU). The film is directed by Anthony and Joe Russo, with a screenplay by Christopher Markus & Stephen McFeely, and features an ensemble cast that includes Chris Evans, Robert Downey Jr., Scarlett Johansson, Sebastian Stan, Anthony Mackie, Don Cheadle, Jeremy Renner, Chadwick Boseman, Paul Bettany, Elizabeth Olsen, Paul Rudd, Emily VanCamp, Tom Holland, Frank Grillo, William Hurt and Daniel Brühl. In Captain America: Civil War, disagreement over international oversight of the Avengers fractures them into opposing factions – one led by Steve Rogers and the other by Tony Stark.
What I thought
I'll try to keep this brief and as spoiler free as possible.
Black Panther fans should rejoice, Chadick Boseman is the King of Wakanda and that alone is reason to weep like a fangirl. He nailed the accent, he nailed being a warrior born noble of the highest order. He was sexy, bad ass and easily stole the show. Despite the size of the cast however this still does feel like a Captain America movie and that is impressive as hell all things considered. Spider-man was also rendered delicately. Fans of the comics may find this the most accurate portrayal yet…despite how young Aunt may is.
Captain America: Civil War rocked on every conceivable level! I'm happy but sad with the way it ended and for a long time, no comic book besides Avengers Vs X-men's ending has left me so emotionally devastated but completely satisfied. I was on the verge of tears multiple times from start to finish. Casualties are many with the Avengers completely changed by the end.
Despite how awesome I thought it was for you to get the most out of the movie you would need to know quite a bit of what took place in the marvel movies before hand. That means just like comics you need heavy investment to truly get the most out of this one. Despite this though it's self contained enough that you can watch and enjoy it as a standalone superhero movie.
Captain America Civil War is a must watch epic and unquestionably the greatest superhero movie ever made! 5/5