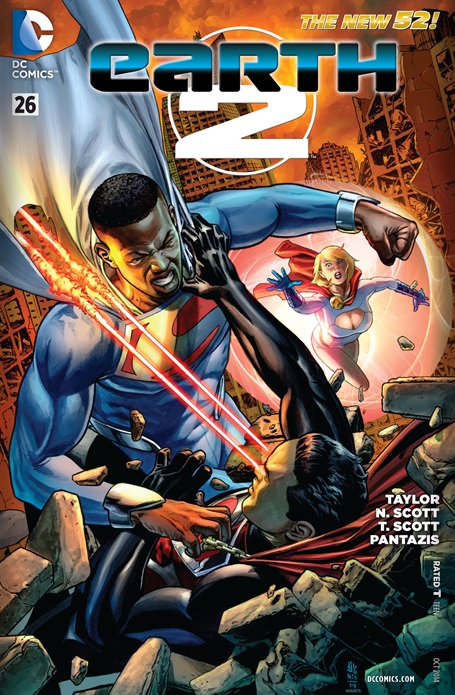 Summary
On Earth 2 Batman, Aquawoman, Flash, Hawkgirl and the word army face the hordes of Apokalips in the vain hope that they can reach Bedlam and Mr. Terrific and stop the giant boom tube from taking Earth to Apokalips. The battle between Val-Zod and Evil Superman make an opening for Aquawoman to attack Bedlam. Alongside Batman they take him down and Sloan and Terrific stop the Boom Tube. Back on Earth Evil Superman begins to shatter while fighting Val-Zod. He is actually Bizarro a clone of the original superman. Red Tornado takes care of what's left. Beldam quietly sneaks away with Sloan, Terrific and Mr. Miracle.
In Puerto Rico Beldam makes plans to unleash Fury and Big Barda on the remnants of Earth 2.
What I thought
Well it's finally over, the war between the heroes of Earth 2 and the evil Superman is finally over. I thought he art was very fitting and the action was on point. I love Val-Zod's glowing blue eyes and his characterization remained true to his origins yet managed to aid the cause at the same time. I honestly can't get enough of the Earth-2 cast this could easily supplant DC's main timeline and I would be quite happy. The big reveal that Evil Superman was just a clone was a nice touch which didn't lesson the damage done but preserved the heroic legacy and sacrifice of the Earth-2 Superman. I also liked Bedlam escaping to cause more trouble for our heroes in the future.
On the other hand I'm not feeling the cover and the resolution lacked any real emotional punch which is a must for every perfect comic.
Overall
 Val-Zod finally steps up and the heroes of Earth-2 are triumphant in the face of evil. Earth-2 continues to be one the best books DC Comics puts out each and every month. We give it a 4/5