Manhattan Guardian (Character)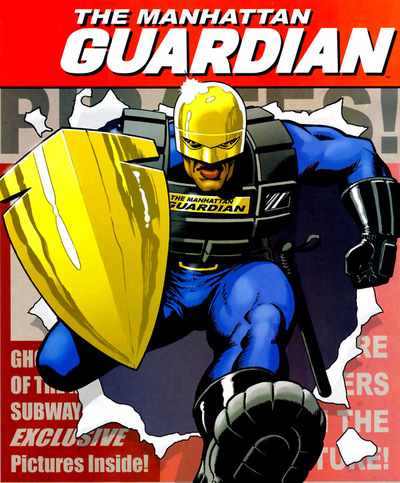 Publisher: DC Comics
Created by: Grant Morrison and Cameron Stewart
1st appearance: Seven Soldiers: Guardian #1, July 2005
Real Name: Jake Jordan
Nationality: American
Aliases: Big Brother Brawn, Jake Jordan, Black Guardian
Team Affiliations: Seven Soldiers of Victory
Legal Status: US citizen with no criminal record
Height: 6'3                   Weight: 225 lbs
Eye Color: Brown    Hair color: Black
Relatives: Unknown
Skills and abilities: Jake is a skilled hand to hand combatant in peak physical condition. He has training as a riot cop and police officer.
Powers:None.
Biography
Jake was a cop who lost his job after he accidentally shot a thirteen year old boy who he mistook for the person who had killed his partner. Depressed and defeated he manged to eventually land the job of Manhattan Guardian, essentially the newspaper's personal superhero. In one adventure he battled pirates below Manhattan which lead to the death of his girlfriend's father and the end of his relationship. Next he faced renegade robots and learnt that he was one of the "seven soldiers of destiny" who were to save the world from an impending Apocalypse.
After joining with the others such as Mister Miracle and averting the end of the world he reunited with his girlfriend. His current whereabouts are unknown.