Created by: Chris Claremont and Sean Chen
First Appearance: X-Men: The End: Book 3: Men and X-men #3, 2006
Relatives: Dr. Cecilia Reyes-McCoy (mother),  Dr. Henry Phillip "Hank" McCoy (father),  Francesca McCoy  (sister),  Ciaran McCoy   (older brother),
Norton McCoy (Grandfather), Edna McCoy (Grandmother), Sadie McCoy (Great grandmother), Bob (Great, great Grand uncle), Alejandro and Maria Reyes (grandparents deceased); Colonel Miguel Reyes(Uncle)
Height: 5'3                  Weight: unknown
Hair Color: Blue       Eye Color: yellow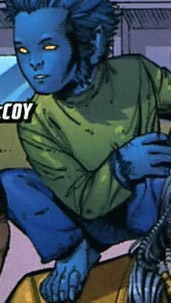 Powers and Abilities
Taking after his father Young Miguel is the only "Obvious" mutant in his family. He has superhuman strength , agility, endurance, and speed all to an unspecified degree. He also has razor sharp claws on his hands and his feet and a thick blue fur all over his body. His sense of sight, touch and taste may also be enhanced but this too would be to an unspecified degree.
It is unknown if he will undergo secondary mutation or develop powers similar to his mother.
Biography
The third child born to Hank McCoy AKA Beast and Cecilia Reyes on earth 41001.