Black Panther- World of Wakanda #6 Review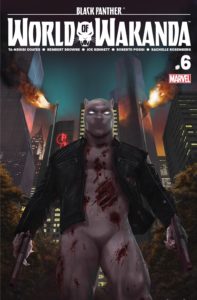 DEATH OF A WHITE TIGER!
When a down-on-his-luck New York City narcotics officer was suspended from the force, he adopted the vestments of the Black Panther to do the right thing by his neighborhood and his burgeoning family. Mentored by both T'Challa and Erik Killmonger, he became something more than the sum of his parts. That was then.
Now, Kasper Cole's days as the White Tiger are behind him and he can only watch helplessly as Wakanda burns halfway around the world, leaving Kasper completely disillusioned by a leader he once looked up to.
Writers TA-NEHISI COATES (Black Panther) and REMBERT BROWNE (New York Magazine, Grantland) and fan-favorite artist JOE BENNETT (who drew Kasper back in the original The Crew series!) team up to bring Kasper Cole back into the spotlight…just in time to close the door on his story forever?!
Summary
Kasper Cole is at his desk bored to tears with paperwork. Back at his tiny apartment, he's contacted by the Black Panther/T'challa about intercepting the Anti-hero Cardiac and the mutant villain Vanisher as they steal Vibranium from Wakanda.
Kasper complies and tracks down Cardiac. The two fight before he gleans where to find Vanisher. Upon locating the villain they two battle and Kasper emerges victorious but only after the villain teleports them to Wakanda. Here he meets with T'challa who gives him a new costume and a new mandate.
Good
Cover- If there ever was a symbolic cover it's this one. It shows our once exiled to Comic Book Limbo hero in his original costume decked out with his guns and leather Jacket. His costume is ripped and blood-soaked giving him an almost zombified feel. Apt since he is back from the dead as it were.
Art- This came courtesy of Joe Bennett and while it would not have been my preferred style it was adequate for the task at hand. All the characters are well proportioned and well-defined. You could differentiate between the characters based on how they were illustrated. Rachelle Rosenberg provided the colors and especially for Kasper's white costume, it looked awesome!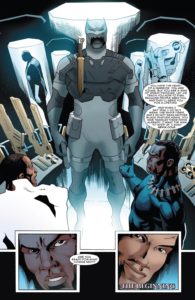 Accessibility- That recap page was pretty damn good. Kevin had a brief stint but it was very memorable.
Growth- It was really good seeing Kasper finally be moved to the next phase of his life after all these years. Admittedly the progress was lacking in real-world context. Think about this. When I initially read Christopher Preist's Black Panther starring Kevin I was in high school. When I re-read the series years ago I could also relate to the shaky relationship status and one kid. Kevin was me, and he had many of the same issues I had: racial ambiguity, father I could never live up to who turns out was not as perfect as I thought, uncertain job situation etc. Now that he's been re-introduced his life is still pretty crappy and much the same honestly. Meanwhile, I've been lecturing at the college and university level for awhile now. My relationship is no longer shaky; I even have another kid in the mix. I can appreciate all this stability especially now reading this book looking at this character that I could once empathize with.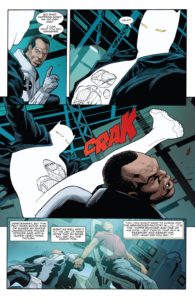 Black Hero- This issue was the wet dream of all White Tiger fans from way back in the early 2000's! Kevin "Kasper" Cole is back! Hell yeah! I'm so very excited!  At the end of the issue he even gets a new costume which looks like the one T'challa wore during his Man Without fear/Most Dangerous Man Alive era directly following Doomwar. This is a good thing as the more urban style suits Kasper far more than it did T'challa.
Villain- Cardiac was another blast from the past I like how the ambiguity of him being a villain was handled. Like The Punisher his methods have always been more extreme putting him at odds with established heroes, most notably Spider-Man.
Bad
Color- I'm not sure the colorist got the memo but Kasper is one of those black guys like Vin Diesel who can pass for white because of how light his skin tone is. In this issue that wasn't really brought out. Instead, he came across more like me, high brown. Just a nitpick but considering this is a central part of the character's identity I just had to throw that out there.
The Ugly
This was truly awesome and nostalgic! 4/5 Stars