Sam Wilson: Captain America #10 Review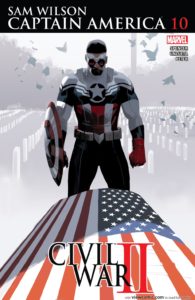 CIVIL WAR II TIE-IN!
In a time of crisis, Sam is called upon to honor a fallen hero– and speak to a divided nation. But is anyone listening?
Summary
There has been a death in the Marvel Universe. While on a mission to stop Thanos, James Rhodes; the hero known as War Machine was killed in battle. Now amid the criticism he still faces for carrying the shield and the burgeoning threat of a privatized police force in the form of the "Americops" whom seem just as oppressive to minorities as the real cops, Luke Cage calls the Black Heroes of the Marvel Universe to pay their respects to one of their own and Sam is tasked to deliver the eulogy. Meanwhile, what is Rage up to and how does he figure into the upcoming events?
The Good
Story- it was good to see Nick Spencer pay homage to an idea Reginald Hudlin initially had Luke Cage come up with. Luke has always advocated that the Black heroes come together to represent their community, and Spencer has taken the death of War Machine to have the characters show solidarity.
Black Romance– The relationship between Misty Knight and Sam Wilson is stronger than ever. Maybe they will be the next Black power couple in the Marvel U? Misty has become a strong shoulder for Sam to lean on and she has helped him through some tough times while he has been on Captain America duty.
Black Heroes- Black Panther, Spectrum, Nick Fury, Luke Cage, Jericho Drumm, Misty Knight, Storm, Miles Morales, Captain America (Sam), and acknowledge meant of Blade, Rage, and The White Tiger (Kasper Cole) . That's 12 (count'em 12) heroes in an issue! That's gotta be some kind of record.
Cover
– the image of Captain America standing over the casket of James Rhodes is very haunting but befitting.
The Bad
Characterization
– It has been some time now since Sam took over the duties as Captain America. He has faced several difficult situations and had to make calls that differentiated him from his predecessor that did not sit well with the public at large, who has yet to accept him as Captain America, even though Steve Rogers himself has vouched for
Sam
. We get this. We got it when he first took over the shield. We got it in the first few issues of his solo series. I can't say this any plainer; we got it. It is off-putting to see Sam so insecure about this after this long. He has never been characterized as being this insecure about anything. He has worn the uniform before, and after all the years of being Steve's partner, knows better than anyone else the burdens that come with the title. Let's make Sam angry, let's make Sam frustrated, let's make him take on an "I don't give a damn" attitude, but let's get off the insecurity. It's getting old now.
Eulogy
– the eulogy started off very good. Sam reminded folks about the type of person he perceived Rhodes to be based on the actions he displayed while wearing the Iron Man armor. It was right after this the eulogy stopped being about Rhodes and about him. He could have gone on to tell about what Rhodes did as
War Machine
, which represents when he got his own identity and stopped being just "Tony Stark's best friend" As
War machine
he fought for freedom and justice on a global scale. He saw the world as his community, and worked to effect change, just as he did in his own community when he assembled the Crew. His attributes were more than about "the mission", and if you are going to kill him off at least give him the sendoff he deserves instead of the "you know my situation is a lot like his" crap you gave us.
The Ugly
It was good to see the gathering of Black Heroes. It is a reminder that although they may still be few in number, they are out there, and just like they came out to support James "Rhodey" Rhodes, we need to come out in support of them. 4/5 stars