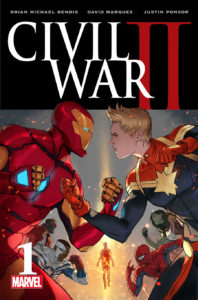 This is it! War comes to the Marvel Universe this June as the Earth-shattering comics event of 2016 comes to comic shops with a jam-packed double-size issue! Today, Marvel is pleased to present your exciting look inside CIVIL WAR II #1 – from chartbusting creators Brian Michael Bendis and David Marquez! The fan-fave creative team that brought you Invincible Iron Man join forces once more to bring you a tale of hero against hero – and a Marvel Universe divided in two!
Ulysses – a young Inhuman with the power to profile the future has emerged. His new abilities send shockwaves through the superhuman community. Divided amongst themselves, will they use Ulysses to prevent danger before it happens? Or should they allow the future to unfold unaltered? As his new powers send shockwaves rippling across the Marvel Universe – battle lines will be drawn. Do you stand with Iron Man? Or will you side with Captain Marvel?
Will the heroes of the Marvel Universe wield the power of "predictive justice" to change the future or battle to protect tomorrow? Battle lines will be drawn. Lives will be changed. Heroes will fall. The comic book event that will have the world talking kicks off on June 1st in the double-sized CIVIL WAR II #1!
What I Thought
Issue 1 is here! We've seen Thanos attacking the Ultimates. We've seen how Ulysses got his powers. Now, we're seeing Ulysses getting picked up by the Inhumans (for a couple of pages) and a huge battle against a Celestial. The Celestial's attack was apparently foretold by Ulysses. This brings excitement to some, and unease to others. The unease is ESPECIALLY felt in Stark, who questions the accuracy of Ulysses' visions and whether or not he should tell people about them.
They eventually cut to him getting the Thanos vision and then past the vision to where She-Hulk is in critical condition. When Carol tells Tony what happened, we find out that War Machine isn't in critical condition. Nope…he's DEAD. Tony insists on taking matters into his own hands and going after Ulysses, ending the issue.
It was an interesting issue. The hopping around the timeline that the prior two issues did was annoying, so at least this one had a better flow to it. Seeing Tony and Carol at odds felt like a good start to their big divide. As a big fan of War Machine, I cried when I read the issue. If my favorite superhero had to die, then it may as well be at the hands of my favorite supervillain. I give it 3 and a half out of 5.

Review written by Guest writer Lance Mealer