Ultimates (2015) #3 Review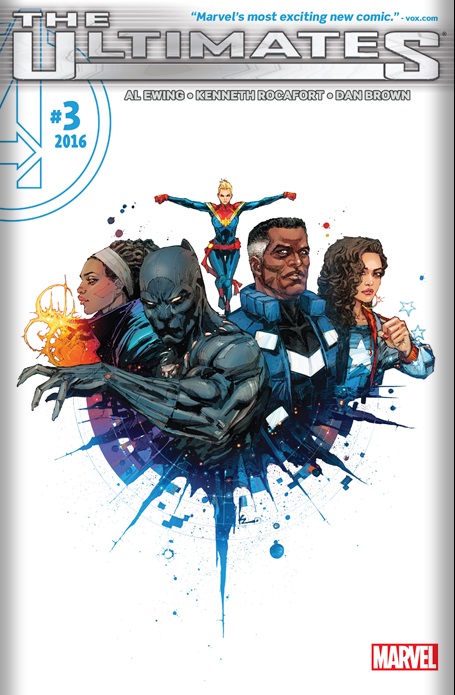 Sometimes you can't fix something without taking a look at the whole thing at once. Spacetime is broken. If The Ultimates want to fix it, they need to go… OUTSIDE. But who — or WHAT — is out there waiting for them?
The Good
Art– Arguably the best looking book on the stands right now. Rocoforte is rocking my world with his slick designs, sexy illustrations.
Cover-Mostly white with our heroes striking a pose and our token white team member smack in the middle 😉
Characters– Blue Marvel baby you are front and center in this one just like Mighty Avengers and I am so grateful!  Blue Marvel's brilliance is worn on his sleeve as he takes the team to places they have never been before, discovering yet another plane of existence. This guy has in the time that Ewing has been writing him been thrust into Reed Richards like roles and it is so awesome I could shed tears. How often do Black characters get treated with this level of respect from a big comic book company? Not very! Monica Rambeau is another character that Ewing has breathed new life into and again it is tear jerking. Monica is treated as a capable combatant with awe-inspiring power but a deep seated sense of duty and humanity second to none. Miss America shows off her powers and maintains a certain level of cool. Black Panther is window dressing this issue but that too forgivable.
Repercussions- After the huge turn for long time baddie Galactus this issue we start to see the fallout as the Shiar realize what they have done. I'm happy Ewing did not just gloss over what came before and instead has made it potentially an overarching subplot throughout the series. Miss America also points out the problem with Time Travel as a remedy for modern day problems with her insight.
Last page- How freaking awesome was the reveal that Blue Marvel's original nemesis was still alive? Way too freaking awesome to even put into words. This guy handed the Avengers there ass at a time when the team included Sentry, Ares and Ms. Marvel to name a few. To say he is a monstrous threat is an understatement.
Time Travel– We are still dealing with the fallout of all the time travelling the 616 universe with mentions of the time lost original X-men, and a host of more modern goings on.
The Bad
Illuminati all over again- While I do love what's happening in this book we must remember that it's been established that Galactus as a world eater was a huge part of cosmic balance. What the team has done has turned balance on its head. In some ways this first fix may cause more problems than it solves. Just like the Illuminati before them, they are doing things without consulting those who may be affected most by their actions. The Shiar call them out on this. If Galactus goes around reviving every planet he has even consumed that may mean the return of the Skrull Empire in a major way…who can tell what other evils he has prevented through his actions? A team who thinks they know what's best for the whole Universe of space time itself is crazy…Black Panther assembled just such a team once and it never turned out well.
People blame the Illuminati for what they've done in the past and want them to be accountable… and yet what the Ultimates are doing is the same if not worse. They think they can decide whats best for the rest of the universe and literally mess with anything as they please while calling it a 'fix'. Where is their accountability? How are they different than "God Doom" (In Secret Wars)  when he created his own Battleworld from what was left of the multiverse ? "Oh but they are trying to do good , fixing thing ! " Yea what is good or evil doesn't really apply to cosmic concepts like Time and Space. Mark my words, these actions will cause more problems than it solves.
The Ugly
With every passing issue I can hear the Al Ewing haters bowing down to his greatness! The Ultimates is a must read for comic fans. This is American minorities done right! Not reading Marvel's Ultimates? Run out and buy it now! 5/5 stars