Uncanny X-men (2015) #1 Review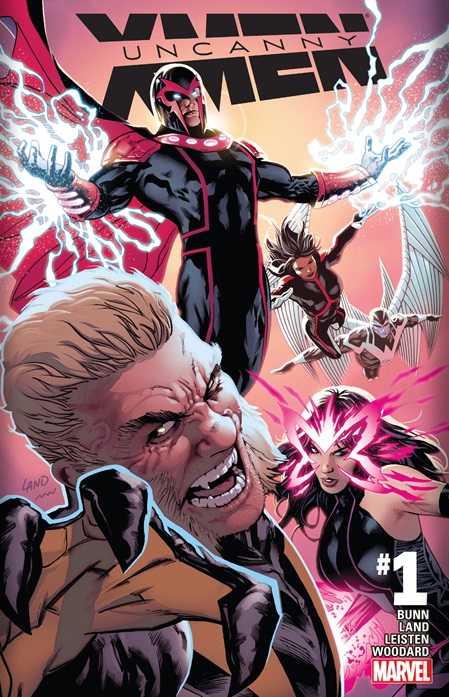 In a world that's never hated or feared mutants more, there is only one constant: BIGGER THREATS REQUIRE MORE THREATENING X-MEN. Refusing to accept one more mutant death, the most ruthless mutants on Earth have banded together to proactively mow down their enemies. But with a team populated by relentless killers, one question applies above all others: Can they stay away from each other's throats long enough to sever their targets'?
 Summary
So this issue establishes the team of Psylocke, Archangel, Sabretooth, Monet and Magneto. They liberate some mutants who have willingly put themselves in suspended animation thanks to "Someday enterprises". One of those liberated mutants is later killed by the Dark Riders of Apocalypse as they prepare for the survival of the fittest.
What I thought
I enjoyed this book for a number of reasons. For one it reminded me of a continuation of Cyclops more militaristic stance on protecting mutant kind. But as things have gotten bleaker the team is reflective of that with not even a hint of this group housing any idealism or hope for the future. Psylocke and Magneto have known each other the longest and they are used to great effect to play off each other. The more contained Sabertooth is present and it's interesting to see him so restrained or to even think he may be the most positive member of this team. Monet as always is deliciously snarky and there are hints of chemistry with Sabretooth. I'm curious to see how Bunn plans to handle the history between Sabertooth and Psylocke…he has almost killed her twice in her life and Psylocke's recent history with Monet in the all female X-men.
Gorgeous cover courtesy of Greg Land, the interiors also look great. The team is one I can sink my teeth into with Cyclops Extinction team members Psylocke and Magneto being joined by Inverted Sabertooth, newly re-emerged Archangel and my personal favourite Monet St. Croix who has thankfully gotten back her darker shade after years of skin whitening. Psylcoke and Archangel's history is also touched on and Magneto is his more team fitting "less powerful" rendition. Whether this is as a result of the fallout from Avengers Vs X-men or something we don't know yet is anyone's guess.
The complaints are typical for Greg Land with recycled poses especially for the women. While I enjoyed it and it may be one of the better X-men related titles out right now, sorry Extraordinay X-men you suck! It still lacks that certain spark which makes an X-men book magical.  Sure there is the moral debate that can arise from the team liberating mutants who don't want nor need liberation and the Dark Riders are 90's rock candy at this point but this was not a wholly accessible issue. The text boxes which had become a staple of the franchise to bring new readers up to speed on the powers of the team are gone. That means only a seasoned X-men fan will be able to tell who the characters are and their powers sets (right now) without hitting google.
Overall this was still more enjoyable than Extraordinary X-men though not the very best the X-men have had in the last ten years  we give this one 3.5/5 stars.