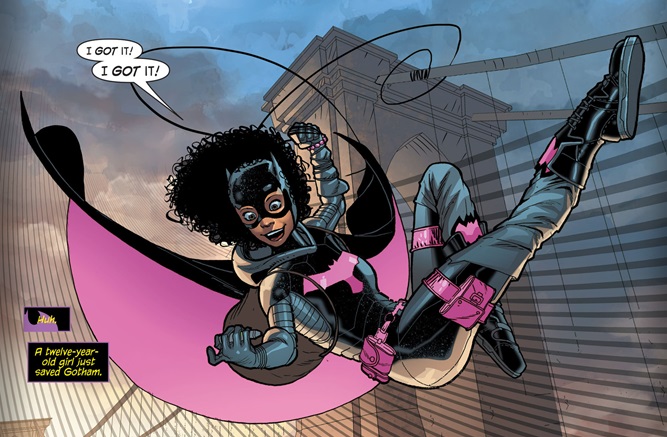 Publisher: DC Comics
Created by: Jimmy Palmiotti and Justin Gray
1st appearance: Batwing #21 (2013)
Real Name: Tiffany Fox
Nationality: American
Team Affiliations: None
Legal Status: Minor with no criminal record
Height: 80 lbs           Weight: 4'3
Eyes: Brown                        Hair: Black
Relatives: Luke Fox (Brother), Tamara Fox (Sister), Tanya Fox (Mother), Lucius Fox (Father)
Skills and abilities: A child genius. In the Future's end timeline she is a trained martial artist and the nunchaku is her weapon of choice.
Biography
The youngest member of the brilliant and affluent Gotham family headed by Lucius Fox, like her father and siblings she has a considerable intellect. At the age of seven she has an I.Q. of 190 and reads Adler, Cattell, Fromm and Hull for fun. She idolizes her older brother Luke and always tries to make peace between him and their father Lucius. She was captured by Rat Catcher after her sister Tam was rendered brain dead. She manages to escape when her brother comes to her aid and in the process she learns his secret identity.
Future's End
From the Illustrious Gotham Fox family, Tiffany is the sister of Luke Fox/Batwing. She was recruited into the "League of Batgirls". Twelve year old Tiffany is the youngest member of the Batgirls of Gotham, a team brought together by Barbera Gordon who had undergone training by Bane and was now branded "The Black Beast/ Bete Noire". Alongside Stephanie Brown formerly Spoiler and Cassandra Cain daughter of the assassin David Cain.
Sent out on a mission to stop a ring of car thieves they ran into resistance but managed to head back to their cave after defeating their foes. Tiffany was the one who saved the city by grabbing the pressure sensitive detonator to the bomb system that was rigged to blow Gotham by Bane. Barbara Gordon noted that due to her intelligence she would one day eclipse all of the other members of the "League of Batgirls" [Batgirl Future's End #1, 2014].