The New Avengers #7 Review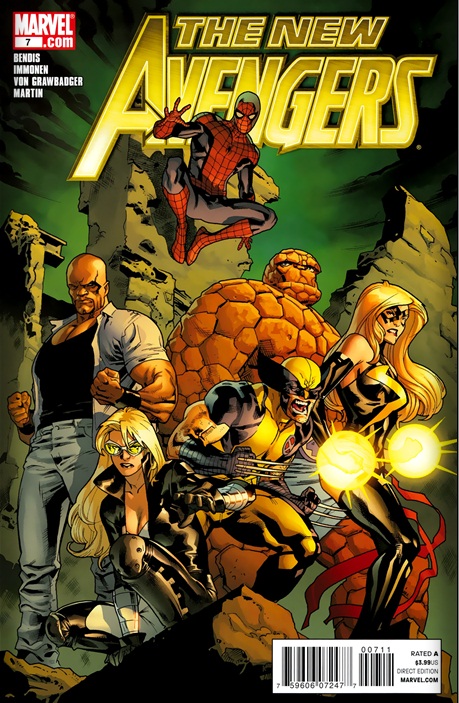 Summary
In the aftermath of Dr. Voodoo saving all creation and dying in the process (See Avengers #1, Avengers #2, Avengers #3, Avengers #4, Avengers #5 and Avengers #6 for details) Damage control comes in to fix things. Inside the mansion a weary Dr. Strange meets the team for breakfast where they discuss being paid by Steve Rogers, Finding a nanny, Dr. Strange joining the team and needing a butler.
Squirrel girl becomes the nanny, Wong the butler and Strange joins the team.
The Good
Cover- Luke Cage, Mockingbird, Wolverine, Mz. Marvel, the Thing and Spider-man all strike a pose with the ruins of the Avengers mansion in the background. Simple yet totally effective!
Luke Cage and Jessica Jones- Someone email this issue to Hudlin, Liss and Mayberry ASAP. Here is a relationship that works very well on paper and execution! Jessica literally took control of the situation when her husband tried to take the high road. He was proven wrong, thought level headedly, oh and she embarrassed him to boot…big time! But the way it was tone was tactful and totally classy and hot to boot! She def got some that night!
Luke Cage– Luke my man you really got around when you were single didn't you? Old lady with white hair, Tigra the Avengers resident whore and god knows who else! Call me shallow I enjoyed these moments!
Art-Stuart Immonen is on the job and delivers great images from start to finish. Immonen does particularly well on conveying emotions on faces without allot of detail of zooming in too much on the person.
Hilarious- How funny was it to watch an older lady who Luke previous shagged make a pass at him while his friends and wife are right there? Very! Then we have the interview process to get a nanny for Luke's daughter…..you have to witness the spectacle of it all to understand the sheer lunacy of some of these candidates! I mean seriously D-MAN? The icing on the cake however had to be how Jessica owned Luke in front of everyone!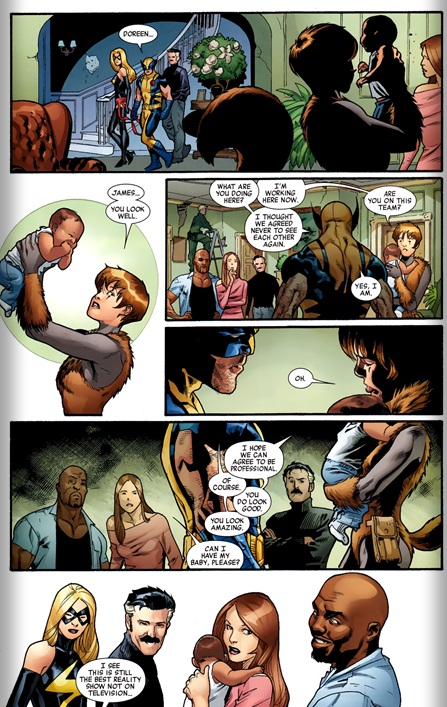 Black Heroes- Luke Cage! Leader, Father and Bendis best use of a black character ever!
The Bad
Missed it- Ok I'll be the first to admit I dropped this title after Bendis killed Dr. Voodoo but after reading this issue I ****ing regret it! This issue is everything I've been missing in my buy pile for months! If you like me held it against the man for sacking Voodoo I implore you to read this single issue which redeems Bendis of his tragic "hate crime", it's that good!
Alt cover- Mz. Marvel in some tron inspired costume that has nothing to do with the issue, she's not even an important character in the story!
The Ugly
Drama, humor, sexuality and some much needed levity after a long arduous six issue story arc 3.5/5