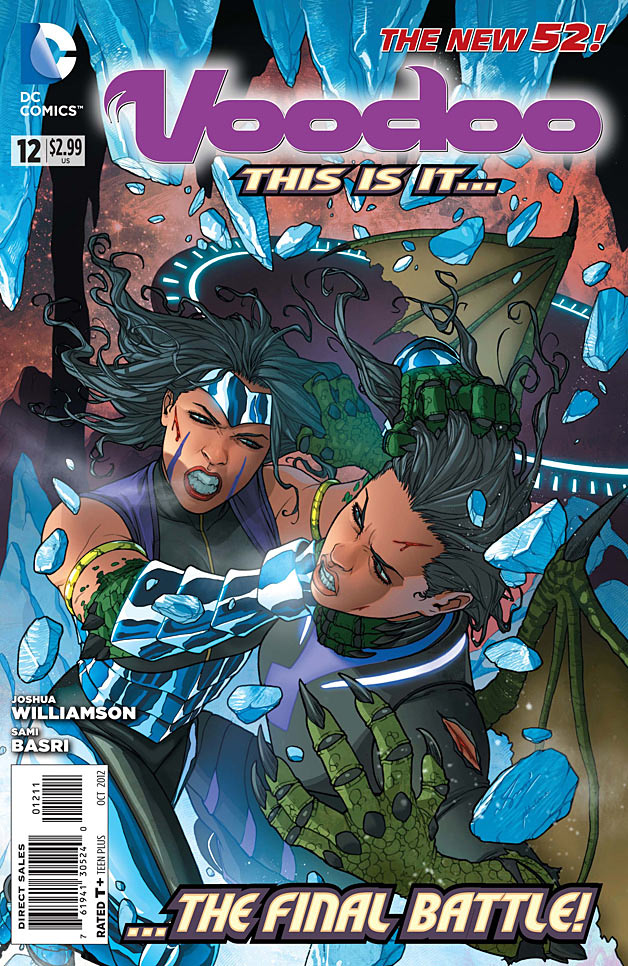 VOODOO and PRIS are ready for the fight of their lives…against each other!
Is this the end for VOODOO?
Summary
Voodoo and Pris face off over the "blue flame". Voodoo gets taken down by the daemonites of the dead city allowing Pris to grab the blue flame and escape the planet with the Black Razors. On earth she chooses to remain with the razors instead of returning to a normal life. Her commanding officer then secretly hands the "blue flame" to a mysterious benefactor. On Saturn Voodoo takes control of the daemonite graveyard daemonites who are now her willing army!
The Good
Art-Sami Basari closes out the series he been on since Voodoo #1 in clear style. Beautiful, smooth and ultra slick, this series more than any other put out by dc would hold up very well as a motion comic! I would pay money for that big time!
Cover-Voodoo vs Pris, not the most well organized cover since it also looks like an unused interior page. In its defense though Sami Basri's art makes this a very high quality cover with great art!
Character development- First let's deal with Voodoo the clone of Pris. She started out as an exotic dancer in voodoo #1. Under writer Ron Marz who has been the single best writer of Witchblade to date, she was a conflicted woman alone in the world searching for her place. Voodoo was also a ½ daemonite spy who believed in a prophecy that foretold her race entering a new phase of existence through taking over earth. Her belief in this prophecy became the single motivation of her existence when she realized she was a mere clone.  All this took place over the course of this whole series. She saw the very worst that humanity has to offer as well as what humans would do to aliens and what they have done to each other over the years.  This issue she comes full circle and takes the meaning of the prophecy to the next logical level. She has realized that the hybrids like herself are the next step in the daemonite evolution since the original race is slowly dying out and taken the abandoned daemonites of the dead city as her personal army to wage war against Hellspont, the heroes of earth and all who stand in the way of the prophecy.
What's next- Last month I said I would buy a book with Priscilla and Grifter. Now is turns out that's where she's headed…next month after Voodoo #0 we will be picking up Grifter to see if our girl shows up! Let's keep our fingers crossed!
The Bad
Still makes no sense-Pris was used by the daemonites and sent to earth to gather information for them and destroy the superhumans. Upon arriving on earth she was captured by the black razors, tortured, experimented on and jailed. Upon release she joined with her jailers to stop her clone…….that makes no sense to me!  For the life of me I don't get why she would side with the humans when they are the ones to have treated her with such disdain. Whatever, with this series ending now we may never understand how this works. Pris is still not nearly as compelling as her clone Voodoo.
Unanswered questions- too many to go into!
The Ugly
Enjoyable for what it is and I can see this leading to a larger story line down the line, If and only If someone decides to pick up these plot threads down the line. Overall: 3/5