Avengers vs X-men #10 Review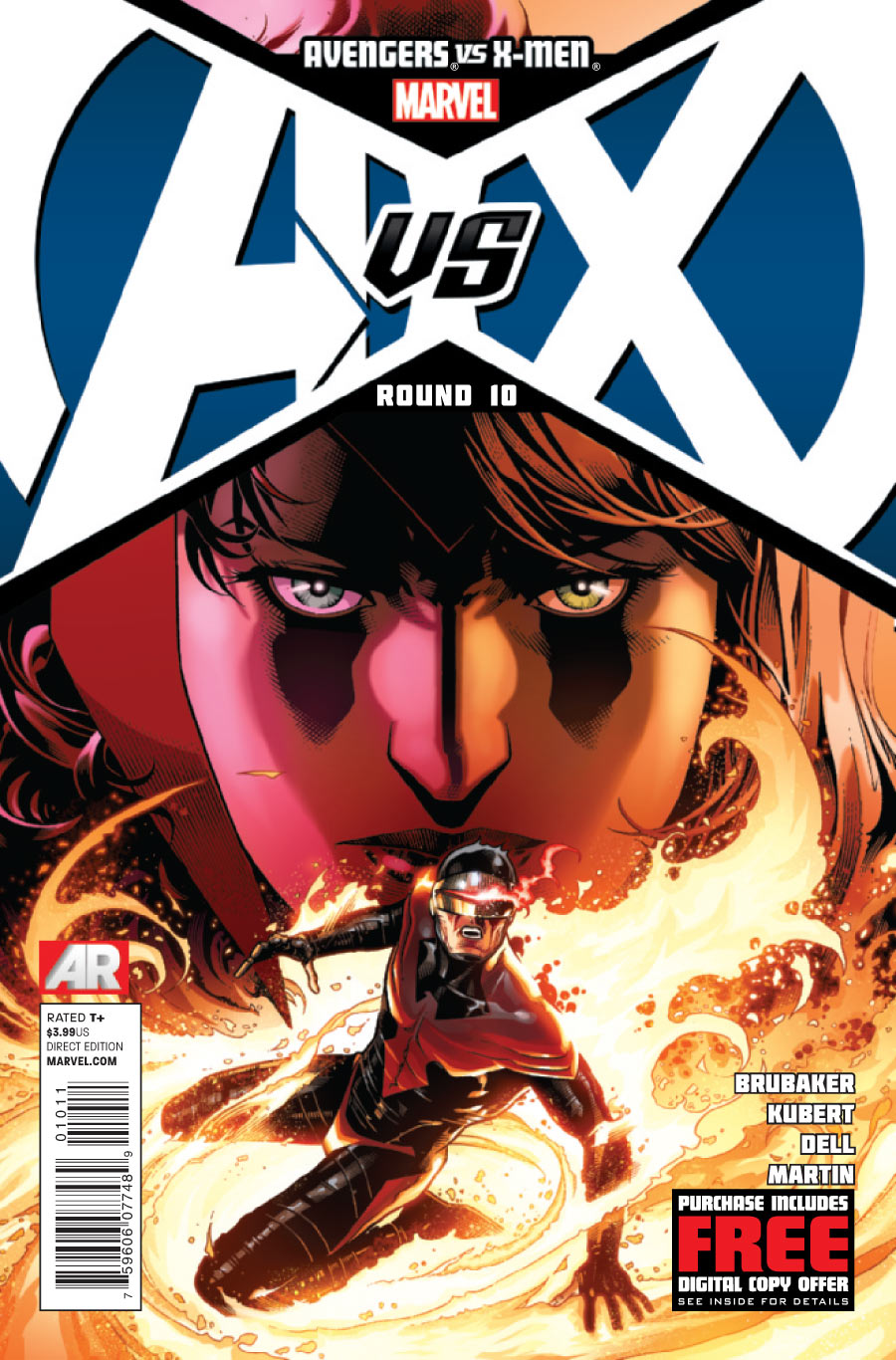 Time is running out as the Avengers are cornered in their last stronghold! But the stakes change when Hope and the Scarlet Witch join forces! Why?! How?!
Summary
Scott comes to Kun Lun to demand that Hope return with him. She refuses and the Avengers and the Thunderer recruit a young Sho Lou the undying to their cause along with the Scarlet Witch. Scott however is seemingly invincible until Hope channels the powers of Shou Lou and send Scott to earth's moon. He comes face to face with the Watcher and realizes he needs more power so he must take it from Emma Frost.
On Utopia Emma Frost has the inhabitants kneel before her and takes control of their minds. Magneto is the only one to voice opposition. He manages to send out a distress call to Xavier.
On earth the rescued Avengers try to convince Xavier to come with them but he vows to save mutant kind since Scott and Emma are compromised.
The Good
Cover- Cyclops on his knees before the scarlet witch, the Avengers group shot and the inks only covers are truly worth collecting! Good stuff!
Black Heroes- Storm and Black Panther working together now that they are no longer married? Talk about a kick in the family jewels.
Action- Cyclops vs everyone! Yeah that was the highlight of the issue nothing else really happened….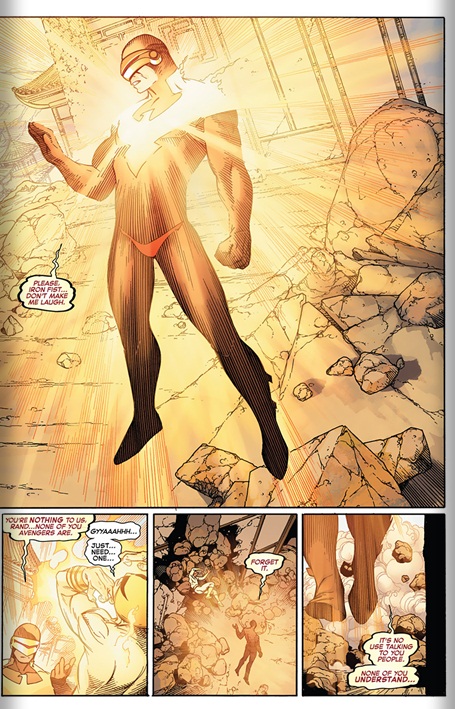 Art- Kubert's art is perfect for this issue, I don't know if it's nostalgia on my part but he channels his late father Joe very well, especially in the expressiveness of emotions on the characters faces. Terror, shock and awe are expertly illustrated. I had to actually check the cover to make sure it was Adam and not father Joe (RIP) that did the art. Kudos to Adam Kubert and a moment of silence for his legendary father Joe Kubert (1926-2012) you will be missed!
Endgame- You can already see the pieces of what comes next in this issue. Both the X-men and the Avengers vs the Phoenix. We already know the two teams will come out of this more united. What we don't know if what will become of Emma Frost and Scott Summers! Their relationship has kept the X-men united after Jean died and Xavier abdicated his leadership of the X-men to the two. Even after Schism Emma became the main financial backer for Utopia. Relationships are never perfect but here was a couple with a singular goal in mind and shoot me, but I loved them together! Thinking this is the end of Utopia, them as leaders, them as a couple……sadness personified! I never quite realized how significant this pairing was until I was faced with its imminent end. House of M, Messiah Complex, Schism, Endangered species, Utopia, Dark X-men, some of those were not the best surely but if this is the end of "Summer Frost" it was a damn good ride while it lasted! Cheers~
The Bad
Alternate covers-Gambit vs Spider-Woman……..
Phoenix Cyclops- Common complaint of this series but Scott did not seem that powerful this issue. Why was Hope able to run around so much? Why not just grab her with telekinesis etc and be done with it? (shrugs)
The Ugly
I don't know about anyone else but this was a very average read, not once was I excited or did my heart race. Wake me when the next issue hits please 2.5/5