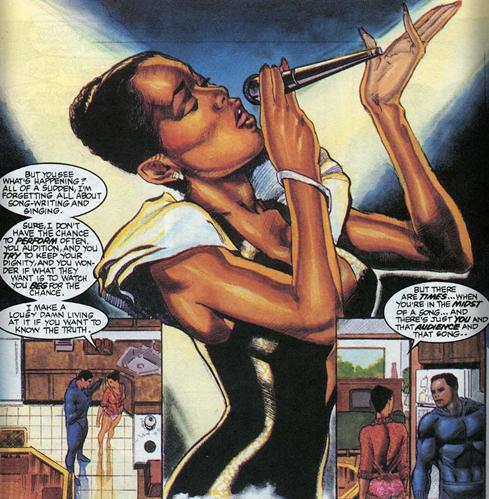 Created by: Roy Thomas and Frank Giacoia
1st appearance: The Avengers #73, 1970
Nationality:  American
Legal Status: U.S citizen with no criminal record
Height: 5'8                     Weight: 120 lbs
Eyes: Brown                    Hair: Black
Relatives: Lloyd (Father), Angella (Sister, deceased), Jessica (Mother), T'charra (Son),  Faida (Daughter)
Skills and abilities: Accomplished singer and basic combat training.
Biography
Monica is a struggling jazz singer and social worker from America who fell in love with Wakanda's king T'challa and was his girlfriend for years.
Monica came into T'challa's life after he saved her from a racist plot set up by the sons of the serpent [Avengers #73]. Sometime later the two began a relationship and she accompanied the prince to Wakanda. While in Wakanda many of T'challa's friends W'kabi, Taku and even the natives opposed T'challa's relationship with this outsider. Tanzika was made her attendant [Jungle Action #7] and she voiced her opposition by becoming the vicious Malice allied with Killmonger and trying to kill her then framed her for murder [Jungle Action #9]. Luckily T'challa caught the real killer and she was spared execution. After this she and T'challa enjoyed swimming together and riding giant turtles [Jungle Action #16]. Monica herself took out Malice in a later battle [Jungle Action #17]. Once back in America she was almost killed while visiting her sisters grave. Thanks to T'challa and the skills he taught her she was able to survive. They stayed with her parents on this visit [Jungle Action #19]. She nursed T'challa back to health after he fought the KKK [Jungle Action #21].
Monica got engaged to T'challa after a brief separation around the time he fought Solomon Prey and his friend W'Kabi had suggested he needed heirs to carry on his name and line if the worst was to happen [Black Panther: Panther's Prey 1-4]. T'challa traveled to America, Georgia with Monica to ask her father's permission to marry her. After getting her father's blessings he traveled back to Wakanda where he broadcast the news of his engagement to all of Wakanda [Panther's Prey #4].
Used by Achebe in a scheme to hurt T'challa  and assassinate the Avengers she came back into his life [Black Panther v2. #8]. Taken by Hunter she survived an assassination attempt and T'challa left her in the care of Nakia [Black Panther v2. #10]. Nakia jealous of Monica tried to kill her while they were on a plane by ejecting her. [Black Panther v2 #11]. She survived ejection and was found by Killmonger who planned to use her as a pawn against T'challa [Back Panther v2. #18]. Monica was in Wakanda when Killmonger defeated T'challa, became the Black Panther and fell into a coma from ingesting the heart-shaped herb [Black Panther v2. 24-26]. Monica grew tired of her life being put on hold and in danger because of T'challa and the fact that their engagement had not led to a marriage before it ended completely. Right as she was moving out of his quarters the X-men's Storm showed up and instead of trying to convince her of why she should stay he ended up sharing a passionate kiss with Storm which Monica saw unknown to both. This prompted her to leave secretly [Back Panther v2. #27].
T'challa tracked her down and proposed to her again, instead of accepting she kissed him goodbye [Black Panther v2. #30]. Monica was again saved from an assassination attempt this time by Nakia now going by Malice  thanks to T'challa [Black Panther v2. 33]
Ramonda, T'Challa's mother disproved of the engagement and disliked her immensely.
After this other breakup Monica was drawn back into heroics when an alternate reality Black Panther with Esp powers approached her alongside Nightshade [Black Panther v2. #44]. She was taken into the past alongside Back Panther, Nightshade, Queen Divine Justice, Everette Ross and Peter Gyrich [Black Panther v2. 46 & 47]. Monica shared a kiss and mutual romantic feelings with the alternate Black Panther since in his world they had never actually broken up and were still engaged. His willingness to express his feelings also helped [Black Panther v2. 48]. After he was put in stasis she told T'challa she had seen his kiss with Storm the day she had come to tell him goodbye.  T'challa confessed that he had called off their engagement because his alternate future self was dying of a brain aneurysm and knowing this was his future decided not to tie her down with a man who had no future. She also consoled Nightshade when Alternate Black Panther finally died [Black Panther v2. 48].
Years later she reappears singing at a sold out concert on the eve of T'challa's wedding to Storm, crying. [Black Panther v3. #16]