Cloak and Dagger one shot Review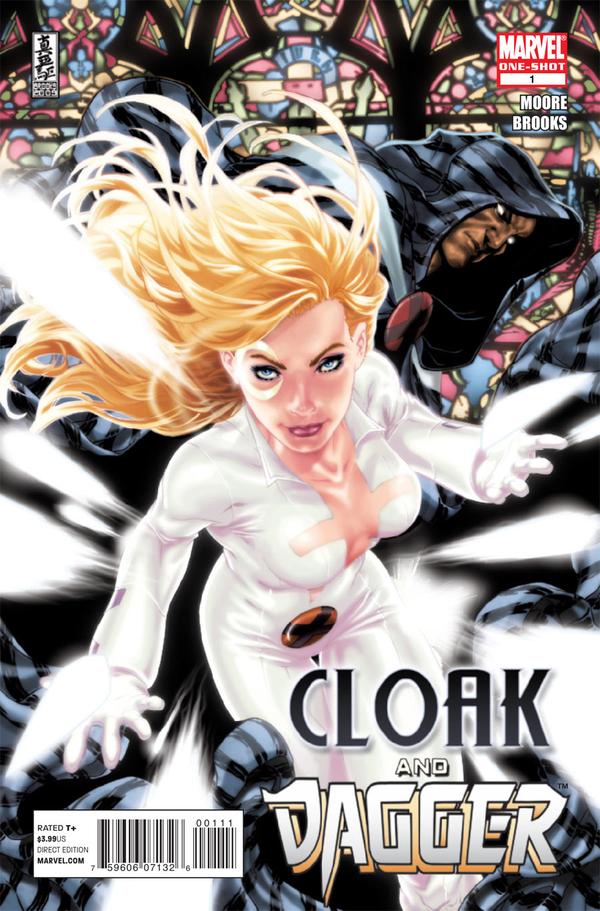 Marvel's most-requested duo return in this all-new one-shot, spinning out of X-MEN: NATION X! Cloak — dark, brooding teleporter. Dagger — deadly, shining mistress of light. Having quit the Dark X-Men, Cloak and Dagger find their partnership strained as they struggle to fit in among the mutants of Utopia. But when a new menace targets Cloak, Dagger must make a fateful choice for both of them. Guest-starring the X-Men, and written by Stuart Moore (WOLVERINE NOIR) with stunning art by Mark Brooks (YOUNG AVENGERS).
Summary
In the Danger room Dagger trains with the young X-men and Storm commends her on her battle tactic. In front of everyone present she gets the results that she is not a mutant. Distraught she retires to her room alone; Cloak is nowhere to be found. Elsewhere Cloak visits his old neighborhood and shares a kiss with old girlfriend Tia. He later visits Dagger on Utopia and they get into an argument and he leaves. Cloak continues to grow closer to Tia, she reveals she knows his secret. He then gets taken away by a group of men who plan to reform him in the use of his powers.
On Utopia three days later Dagger tries to get Cyclops to search for Cloak but he can't spare the man power or the time. She tries to get aid from the other x-men as well but can't. She decides to search for him herself. When she locates him she does her best to rescue him to no avail. Luckily the X-men arrive in time to save them. In the Fracas they realize  Tia also has superpowers but, she  flees from them.
Cloak and Dagger leave the X-men realizing there place is not there. Tia goes back to the men to have her powers suppressed while Cloak and Dagger rekindle their relationship in the same church they originally vowed to always be together.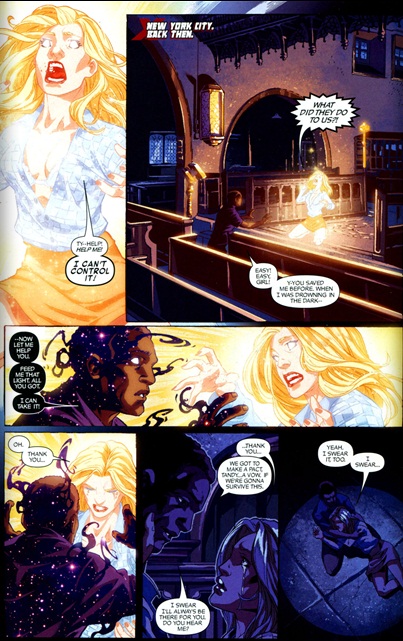 The Good
Cover- Absolutely breathtaking cover art by Mark Brooks
Story- Very simple and to the point, the issue serves to remove Cloak and Dagger from the X-men and finally answer the question of whether or not they are mutants. Stuart Moor handles this in a very quick and decisive manner within the very first few pages but also adds layers to what would otherwise be a cut and dry answer. Both Cloak and Dagger want different things, it's always been a trademark of these characters to be together but here the age old question central to their dynamic is brought up again; are they together because of love or is it necessity? They need each others powers to survive so maybe it's all just dependence? I mean if you had a relationship in which both your lives depended on being together how could you ever leave? Whether bored or no longer in love? Truth is you couldn't leave and these characters end up right where they begun, together again for better or worse.
Art-Every panel on every page s painstaking built and just heaven to behold, Faces are expressive, character designs distinct while colors and inks add depth to the already beautiful art. Just gorgeous!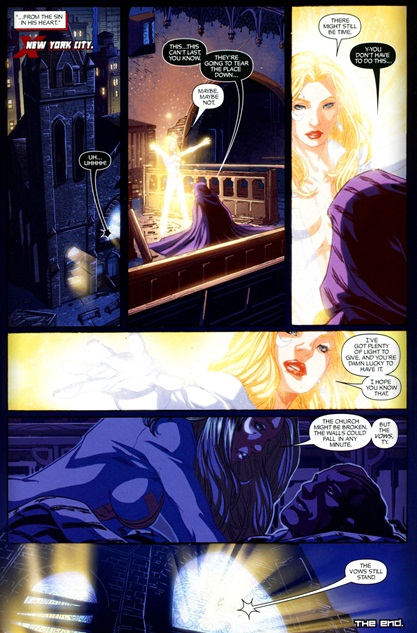 A question of race?– When Dagger tries to get assistance to search for Cloak and Cyclops who has his hands full running this mutant nation can't seem to find time or even think it important enough to warrant his attention she calls him out on effectively reverse racism. That is Cloak is not important because he's not a mutant. It's an interesting question which got me thinking of any race who has been victimized feeling isolated and alone when in few numbers but when they are in the majority perpetuate the same racism on another minority. Sure Scott was genuinely busy but its food for thought!
The Bad
Was a whole comic needed to move Cloak and Dagger off Utopia and away from the X-men? Probably not, and the story didn't contain anything worthwhile enough to warrant a follow up + Cloak and Dagger have now gone back into comic book limbo until Spider-Island in 2011.
The Ugly
3.5/5