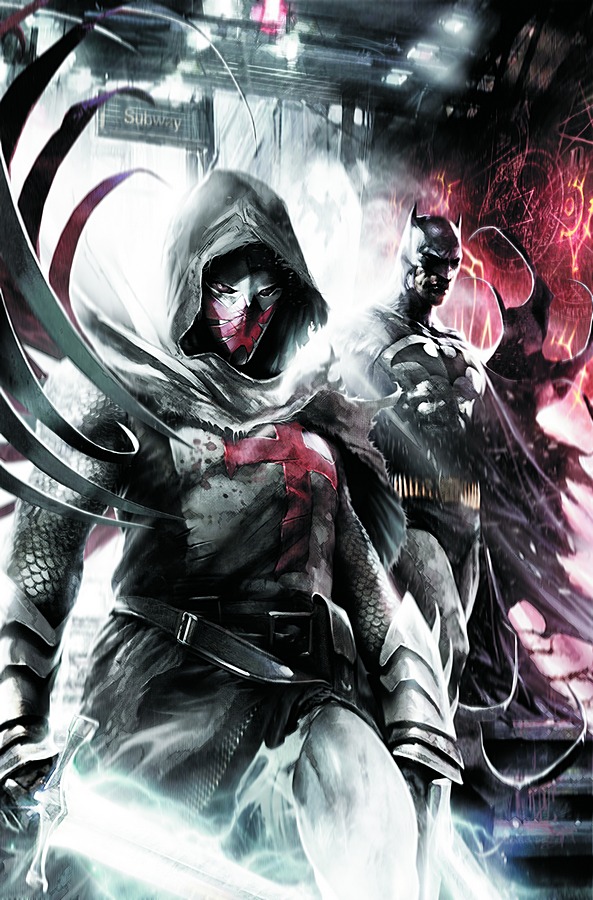 Publisher: DC Comcis
First Appearance: Batman 666, 2007
Created by: Grant Morrison
Real Name: Michael Washington Lane
Nationality: American
Weight: 250 lbs            Height: 6'2
Eyes: Brown                     Hair: Black
Relatives: Chante cole-Lane/Wife (deceased), Henry Mitchell Lane/son (deceased), Marion Martin/Brother (deceased), Gwendolyn Eliza/sister (Deceased), Unnamed Mother (Deceased)  Mitchel Douglas/Father (Deceased). MJ (Nephew), Tamara (Niece), Jenny (sister in law)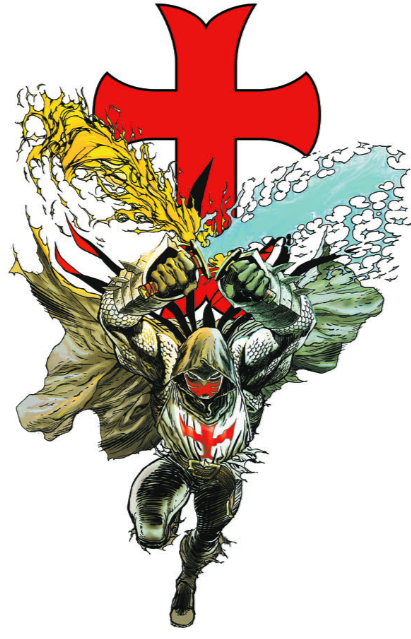 Skills and Abilities: Advanced training in the army and police department. Martial arts skills thanks to Dr. Hurt.
Powers: None.
Equipment: Suit of sorrows- grants the user increased strength, speed, and stamina.
The sword or salvation- It glows blue and anyone cut by it will relive all the tragedies of there life.
Sword of Sin-cuts and burns at the same time, it cauterizes as it cuts and can project flame.
Biography
Michael Lane was born to Mitchel and Barbera Lane [Azrael Death's Dark Knight #1]. As a boy he grew up a devout believer in the teachings of the Roman Catholic Church. He even was the altar boy of the Roman Catholic Church [Azrael v2. #1]. As a boy he witnessed both his father and older brother Marion anti Muslim and Jewish practices but did not share them [Azrael v2. #5]. One day while playing with his friend Willis he witnessed the boy abducted by a van and never seen again [Azrael v2. #7]. While learning about the inquisition he shared his questions with his priest about the tragedies inflicted on mankind because of religious belief. This was the beginning of his questioning religious belief [Azrael v2. #9].
In high school Michale excelled in sports particularly American football. Michael had a crush on a girl two years younger than him named Jenny Warren but he was too shy to ask her out [Azrael v2. #4]. Jenny would eventually marry his brother Marion. He manged to secure a football scholarship to Gotham University but lost it and was expelled when he beat his coach to unconsciousness during his Sophomore year [Azrael Death's Dark Knight #1]. Joining the marines he served two terms in Iraq [Azrael Death's Dark Knight #1]. While their he was one of the more level headed soldiers [Azrael v2. #3]. He was traumatized when one of his squad-mates destroyed a building with innocents he had ordered should be left alone [Azrael v2. #3]. While in the marines he married Chante Coles. Together they had a son, Henry Mitchel Lane [Azrael Death's Dark Knight #1].
Returning to Gotham he joined the police force though he suffered from Post Traumatic Stress Disorder [Azrael Death's Dark Knight #1]. Three months after joining the force his son died. The driver of the vehicle got away on a technicality.Two years later his wife committed suicide [Azrael Death's Dark Knight #1] . While a police officer he found his brother Marion and sister Gwendolyn murdered in some occult ritual [Azrael v2. #4 and Azrael Death's Dark Knight #1].
Bat Devil/Ghost
He was elected to be used as a guinea pig for Dr. Hurt's experiments in a joint secret program between the Military and Gotham City Police Department. The program was designed to train a potential replacement for Batman should he fall in battle. Lane was among three men chosen. Unfortunately a  psychosis of some kind happened to all three men [Azrael Death's Dark Knight #1]. He was made a sleeper agent and returned to the police force.
The tragedies of his life proved too much for the Michael and he had to be taken off the police force when his anger and rage caused him to use extreme force. Discharged he seemingly went insane and his identity as Batman came to the fore- he became Bat-Ghost. Along with two other of Dr. Hurts batmen (bat-bane and bat-cop) he plagued Batman blaming him for their lives. He even managed to capture and torture Batman. Though he was eventually defeated and went into hiding [Azrael Death's Dark Knight #1].
[amazon_link asins='1401227074,1401228747,B01265OOLW' template='ProductCarousel' store='DC Comics' marketplace='US' link_id='96a52412-c722-11e7-b3de-5d6a756961c7′]
Azrael is Born
When Batman died he confessed his involvement in his death and was selected as the new Azazel. Despite his reservation he accepted and fought with Talia Al Ghul and the league of assassins. He later clashed with Dick Grayson who allowed him to continue to operate in Gotham as a crime fighter.
Years later he confronted Jenny about the death of his brother. Batman intervened but Jenny amnesiac about what had occurred all those years ago stabbed herself with his swords and realized she had committed the murders apparently while possessed by the devil [Azrael v2. #4].